More non-fossil fuel vehicles to hit road
By LI FUSHENG | China Daily | Updated: 2021-10-28 09:08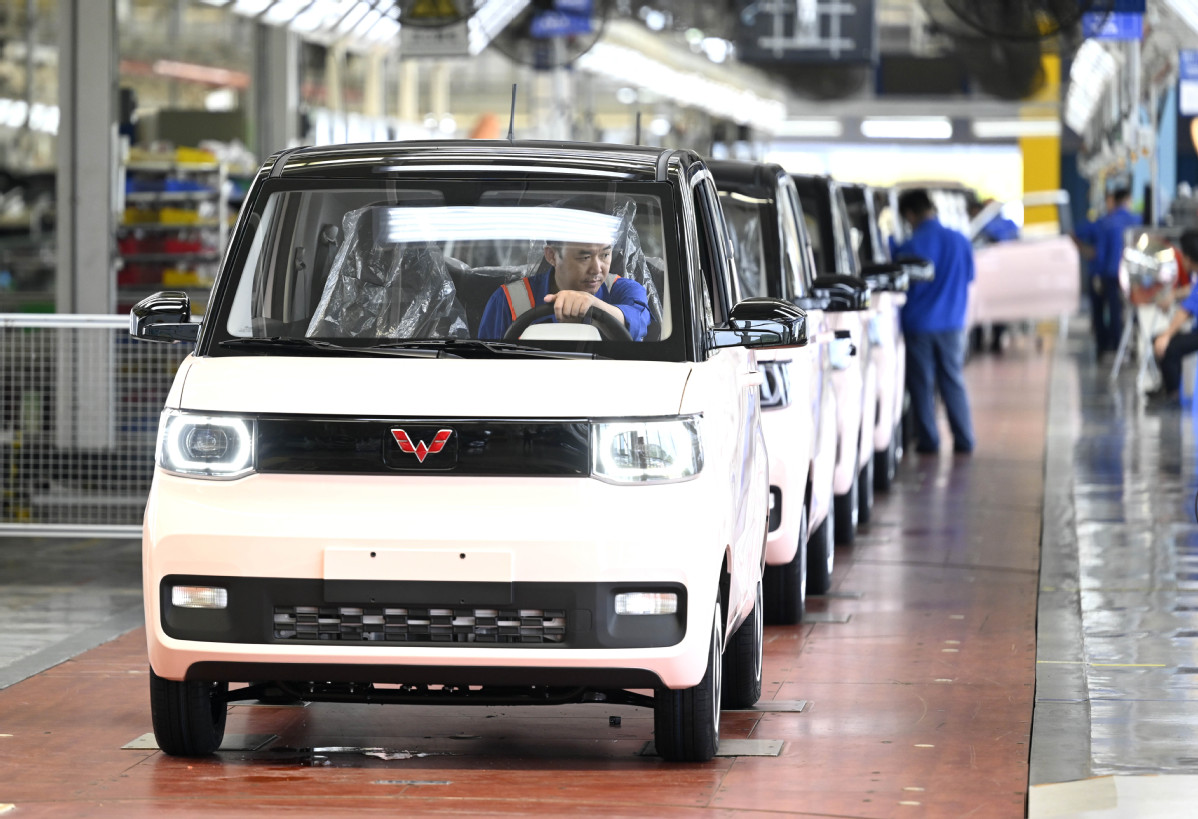 China is expected to scale up the ratio of non-fossil fuel vehicles sold in the country to 40 percent by 2030, up from 11 percent in the first three quarters this year, which would help drive the fast-growing NEV sector in the country.
The goal is part of an action plan by the State Council, China's Cabinet, which was released on Tuesday to peak the country's carbon emissions by the end of the decade.
China will slash the ratio of gasoline and diesel vehicles in its overall production and sales, introduce electric vehicles into public service fleets, and promote electric, hydrogen and liquefied natural gas-powered trucks, the action plan said.
The China Association of Automobile Manufacturers estimates total vehicle sales in China would reach 30 million in 2025.
Even if the market stabilizes at that level by the end of the decade, the 40 percent goal would be an addition of 12 million electric, plug-in hybrid, and fuel cell vehicles in 2030.This would create room for growth for vehicle makers that have been shifting toward electrification.
New energy vehicles, which are comprised of electric, plug-in hybrids and fuel cell vehicles, started to take shape in 2009 in China, when most other countries thought it would be premature to develop the sector.
They have become a serious choice for car buyers after a decade of development, according to the CAAM. In September, 357,000 units were sold, which means almost two of 10 vehicles delivered in the month were either electric or plug-in hybrids.
Their cumulative sales in the first three quarters hit 2.16 million units, accounting for 11.6 percent of total vehicle deliveries in the period, CAAM said.
The ratio was even higher, at 13.7 percent, in the segment of private vehicles during the same period. Private cars make up around 80 percent of sales in China.
"Considering the speed and trend, we will hit the 40 percent goal in 2030, or even ahead of schedule," said Cui Dongshu, secretary-general of the China Passenger Car Association.
Carmakers have even more ambitious plans than the goal for the country set in the action plan.
China's most popular NEV maker BYD sold 337,600 electric and plug-in hybrids from January to September this year, around 75 percent of its total sales in the period. In June, China's largest SUV and pickup maker, Great Wall Motors, said its annual sales will reach 4 million vehicles in 2025, with 80 percent of them being electric cars, plug-in hybrids and fuel cell vehicles.
SAIC Motor, China's largest carmaker by sales and partner of GM and Volkswagen, expects its sales of new energy vehicles to reach 2.7 million units in 2025, making up at least 32 percent of its total deliveries in the year.
International carmakers, from Germany's Volkswagen to Japan's Honda, are also ramping up efforts in EVs to tap into the growth potential of the world's largest vehicle market.
Honda plans to introduce 10 electric models into China in five years, estimating NEV sales to account for 40 percent of its total sales by 2030. Volkswagen, whose sales in China are around 40 percent, is already selling such models, with 10,000 delivered last month alone.
Japan's Toyota and South Korea's Hyundai are exploring China's hydrogen fuel cell vehicle market, with both setting up plants to produce fuel cells in the country.
Oh Seung-chan, head of Hyundai's fuel cell plant in Guangdong province, said its plant will start production in late 2022, with its annual capacity reaching 6,500 units. Oh said three pilot zones in China, including Shanghai, Beijing and Guangdong, are planning to have 30,000 fuel cell vehicles on their roads in four years.
In addition, 40 percent of energy for other transport means will be shifted to non-fossil by 2030, the State Council's action plan said.
Globally, transport is a major source of greenhouse gas emissions. Last year, it was responsible for 24 percent of direct CO2 emissions from fuel combustion around the world, according to the Paris-based International Energy Agency.
Road vehicles-cars, trucks, buses and two- and three-wheelers-made up nearly three-quarters of transport CO2 emissions, and emissions from aviation and shipping continued to rise as well, the IEA said.