Campus First Aid Program launched
By MO JINGXI | CHINA DAILY | Updated: 2021-10-28 09:24
Campus First Aid Program launched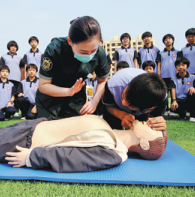 Teachers and students at 150 high schools and universities in China will receive training in first aid to be able to better respond to campus emergencies and accidents, the Ministry of Education stated in a notice issued on Oct 20.
This initiative is part of a pilot program carried out by the ministry with the aim of teaching teenagers first aid. The campuses will also be equipped with first aid facilities and equipment.
Students will learn how to respond to emergencies such as unblocking airways obstructed by foreign bodies, treating cases of bleeding and dislocations, dealing with drownings and burns, as well as how to respond to fires, earthquakes and other emergencies.
The ministry said that the best practices from the first pilot batch of high schools and universities will be copied and later applied at other schools around the country.
New regional centers to boost treatment options
China will further the construction of regional health centers in 12 provinces in central and western regions, as well as for the Xinjiang Production and Construction Corps, in an effort to promote the balanced distribution of quality medical resources across the country, an official with the National Development and Reform Commission said.
"The expansion and balanced distribution of medical resources is an important part of building a high-quality, efficient health service system, as well as a major move toward easing the difficulty the public faces in getting medical treatment," Ou Xiaoli, director of the NDRC's social development department, said at a news conference on Oct 20.
According to Ou, with the construction of regional health centers, by the end of the 14th Five-Year Plan period (2021-25), people should be able to receive treatment for emergencies and severe conditions, as well as difficult and complicated diseases, within their province of residence.
China will also push forward the establishment of several national medical centers in first-tier cities like Beijing and Shanghai by pooling the efforts of actors including colleges and universities, scientific research institutions, enterprises and local governments, he said.
Pilot project to benefit old revolutionary base
China will beef up efforts to promote the development of part of the border area between Hunan and Jiangxi provinces by setting up a demonstration zone for regional cooperation, the National Development and Reform Commission, China's top economic regulator, said on Oct 20.
With a total area of 50,500 square kilometers, the zone sits at the heart of an old revolutionary base and covers 24 counties, cities and districts in the two central provinces.
The NDRC said that an overall plan for the demonstration zone's construction was issued recently. According to the plan, the zone will significantly enhance its comprehensive strength by 2025 and cement remarkable achievements in regional cooperation by 2035.
The demonstration zone's sound infrastructure, coordinated industrial development, good environment and equal provision of essential public services will serve as an example for revitalizing and developing other former revolutionary bases around the country.