COVID-19, flu cases to swamp UK's hospitals
By Angus McNeice in London | chinadaily.com.cn | Updated: 2021-10-28 23:23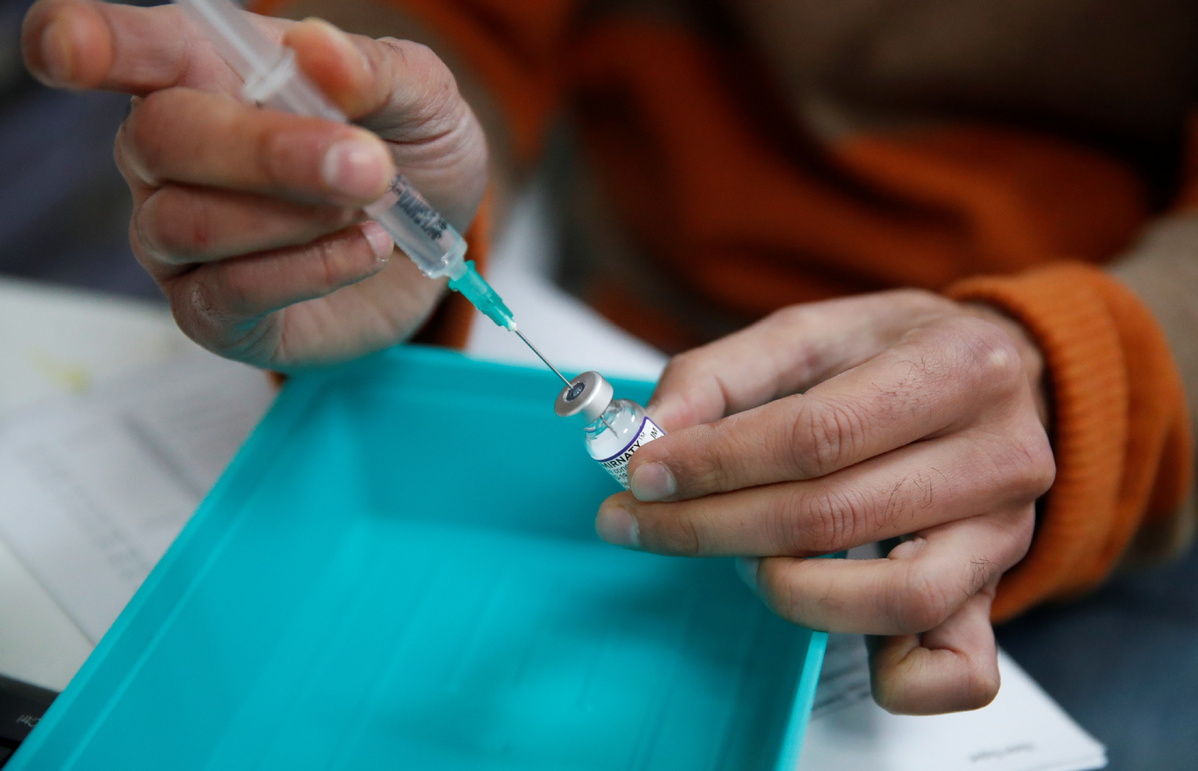 Experts warn vaccination effective in containing virus but flu may be severe
Hospitals in the United Kingdom could be overwhelmed by COVID-19 and flu cases by early next year, potentially leading to renewed social distancing restrictions, according to new analysis.
If the flu is as severe as it was four years ago, there could be as many as 12,500 weekly hospital admissions linked to the two diseases during January 2022, London-based science consultancy Airfinity has said.
In the spring of this year, the UK government only took the decision to begin easing lockdown restrictions when weekly COVID-19 admissions were less than 10,500, a figure Airfinity refers to as the lockdown threshold.
In a best-case scenario, using forecasts modelled on a milder flu season, Airfinity predicts the lockdown threshold would be breached in March 2022, when weekly hospital admissions for both influenza and COVID-19 would peak at 11,100.
Both analyses use a baseline of expected weekly COVID-19 hospitalizations, which have hovered between 6,000 and 7,000 since July this year, when almost all social distancing restrictions were lifted in England.
"Vaccines are doing a great job at keeping COVID-19 hospitalizations down but admissions are unlikely to drop significantly during winter as people are more likely to meet indoors," Matt Linley, lead analyst at Airfinity, said on Wednesday.
The seven-day average of COVID-19 cases in the UK exceeded 41,000 last week, the highest number since June, prompting the British Medical Association and the National Health Service Confederation to call for reinstated social distancing measures, something the government continues to resist.
"Flu is back and the consensus is that this year's flu resurgence is expected to be severe and we could see up to 6,100 hospitalizations a week for flu alone," Linley said.
Early signs show that the winter flu season could be severe, according to the European Centre for Disease Prevention and Control, or ECDPC.
Although the overall number of flu detections in the majority of European countries is still low, indications are that influenza circulation is above the seasonal threshold in Croatia, which has come unusually early, the ECDPC said on Tuesday.
The agency said the main flu strain detected so far, A(H3N2), disproportionately affects older people and is associated with reduced vaccine effectiveness.
"The early detections of the A (H3N2) subtype are an indication that the upcoming flu season could be severe," said Pasi Penttinen, head of the ECDPC's influenza program. "A steep rise in flu infections during the ongoing COVID-19 pandemic could have serious consequences."
Last winter saw a "remarkable" drop in the number of flu cases in comparison to previous years, according to the ECDPC, something that was largely due to the social distancing and lockdown measures in place in much of Europe.
With restrictions lifted in many regions, some experts are concerned the flu will rebound dramatically this year, in part due to so-called immunity debt, which results from people having been less exposed to flu pathogens during the course of the novel coronavirus pandemic.
This week, drug company Reckitt Benckiser, owner of popular over-the-counter cold and flu remedies Nurofen, Strepsils, and Mucinex, reported a "sharp improvement" in sales in the third quarter of this year, which was a period in which analysts had predicted a dip in growth.