Police: Suspect in fatal parade plowing was fleeing disturbance
By BELINDA ROBINSON in New York | chinadaily.com.cn | Updated: 2021-11-23 12:46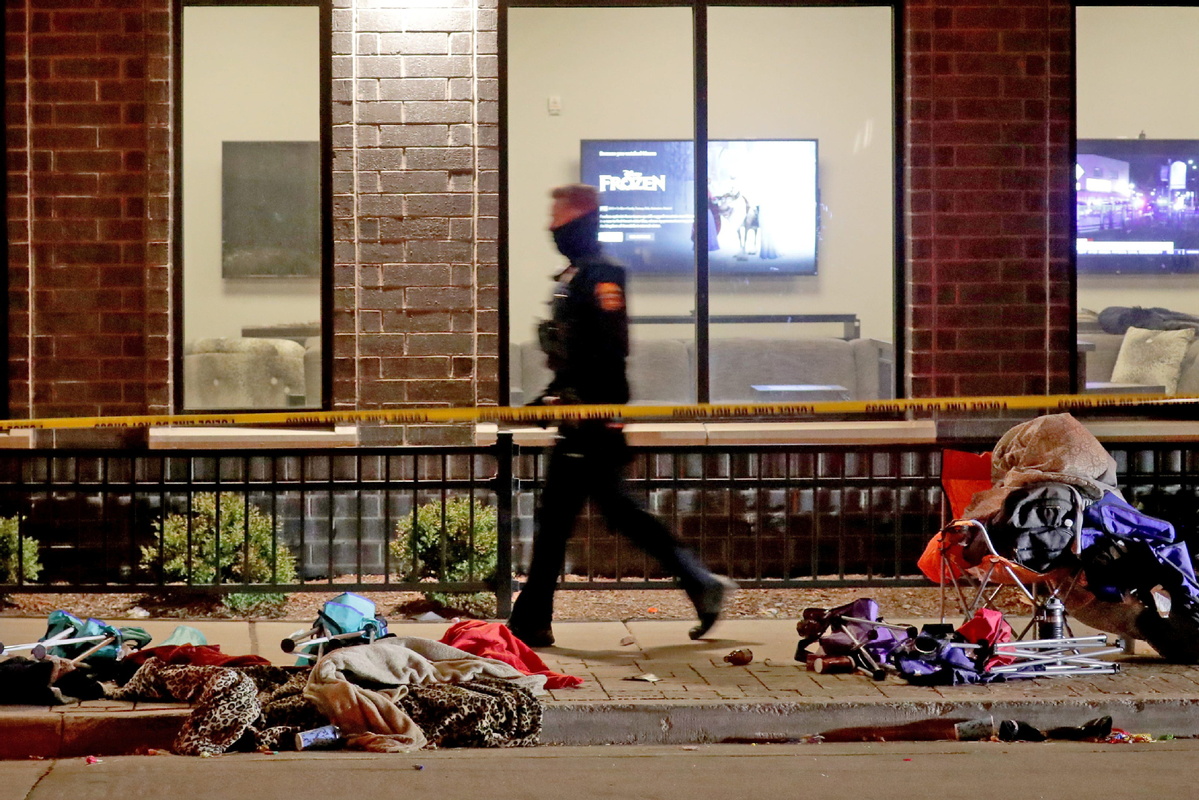 A suspect who "intentionally" drove an SUV into a crowded Christmas parade in Wisconsin on Sunday, killing five people and injuring nearly 50, was fleeing from a domestic disturbance, police said Monday.
Darrell E. Brooks Jr, 39, was caught on video driving a red SUV at high speed at 4:39 pm local time. He plowed through barricades, hitting musicians, dancers and injuring small children at the parade in Waukesha, a suburb west of Milwaukee.
Brooks had been fleeing from a "domestic disturbance" minutes before he dangerously barreled down the parade route, police said. As the vehicle fled, police opened fire attempting to stop it. No bystanders were injured by the police officers.
At least four of the dead were affiliated with a group called the Milwaukee Dancing Grannies, police said. They were named as: Virginia "Ginny" Sorenson, 79; LeAnna Owen, 71; Tamara Durand, 52; Jane Kulich, 52; and Wilhelm Hospel, 81.
Eighteen patients hurt in the incident are being cared for at Children's Wisconsin Hospital in Wauwatosa, officials said Monday. Eight children have undergone surgery since Sunday.
Ten children are in intensive care; six are in critical condition. Three children are in serious condition, one in fair condition. Eight others are undergoing treatment and are in fair condition.
Waukesha Police Chief Dan Thompson said at a press conference Monday that the suspect had been taken into custody and will be charged with five counts of intentional homicide. Police said that the incident was "not a terrorist event" and that Brooks acted alone.
Thompson praised first responders, citizens and off duty law enforcement who helped save lives, calling them "heroes".
The Milwaukee County Sheriff's Office confirmed that Brooks was recently released from Milwaukee County Jail on Nov 16 on a $1,000 cash bond in a separate case. It said in a statement that Brooks' bail had been set "inappropriately low".
Brooks posted bail on Nov 11 to charges including domestic abuse. The charges came from an incident on Nov 2 in which Brooks is accused of running over a woman with his car while she was walking through a gas station parking lot.
Just minutes before the incident on Sunday, crowds including children had been dancing, waving pompoms and enjoying a fun-filled event with marching bands and music.
Later, video shows people rushing to help the injured, including a small girl who was lying on the ground.
Dr Amy Drendel, medical director of the Wauwatosa hospital's emergency department said that the children admitted were ages 3 to 16. There are at least three sets of siblings.
Some of the children suffered serious head injuries, while others had broken bones and scrapes. Other people injured include a Roman Catholic priest and parishioners, the Archdiocese of Milwaukee said in a statement.
President Joe Biden said at a press conference Monday that he and first lady Jill Biden were praying for the victims.
"Five families in Waukesha are facing fresh grief of a life without a loved one. … An entire community is struggling, struggling to cope with a horrific act of violence," Biden said.
Wisconsin Governor Tony Evers said that he and his wife were "praying for Waukesha tonight".
The annual parade in Waukesha occurs on the Sunday before Thanksgiving. This year's theme was comfort and joy.
It is just one of many parades held across the United States to celebrate the upcoming Thanksgiving holiday when Americans traditionally gather with family for a turkey dinner.
One of the most high-profile parades in the country is the Macy's Thanksgiving Day Parade held in New York City since 1924.
This year, the three-hour parade will return for its 95 year on Nov 25, after it was canceled to crowds in 2020 due to COVID-19 restrictions.
New York Mayor Bill De Blasio said Monday that the New York Police Department (NYPD) was ready to handle any security threats ahead of the parade.
But he added that there had been "no credible and specific threat to New York City" or the parade.
The NYPD will have thousands of armed police officers stationed along the route. It also will have snipers on buildings.
Dozens of large sanitation trucks filled with sand weighing 16 tons will act as barriers at every cross street along the route.
Attendees will have to show a photo identification and proof of a COVID-19 vaccination.