5G is enabling more innovations
Share - WeChat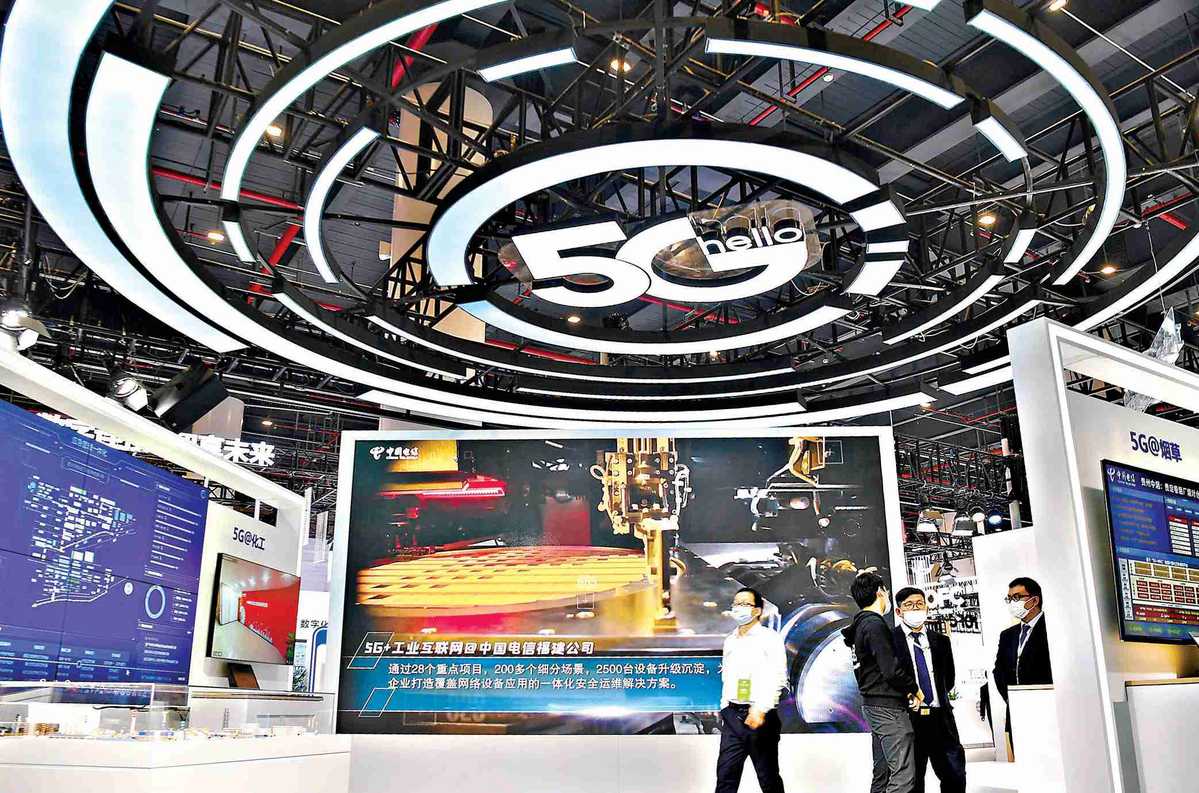 The world in general, and China in particular, is entering into a new era of technological innovations enabled by not only 5G technology, but also artificial intelligence, blockchain and cloud computing.
Though 5G is still at the early stage of commercialization, the momentum and investments being made by industry players and governments around the globe are truly massive.
Over the next few years, the process of digital transformation is expected to undergo a new wave of innovation and significant acceleration because of 5G, AI, blockchain, cloud computing and other technologies.
According to the latest report by the Global Mobile Suppliers Association, 169 operators in 70 countries and territories have already launched 5G services. Total deployment of 5G base stations globally exceeded 1.02 million as of December 2020, and this number is expected to double to 2.1 million by the end of this year.
In the meantime, according to research by J.P. Morgan, the total number of 5G users in the world had exceeded 225 million as of the end of 2020. The number is expected to reach 3 billion by 2025.
China is at the forefront of development and adoption of 5G. China had 718,000 5G base stations as of December last year, almost six times the number of stations compared with runner-up South Korea.
At the same time, the number of 5G users in China has exceeded 200 million, versus a global total of 225 million, with a third of all 5G patents owned by China, according to Nikkei Asia.
5G will enable a wide range of applications in the context of "all-scenario intelligent connectivity" or simply an "all-scenario internet".This means the emergence of ubiquitous intelligent connectivity across people, devices and machines. 5G will also play a role in driving development in areas like augmented reality, remote medical care, internet-of-things and "vehicle-and-road cooperation".
Applications of 5G are also spreading in the industrial sector, where flexible production and smart manufacturing is taking place, in the healthcare sector where remote monitoring, remote consultation and instruction as well as remote operations are now possible, and in the pan-entertainment sector, in which cloud gaming and high-definition video services are becoming a reality.
As China embarks on its 14th Five-Year Plan (2021-25), in which technological innovation is the key goal, and as it starts to implement key policies such as common prosperity, rural vitalization, carbon neutrality and dual circulation, 5G applications will play crucial roles in helping to drive these policies and implementations.
A very hot topic now is the quick development of the "metaverse", which is a collective virtual shared space, created by convergence of virtually enhanced physical reality and physically persistent virtual space.
It mixes technologies such as augmented reality, virtual reality, mixed reality and brain-computer interface to create immersive and interactive experiences for the users, and functions that were unimaginable in the past.
The technology is nascent. However, a large number of leading companies have already expressed strong interest in getting into this space. Facebook CEO Mark Zuckerberg announced that his company will imminently be changing its name to Meta to indicate its growing focus on the metaverse.
Other leading tech companies such as Microsoft, Nvidia, and Roblox have all announced their new focus on the metaverse space.
5G and AI are the key enablers of the commercialization of the metaverse. In order to connect to the metaverse, people will need connectivity speeds running into the hundreds of megabits per second that only 5G can deliver.
In the future, 5G could remove the need for devices' heat-generating components and bring down the cooling and power needs.
On the consumer side, 5G could also stimulate new demand. The gradual enrichment of consumption patterns will promote major changes in user experience requirements and may further lead to new industries or new business models.
Like many other aspects of businesses these days, commercialization of 5G will be somewhat affected by geopolitics as well as issues such as sovereign regulation of data security. These aspects could complicate commercialization of 5G to some extent, as the pursuit of connectivity continues. As such, companies need to incorporate these considerations into the formulation of their business strategies going forward.
5G, along with other technologies, has created a new inflection point in innovations. It will breed major opportunities for innovation across a wide range of sectors.
It will also require much more customer support along its entire value chain, all the way from R&D and design to manufacturing and support and services. Very exciting times are ahead as we see a totally new game being created.
The author is founder and CEO of Gao Feng Advisory Co, a strategy and management consulting firm.