Schools adopt safety-first approach to beat COVID-19
Share - WeChat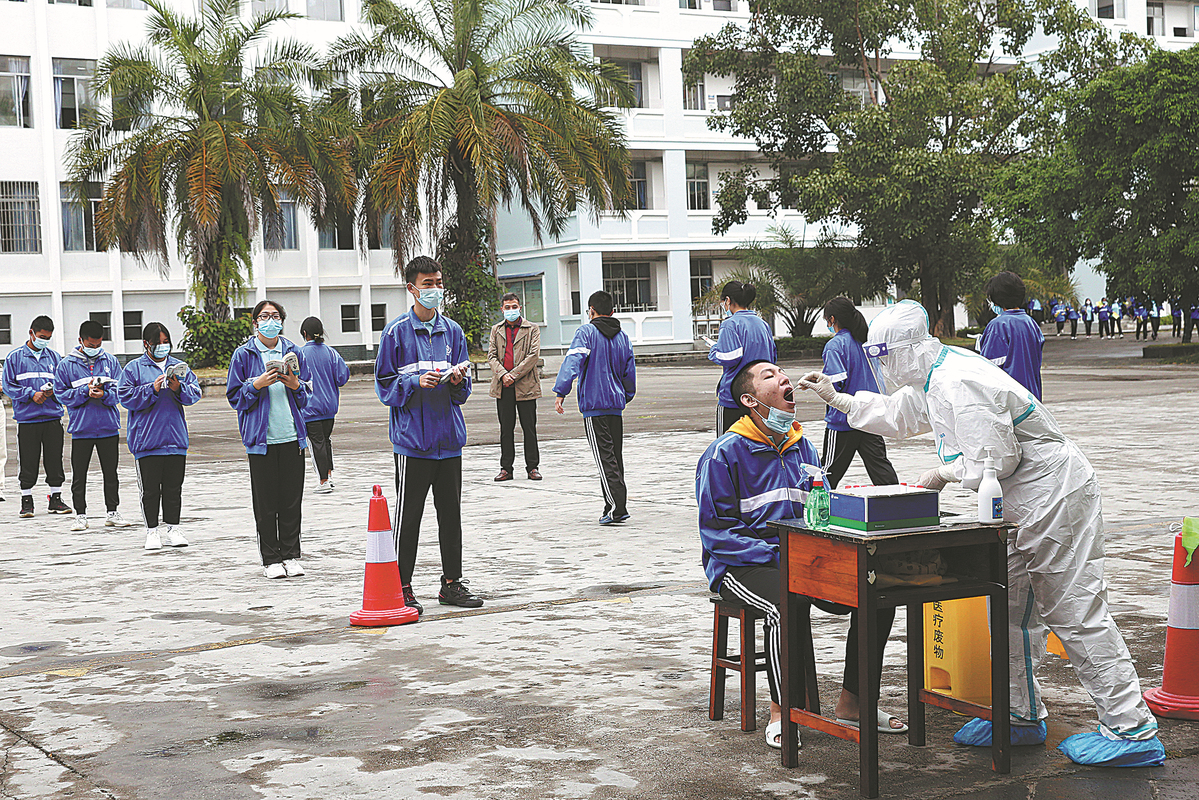 Necessary precautions
Li Qian, Ruili's vice-mayor, said local authorities have been using all means possible to resume in-person classes, while ensuring the students' safety.
"Our interviews with parents have shown that about 80 percent of them would prefer to send their children to school if the virus situation allows and safety precautions are in place," she said.
After the outbreaks had largely been brought under control, health experts and local authorities reached a consensus that despite the risk of sporadic infections, it was feasible and safe to reopen the city's schools.
However, necessary precautions had to be taken to shield students and faculty members from the risk of the virus spreading, including restricting general entry and exit to schools and conducting regular nucleic acid tests.
Liu Yan, principal of Ruili First Minzu High School, said upgrading the infrastructure to provide accommodations for students and faculty members was the first step that had to be taken.
"About one-third of students at the high school used to live away from the campus, so there was not adequate space for them to take naps and sleep at night," she said.
Under the guidance of local education authorities, the school has transformed empty classrooms into dormitories, each designed to house 15 to 20 students.
The city government also purchased about 2,870 sets of bunk beds from Kunming, the provincial capital, and about 700 of them were sent to Ruili First Minzu High School.
However, the more complicated challenge is to comfort and care for students distressed by academic pressures, being separated from their families and the new routines of dorm life.
Li Lanyi, who teaches Chinese at the school, said communication is the key.
"In the past, the relationship between teachers and students was confined to the academic setting. Now, because of prolonged periods of staying together on campus, I am able to see the students in a different light and offer help and advice at all times," she said.
"I always tell them that life is never a smooth ride, and it is perfectly normal to have negative feelings and ask for a break," she added, noting that on-campus teachers and doctors are always on standby to provide advice.
Ming Zonglong, a school administrator, said that to ease tensions among both students and parents-some of whom still have doubts about whether their children will adapt to the new environment-teachers use digital devices to live-stream and record a weekly session in which the students share their feelings and anecdotes.