Transformation reinforces on-campus security
By WANG XIAOYU | China Daily | Updated: 2021-11-25 09:04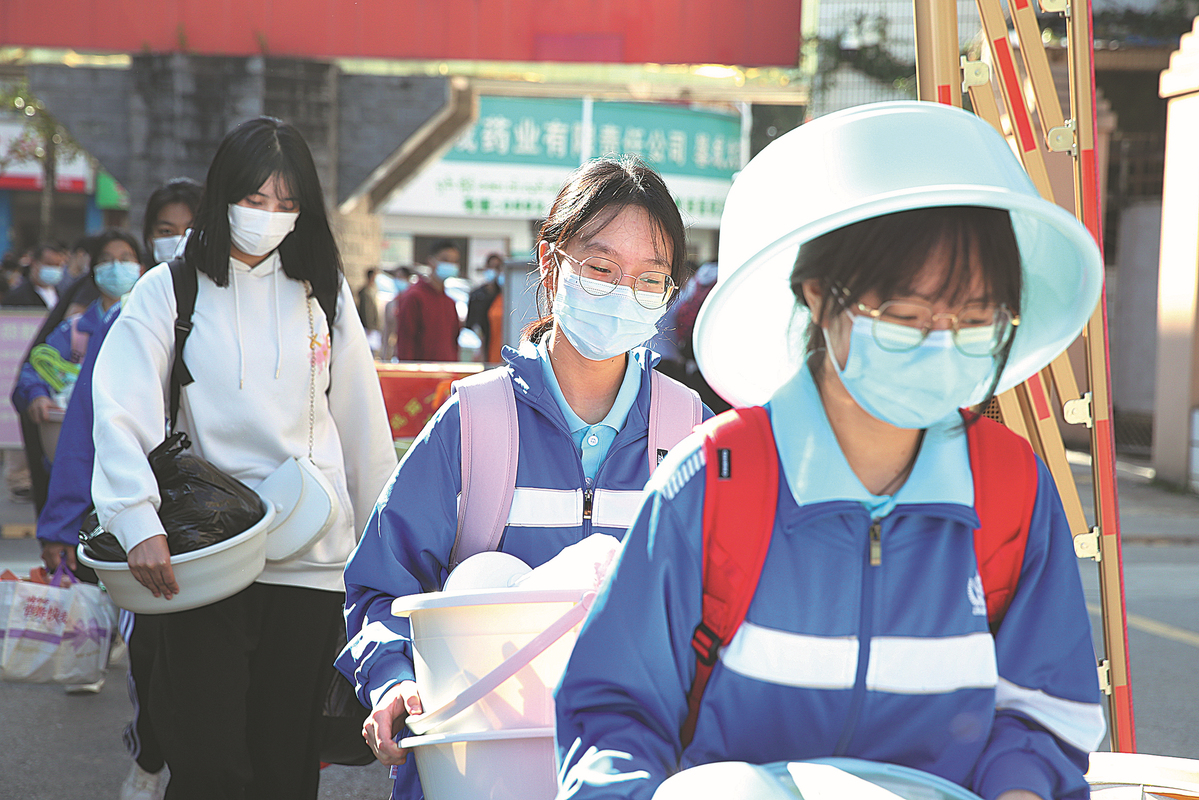 For Zhang Lijun, principal of Ruili No 1 Junior High School in Yunnan province, the past year has been marked by stress and uncertainty as several waves of imported COVID-19 cases disrupted teaching.
However, the pressure has built to a peak since Nov 8, when Zhang received a notice ordering all junior and senior high schools in Ruili to resume offline teaching and introduce "closed-off management" by the end of the month.
That means all students and faculty members must live on the campus and minimize contact with goods and personnel from outside the school to prevent the potential spread of the novel coronavirus.
After learning about the requirements, Zhang's life was hectic as he searched for a new facility to safely accommodate all the students, arranged equipment logistics, designed new teaching schedules and devised emergency plans.
He said he even personally tested the new bunk beds to see if tall students could sleep comfortably on them.
"Nearly all the parents told me that they were eager to send their children back to school, so much so that some said they could accept their kids living in makeshift shelters," he said.
Stemming transmission of the virus is extremely difficult due to Ruili's proximity to Myanmar: one local village literally straddles the two countries, and many more stand just meters apart on either side of the border.
"Many parents are also involved in virus control work, such as patrolling the border, so their biggest wish is that their children can be taken care of and study in a safe environment," Zhang said.
The school's campus is only big enough to meet the demands of senior students, who returned last month.
With the help of the local government, Zhang secured the campus of a vacant primary school, as well as a building that stands opposite it.
"These places should be big enough to meet the needs of about 1,050 students, as well as 130 faculty members and their families," he said.
Along with about 12 workers, he set about replacing the desks and chairs in classrooms with bunk beds, making partitions, setting up shower rooms and installing solar panels, as well as adding more woks and sanitation cabinets to the kitchen.
They also built a pathway and a small entrance to connect the separate building and the main campus.
"It cost at least 860,000 yuan ($135,000) to renovate this place," Zhang said. "Both the funds and the hard work of all the workers were aimed at ensuring a smooth reopening of the school."
The Ruili government said it will formulate plans to resume traditional classes at primary schools in the city, based on the local virus control situation.