German parties agree deal after months of talks
By JONATHAN POWELL in London | China Daily Global | Updated: 2021-11-25 09:42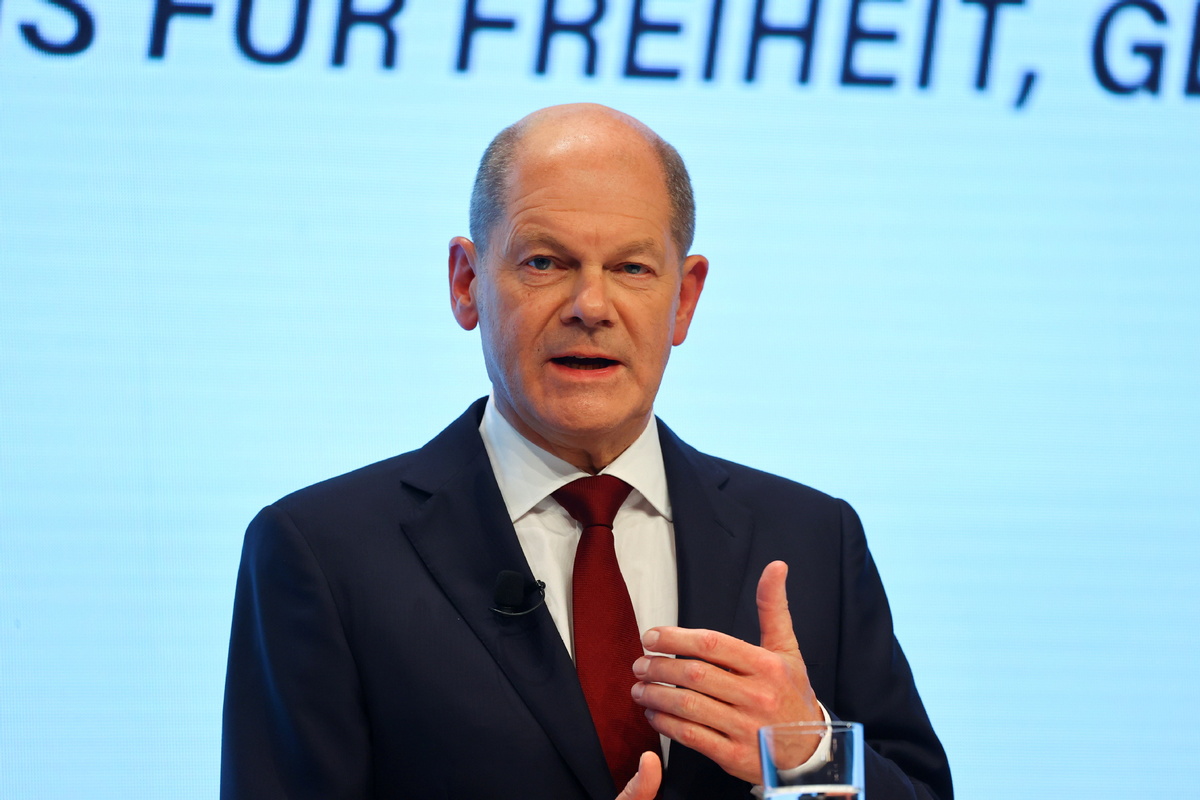 Three partners will form coalition govt but remain divided on some key issues
Social democrat Olaf Scholz is set to be Germany's new chancellor after the leaders of three parties confirmed a deal to form a new coalition government.
The three-party government will be formed by the center-left Social Democrats, or SPD, which won the Sept 26 election, with Scholz, the current finance minister, as their candidate for chancellor, the Greens and the liberal Free Democrats, or FDP, are the other two parties involved.
Chancellor Angela Merkel will remain in place as caretaker leader until the new government is formally approved in a vote by Parliament in two weeks time.
The three parties will now consult all their members to decide on accepting the coalition agreement, and, if approval is gained, Scholz, would be elected as chancellor in the week starting Dec 6, according to the Politico news site.
News agencies reported that differences over financing the transition toward a green economy and ministerial posts were resolved early on Wednesday, before the deal was presented later in a news conference.
"We want to dare to make more progress," Scholz told the briefing in Berlin, held with the FDP and Greens leaders. "We will massively invest in Germany to keep it at the forefront."
Prospective ministerial positions were not confirmed, though The Guardian reported that the FDP's Christian Lindner will be the new finance minister, and co-leader of the Greens, Robert Habeck, will head the newly formed economy, climate protection and energy ministry. Annalena Baerbock, the Greens' other leader, will be foreign minister, becoming the first woman in the job.
The so-called traffic light coalition will end 16 years of Merkel-led conservative government, and marks a new era for the country's relations with Europe and the rest of the world, noted Reuters news agency, adding that it is expected to modernize the economy by improving its infrastructure and stepping up environmental measures.
The deal comes after two months of negotiations to form a new government following a close election, in which the Greens took 14.8 percent of the vote, the SPD 25.7 percent and the FDP 11.5 percent. The conservatives sunk to a historic low of 24.1 percent, the first time they have scored below 30 percent.
The three parties are not regarded as traditional partners, differing on several issues, notably climate policy, said Germany's Deutsche Welle News. It said the FDP is usually aligned with the center-right, rather than the left-leaning SPD and Greens.
Sources told Reuters that the Greens are satisfied climate policy in the new coalition would include measures to increase the use of wind and solar energy, and that coal would be abandoned as a source by 2030, which would be eight years earlier than planned under the last government.