Environment and energy infrastructure a centerpiece of China-Africa cooperation
Share - WeChat Editor's notes: The eighth Ministerial Conference of the Forum on China-Africa Cooperation (FOCAC) will be held on Nov 29-30 in Dakar, Senegal.
With the theme of "Deepen China-Africa Partnership and Promote Sustainable Development to Build a China-Africa Community with a Shared Future in the New Era", the conference will review and assess the follow-up implementation of the outcomes of the 2018 FOCAC Beijing Summit as well as the joint China-Africa response to COVID-19, and chart the course for China-Africa relations for the next three years and beyond.
During the past three years, China has been cooperating with African countries in fields such as green development, trade facilitation, and infrastructure connectivity, which are among major initiatives proposed at the 2018 FOCAC Beijing Summit.
Let's take a look at some examples of China-Africa cooperation in combating climate change and protecting environment.
Clean energy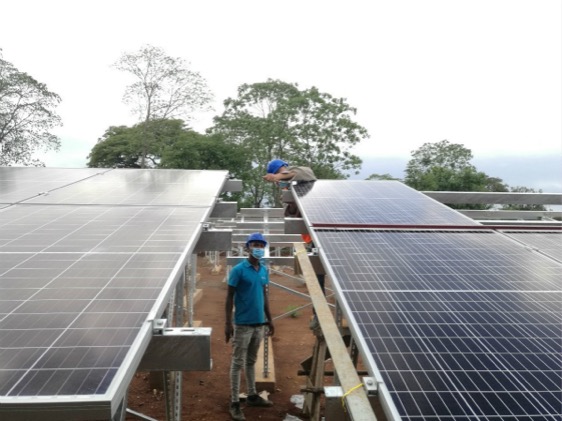 Around 40 percent of households in sub-Saharan Africa are not connected to power grid, and many of them are powered by solar panels made in China.
Thanks to an off-grid photovoltaic (PV) power station project undertaken by China Electric Power Equipment and Technology Co Ltd, a subsidiary of State Grid Corporation of China in Somali region, Ethiopia, nearly 6,000 people from over 2,000 families in Qorile village near the project had access to clean electricity as the village was brightly lit in the second half of 2020.
The completion of the off-grid PV power station has changed the lives of people in Qorile village. In the past, the only electrical appliance of most of the families in the village was the mobile phone, and the hospital in the village relied on diesel generators for electricity.
After the PV power station was built, the village installed road lamps, and villagers started to buy higher-power home appliances like electric fans and televisions.
The project has promoted the implementation of Ethiopia's plan to bring power to all citizens by 2025, said Seleshi Bekele, Ethiopia's minister of water, irrigation and electricity.
The off-grid PV power station project in the Somali region is among the first batch of the demonstration projects of the Lighting Africa program funded by the World Bank. It is also the pilot project of the program in Ethiopia.
Likewise, clean energy is applied in the field of railway construction.
Starting to operate in January 2018, the Chinese-built 752.7 km Ethiopia-Djibouti Railway is the first cross-border railway electrified by clean energy in Africa. Besides providing development opportunities for related countries and regions, the railway's energy-saving and environmentally friendly operation has also become the best footnote for the joint construction of a green Belt and Road project.
The railway has played an important role during the COVID-19 pandemic. By May 2021, the Ethiopia-Djibouti Railway had ferried more than 1.5 million tons of pandemic-prevention goods and industrial raw materials.