Charges filed in Michigan school shooting
By AI HEPING in New York | China Daily Global | Updated: 2021-12-02 11:17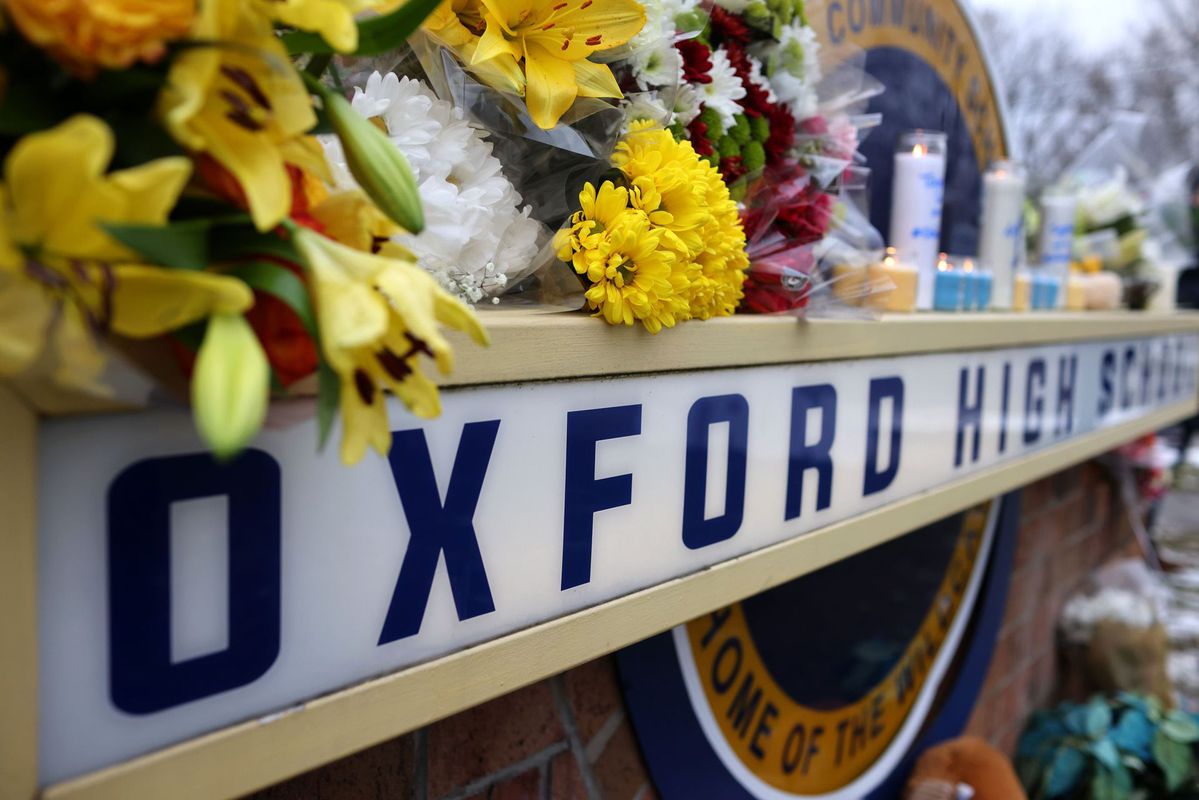 The 15-year-old suspect who police say shot and killed four students and wounded seven others at his Michigan high school was charged as an adult Wednesday with one count of terrorism causing death and four counts of first-degree murder.
The suspect was identified by Oakland County Prosecutor Karen McDonald as Ethan Crumbley, a sophomore at Oxford High School located about 40 miles north of Detroit. He faces up to life in prison without parole if convicted as charged.
Authorities revealed Wednesday that about three hours before the suspect allegedly emerged from a bathroom and began shooting in hallways at the school on Tuesday, he took part in a morning meeting with his parents and school officials over his "concerning" behavior in the classroom.
The day before, Oakland County Sheriff Michael Bouchard said at a news conference Wednesday, Crumbley also was called in for a meeting with school personnel. Bouchard declined to specify the nature of that behavior but said law enforcement agencies hadn't been notified.
The school had no prior disciplinary or behavioral complaints involving Crumbley, and there were no reports that he had been bullied at school, Bouchard said. He said the victims in the attack "appeared random''.
Crumbley appeared at a video arraignment from a juvenile detention facility before a judge on Wednesday afternoon, where the announcement of charges came just hours after a fourth student died at McLaren Oakland Hospital in Pontiac, Michigan.
The suspect's parents, who identified themselves as Jennifer and James Crumbley, were also on the video conference.
During the arraignment, authorities told the judge that investigators had recovered two separate videos from the suspect's cellphone, which were made the night before the incident.
Sheriff's Lieutenant Tim Willis told the judge that Crumbley recorded a video the night before the violence in which he discussed killing students, and authorities said a journal in his backpack also detailed his desire to shoot up the school.
During his arraignment before 52nd District Court Judge Nancy Carniak, Crumbley replied, "Yes, I do," when asked if he understood the criminal charges he is facing. The judge entered a not-guilty plea on his behalf.
Marc Keast, an assistant attorney for Oakland County, asked that bond be denied for Crumbley, noting a review of surveillance footage showed him "methodically and deliberately" aiming at students and firing.
Keast urged the judge to move Crumbley from Children's Village in Pontiac to the Oakland County Jail.
Scott Kozak, an attorney for Crumbley, objected to the transfer, noting "these are all allegations and he has not been found guilty". Defense attorneys said that Crumbley has been "cooperative" and he is on suicide watch at the juvenile center.
The judge ordered that he be relocated to the county jail and be held in isolation, with no contact with adult inmates. No bond was set.
McDonald said at a news conference that "there is a mountain of digital evidence, videotape, social media. I am absolutely sure after reviewing the evidence that it isn't even a close call: It was absolutely premeditated," she said.
McDonald also said, "we are considering charges against both parents and we will be making a decision swiftly".
Bouchard said the gun used in the shooting – a 9mm Sig Sauer SP 2022 – was purchased by the teen's father the day after Thanksgiving.
McDonald declined to comment on a motive but said she had no reason to believe that Crumbley's mental state would affect his ability to face charges.
The four teenagers killed at the school were remembered Wednesday for their commitment to athletics, art and family.
Madisyn Baldwin, 17, was a talented artist who loved to draw, read and draw. She was the oldest child in her family, with a half-brother and two sisters. Her grandmother said she already had received multiple college acceptances and was looking forward to the future. She described her granddaughter as patient and "so kind."
Tate Myre, 16, was a member of the school's varsity football team and an honor student, according to the team's tribute to him on Twitter.
"Tate was a great young man with a bright future and beloved by all," the post read. "You will be missed, Tate."
Brett Moore, 46, said his son, a sophomore who played football with Myre, is taking his friend's death "very badly".
"Tate drove him home from practice every day and they went to homecoming together," said Moore. "He was a great kid."
Hana St. Juliana also was remembered for her passion and commitment to athletics.
The Oxford women's basketball program paid tribute to the 14-year-old girl on Twitter.
"We will never forget your kind heart, silly personality, and passion for the game," the team's post said. "Since 6th grade camp you have stayed dedicated to Oxford Basketball, soaking in the game. ... This season we play for you Hana."
Authorities on Wednesday announced that a fourth student, Justin Shilling, 17, died of his injuries that morning. Managers of a restaurant in nearby Lake Orion said Shilling worked there.
"Justin was an exemplary employee, a devoted friend and co-worker, co-captain of his bowling team, and simply a pleasure to be around," a message on the restaurant's Facebook page said.
Another six unidentified students and a teacher were wounded.
There are multiple social media accounts, including several Instagram accounts, under Ethan Crumbley's name, the Detroit Free Press reported. Police said investigators are closely looking at his online activity.
One includes a post that appears to have been removed from Instagram of a 9mm Sig Sauer in a person's hand posted several days ago on an account under Crumbley's name, according to the Free Press. The author of the post wrote: "Just got my new beauty today. … Ask any questions I will answer."
The picture circulating online was screenshotted and has been shared widely among Oxford parents and by others social media users, the Free Press reported.
Bouchard said Crumbley fired 30 rounds during the five-minute outburst. He had three, 15-round magazines, the sheriff added.
After the shooting rampage, authorities said they learned of social media posts about threats of a shooting at roughly 1,800-student school.
Robin Redding told The Associated Press that her son, 12th-grader Treshan Bryant, stayed home Tuesday after hearing of the threats. "This couldn't be just random," she said.
Bryant said he had heard vague threats "for a long time now" about plans for a shooting.
The Associated Press contributed to this story.