'Nezha' stirs up success
Share - WeChat True to her nickname, Tokyo 2020 hero Zhang Yufei already eyeing more glory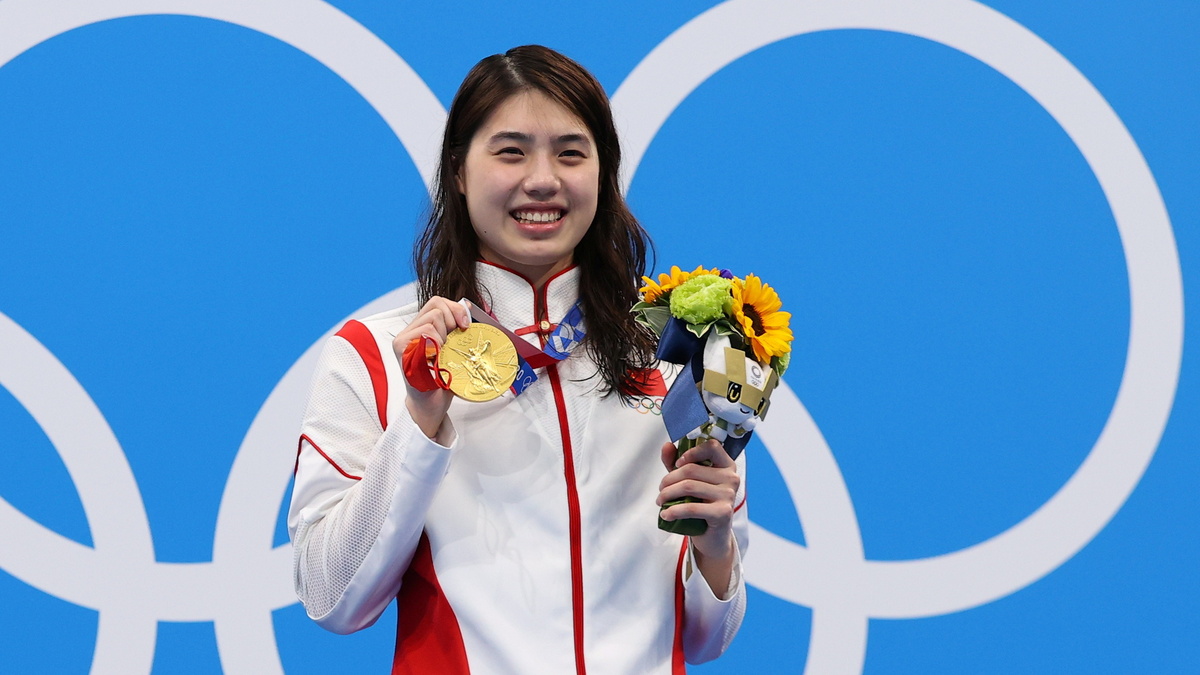 Nicknamed "Nezha", a beloved Chinese mythological figure and cartoon character who represents bravery, swimming ace Zhang Yufei is charging fearlessly toward more glory after making a major splash in the Tokyo 2020 pool.
"I love my nickname. When I was a kid, I was a big fan of the cartoon Nezha Stirs Up the Sea. I've had the nickname since 2016, and I hope to keep my Nezha spirit in the pool so more people can remember me," Zhang told China Daily in an exclusive livestreamed chat last week.
The 23-year-old became a household name this summer by bagging four medals at the Tokyo Olympics. After powering to the 200m butterfly title in an Olympic-record time, she topped the podium again in the 4x200m freestyle relay.
Zhang barely had a breather before September's National Games in Xi'an, where she collected four golds and one silver. Later this month, she will be back on the international stage chasing more titles at the 25-meter world championships in Abu Dhabi.
"After the Tokyo Olympics and the National Games, I had a very short break and I returned to Nanjing to prepare for the worlds. Now I have regrouped with the national team in Beijing for our final preparations," said Zhang.
"The concentration of major championships this year has been very challenging from a fitness perspective. I have so many races at each competition. In training I've been covering 12 kilometers in the pool, although in recent days I've reduced that to 10. It works out at six kilometers for two three-hour sessions each day."
Zhang also claimed silvers in the 100m butterfly and 4x100m mixed medley relay in Tokyo. She says she simply feels "lucky", and insists returning home with four medals around her neck was beyond her expectations.
"Originally, I had one gold and one silver in my mind, to be honest, so to win four medals was truly a surprise," Zhang added.
"The toughest times for me over the past few years were in 2019 and 2020. Had the Tokyo Olympics not been postponed, I would've finished my preparation in 2020. And 2019 was a downturn for me. I had never performed so poorly before.
"To get back to peak condition, I completely overhauled my training. I was determined to get the best out of myself, so each day was not easy, and even quite painful at times.
"But I never thought about quitting. I have started this journey and there's no turning back. I know what I'm capable of, and I knew if I tried harder I could reach the Olympic podium and even win gold."
As well as those arduous hours in the training pool, the experience banked from her difficult Olympic debut in Rio was also a factor in Zhang's resurgence in Tokyo. She was so crestfallen at failing to reach the podium in Brazil that she refused to watch replays of her Rio races, but she has clearly grown from those setbacks.
"From Rio to the Tokyo Olympics, I kept leveling up by competing in elite-level international races. I gained a lot of experience and matured a lot over the past five years. These were all crucial factors that helped me to achieve a good result in Tokyo," said Zhang.
"The Rio Games allowed me to understand what the Olympics mean for an athlete. When I stood next to the pool in Tokyo, I recalled those moments by the pool in Rio when I was still too young."
More cabinets for medals
Over the course of two months this year, Zhang managed to bring home nine medals-just a small fraction of the silverware she has earned throughout her career. She said her mother can now only fit her international medals in the display cabinet at their home in Jiangsu province. "I wanted to count my medals the last time I went home, but there are too many and I simply gave up," Zhang said.
"My mom told me the display cabinet is almost full now and she's planning to buy new cabinets for more medals," added Zhang, who has now grown accustomed to racking up major milestones.
"I think the one from the 2015 world championships in Kazan is very important to me, as it was my first medal at a major international event," she said when asked to choose the favorites from her collection. "Also my golds at the 2018 Asian Games are very meaningful to me. And of course the Tokyo golds are crucial to my career.
"Different medals are like markers of my career at different times. Every time I see these medals, I recall the events and stories that occurred during these periods."
A major driving force behind Zhang's success is coach Cui Dengrong. Zhang says a healthy amount of friction makes their relationship work, invoking the classic Chinese novel Journey to the West to illustrate their polar-opposite personalities-he's the grumbling monk Tang, and Zhang is his rebellious disciple, the Monkey King.
"At certain times I feel he's too nagging and I stop talking to him," Zhang said with a smile. "But for the most part after I calm down, I realize the weaknesses that he's identified, and then I apologize and find ways to improve.
"My coach has helped me in so many ways, in and out of the pool. In terms of skills, he helps me to refine every detail. And he has also guided me and taught me a lot of things about everyday life.
"But he's always here with me. Any time results don't go my way, he just waits for me as I make my way back to the locker room. Normally in those situations, he doesn't say anything. He's like a father to me."
Combining that expert coaching with an innate will to win, it seems Zhang-just like her nickname namesake Nezha-is destined for legendary status.
"I have had that strong desire to win at everything since I was a kid," she said.
"Sometimes, the boys and girls would compete together, and there would be older boys who were faster than me. So, if they were 10 meters ahead of me, the next time I would aim to reduce the gap to five meters or whatever, and then one day I would surpass them."
Next up, Zhang will attempt to surpass her rivals-and herself-once more at the world championships later this month.
Most Popular
Highlights
What's Hot