'Summit for Democracy' selling a lie
By Martin Sieff | CHINA DAILY | Updated: 2021-12-07 07:24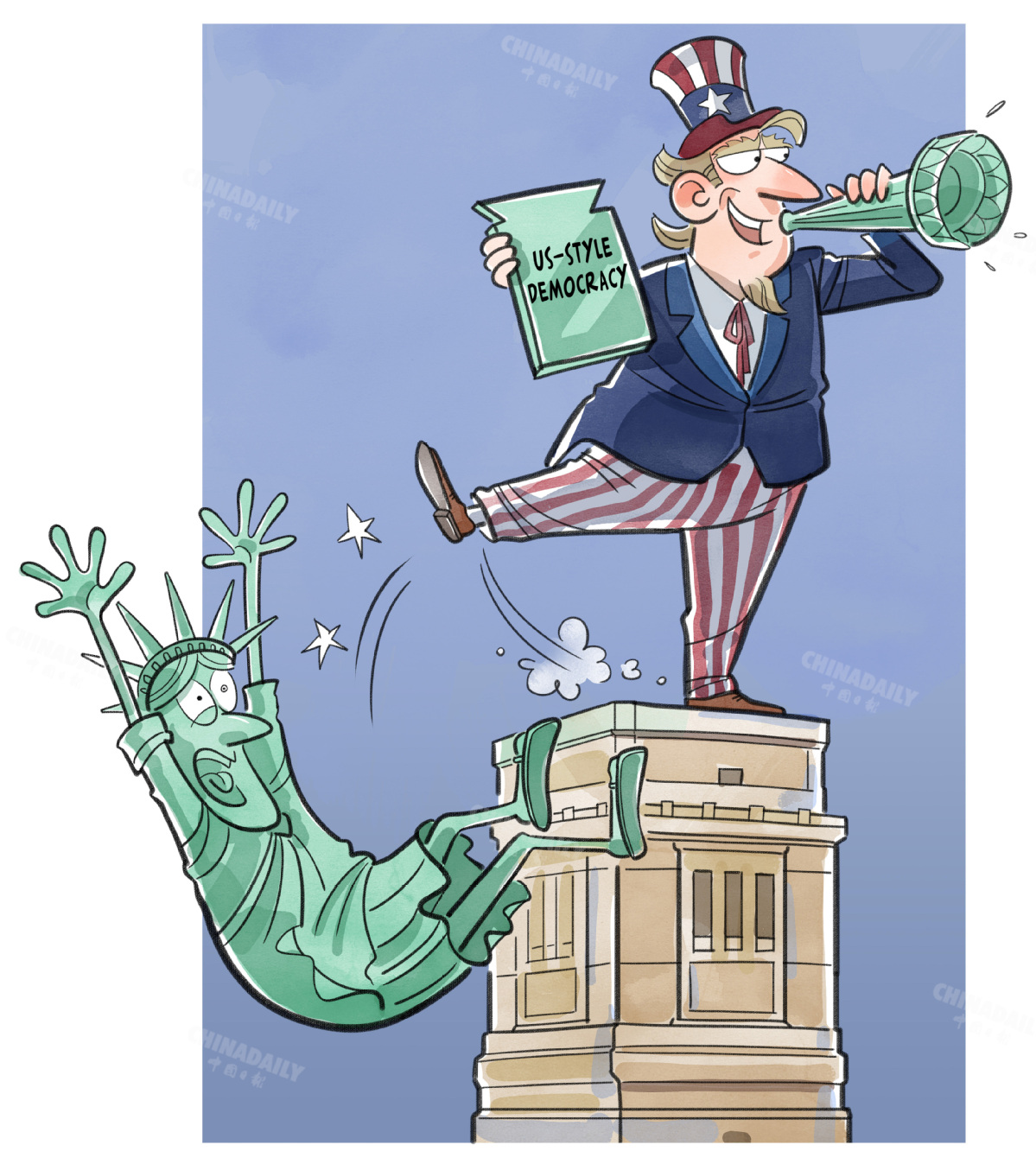 In his 1959 novel Time Out of Joint, the great American dissident author Philip K. Dick, the most visionary and surrealistic of all science fiction writers, envisioned a post-nuclear holocaust world whose survivors were comforted into imagining they lived in a cozy, middle-class California suburb back in the 1950s. All it took were little slips of paper pinned to the radioactive, glowing, smoldering ruins with words such as "supermarket", "gas station", "fast food restaurant", "sports stadium", "office block" and "Cadillac automobile" written on them to convince the people they were seeing exactly those things.
We already live in such a world: The "Summit for Democracy" that US President Joe Biden will host on Thursday and Friday is proof of it.
True to the horrible, Dickian logic of 21st century Western politics and society, in order to understand the simple reality of what is really happening, one just has to reverse polarity on the electric-magnetic fields of perception and understanding.
In other words, everything is exactly the opposite of what it is claimed to be.
Such outright transpositions of black into white, white into black, and every obvious and clear reality into its photographic negative can be seen everywhere.
The occupation of Afghanistan by the United States and its allies was never about freeing the Afghan people or modernizing the country. The vague, nebulous and simply stupid grand geopolitical conceptions of Zbigniew Brzezinski, political scientist and national security advisor to former US president Jimmy Carter, and his neoconservative lackeys imagined an eternal US beacon in the center of Asia from which to destabilize and then topple the neighboring governments in Russia, China and Iran. Except that, apart from Brzezinski and his neoconservative gang, no one thought it would happen.
The mantra of free trade pushed by US leaders from former presidents George H.W. Bush to Bill Clinton was never about generously raising the standard of living of people around the world. It was always about impoverishing the American industrial working class and then blaming China for it, while inconceivable quantities of wealth concentrated in fewer and fewer hands at home.
Nor is the manic, suicidal and reckless expansion of a weak, disorganized NATO ever more eastward into the heart of Eurasia about stabilizing the world. It is all about destabilizing it. Once again, reality is the opposite of the slips of paper and cheap, worthless rhetoric and cliches expressed to justify it.
The "Summit for Democracy", the latest brainchild of the delusionary ideologues who pose as "strategic planners" in Washington's Beltway, is another example of this remorseless descent into madness. It is not a summit for democracy at all. It is not a gathering intended to bring peace on Earth and goodwill to all humans.
Instead, the summit will be just another Philip K. Dick bit of worthless paper with the words "democracy" and "peace" written on it.
It is not about promoting democracy. From Belarus to China's Hong Kong Special Administrative Region, it will be about subverting and destabilizing stable economies and societies, and an abrasive attempt at stripping the stability and prosperity they still have away from them.
We have seen that process over the past decade in Ukraine, Libya, Syria, the Hong Kong SAR and many other places. Now Belarus has been targeted for the same treatment: first externally engineered destabilization, then direct foreign military intervention in the name of peace, then a chaotic, anarchic hell created and left to fester, with a handful of bewildered and useless NATO "peacekeepers" deployed to patrol the smoldering remains.
Far from spreading "peace" around the world, the "Summit for Democracy" will create monstrous new ideological divisions. It will be used as a stepping stone to divide the world even more catastrophically than the Cold War did. Except that the new "Cold War", by its very nature, will be engineered to turn into a hot war.
Philip K. Dick died in 1982. His works inspired an entire new genre of blockbuster science fiction movies about universal brainwashing and deliberately manipulated mass states of reality, including Total Recall and the Matrix franchise.
He had a successor in the astonishing French political philosopher Jean Baudrillard, who died in 2007. Baudrillard foresaw in haunting prose the relentless drive to destroy simple perceptions of reality and what this process would inevitably lead to.
Biden's "Summit for Democracy" is the latest example of this fascinating but thoroughly sinister phenomenon. Don't waste any time on it, just take your "red pill" from the world of Matrix movies (or is it the blue one? It really doesn't matter). Then everything will be fine.
The author is a senior fellow at the American University in Moscow.
The views don't necessarily reflect those of China Daily.
If you have a specific expertise, or would like to share your thought about our stories, then send us your writings at opinion@chinadaily.com.cn, and comment@chinadaily.com.cn.