Rocket science gives Olympians liftoff
Share - WeChat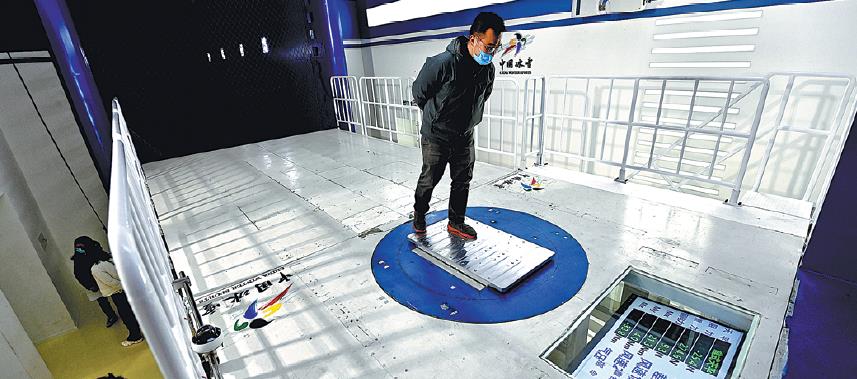 Rocket science is propelling China's winter sports national program to the next level as the latest in aerodynamic research and technology pushes athletes faster, further and higher for the home Olympics.
With cutting-edge facilities, including a wind tunnel and astronaut-training simulators, at their disposal, China's winter sports athletes are benefiting from science originally developed to test aircraft, missiles and race cars at a renovated factory in Beijing.
After sitting idle for years at the century-old Erqi Locomotive Factory in the capital's southern suburbs, the plant has been transformed into a high-performance training complex designed specifically for athletes competing in high-velocity events, such as speed skating, ski jumping and bobsled, where wind drag makes a huge difference at the highest level.
The wind tunnel began operation in October 2020, and has accommodated training sessions of over 400 national team athletes from 15 winter and six summer sports, according to Li Bo, a professor from Beijing Jiaotong University's wind tunnel lab.
"The tunnel has been used for two purposes in the sporting context-to improve athletes' skills and movements in order to reduce air resistance, and secondly, to test sports equipment and outfits for aerodynamic optimization," said Li, a member of the sports scientist panel hired by the National Winter Sports Administrative Center to facilitate preparations for Beijing 2022.
Built within a former train engine manufacturing workshop, the supersized tunnel can generate winds as fast as 46 meters per second, stronger than a typical hurricane.
The speed and intensity of the air flow meet the requirements of all winter sports that are scored by time and distance, while the evenness of the gusts blowing through a 5x3-meter rectangular shape ensures the accuracy and consistency of data generated from training sessions, according to Li.
"After monitoring and measuring the air drag on athletes' bodies, or the surface of their tracksuits and trainers, team researchers can then analyze results and adjust the moves and skills of athletes and redesign their uniforms if needed," he said.
According to engineers developing the project, wind tunnels are the most essential hardware used in aerodynamic experiments.
In recent years, wind tunnels have been widely adopted in sports training in Western countries, such as the United States and Canada, as coaches and athletes search for every possible advantage in their pursuit of excellence.
Chinese athletes have already reaped the benefits of the tech-enhanced program.
Men's skeleton racer Geng Wenqiang sped to his maiden World Cup win in Austria last month, while men's speed skater Ning Zhongyan also claimed his first World Cup title in a 1,500m race in Norway last month after spending the summer training at the Erqi base.
Located just across the street from the wind tunnel facility is another state-of-the-art training center.
Equipped with the latest in virtual reality simulators, artificial rinks and dryland ski ramps, the center makes preseason indoor training as real and as challenging as possible for skiers and snowboarders.
Simulators featuring multiaxial spins and rotations, more commonly known for helping pilots and astronauts overcome airsickness, are now aiding freestyle skiers and snowboarders to perfect their own aerial moves in order to land more difficult tricks.