NYPD data: Anti-Asian hate crimes surging
By HENG WEILI in New York | China Daily Global | Updated: 2021-12-09 13:02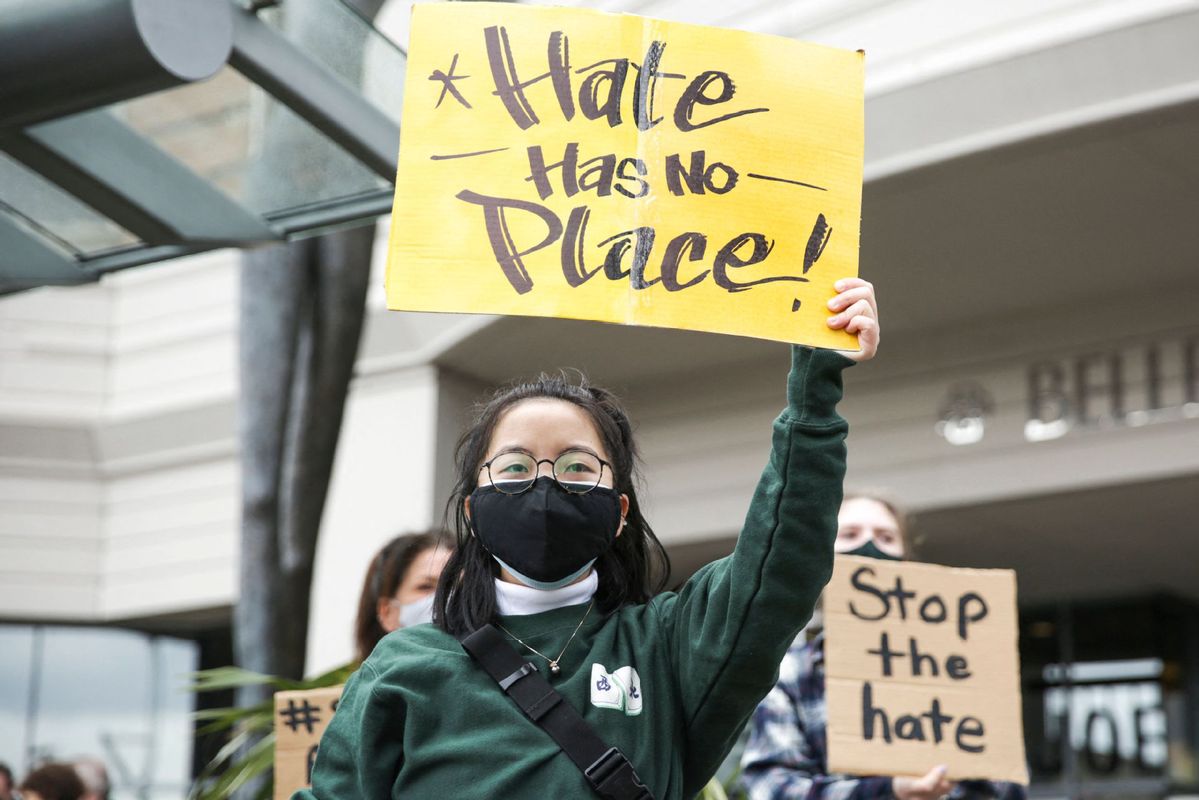 The disturbing random attacks on people of Asian descent in New York City throughout the year have factored prominently in the NYPD's most recent hate-crime report.
Police say there was a 361 percent increase in such crimes — 129 versus 28 last year — against the Asian community through Dec 5.
Anecdotally, many of the unprovoked assaults were a result of scapegoating over the COVID-19 pandemic, with slurs and xenophobic comments often uttered.
Anti-Semitic crimes increased to 183 in 2021, from 121 in 2020, and there were 85 crimes this year over sexual orientation, up from 29 last year.
Overall, there was a 100 percent increase in hate crimes in the city against all groups through Dec 5 — 503 — up from 252 in 2020, the NYPD said Tuesday.
"On the flip side of that, which shows the great work our hate crimes task force is doing, our arrests are up 106 percent. So on that 503 incidents, we've made 249 arrests," NYPD Chief of Detectives James Essig said Tuesday.
"Nothing is more important to us than these cases; that's why they have higher penalties, because it's not just about one person, it's meant to attack an entire group or class," he added.
"What we are seeing is anti-Asian (crimes) really increasing both by percentage and the raw number. I think when you look at anti-Semitic and anti-Asian, that's over 50 percent of all of the hate crimes in New York City," said city Police Commissioner Dermot Shea in an interview with WPIX 11 on Wednesday. Shea will retire as commissioner when the administration of Mayor Bill de Blasio concludes on Dec 31.
"Don't ever forget the victims in this and the trauma that these cases inflict not just on them and their family and people that see these acts, but the greater society," Shea said at a press briefing with the mayor on Wednesday.
"We have to shine a very bright light on this, and then making sure that everyone knows that when you do something like this, number one, you'll be held accountable. But number two, it's not acceptable, not only in this city, but anywhere," Shea said.
Shea said the spike in hate crimes is driven by lower incarceration rates.
As for who is behind the incidents, Shea said: "It's the same old song in terms of what we're seeing. We're seeing a little bit of mental illness. We're seeing just disregard for common decency."
"Think of so many acts of genocide in history, and Chinese Americans really have to pay attention," posted netizen "Bu Huo A Feng" on Weibo.
Weibo user "Muhanjiang" posted that "it's not all because of racial discrimination factors. Now all kinds of crime in New York are skyrocketing; relatives' shops were broken in to; relatives saw it with their own eyes but were afraid to stop (it). … The police are also helpless."
On Nov 28, a suspect the NYPD had sought for about four months for allegedly knocking an Asian woman and her adult son down subway steps during a fatal alleged robbery attempt was arrested and charged with murder.
Police had identified David Robinson, 53, on July 28 a week and a half after investigators say he approached Than Wtwe Than, 58, and her 22-year-old son at 9:40 am inside a Canal Street subway station in Manhattan Chinatown. Police say Robinson tried to grab a bag from the victims, causing them to fall down a flight of stairs. Than was hospitalized in critical condition with a severe head injury. She went into a coma and later died at Bellevue Hospital.
A nurse says she has been unable to work since a man hit her from behind with his bike's handlebars and called her anti-Asian slurs on a subway platform in New York City in November. Atsuko Obando, 54, was heading to work around 6:30 pm on Nov 27 when the suspect rammed into her back at the West 116th Street and Broadway station in Morningside Heights, the New York Daily News reported.
When asked why he did it, the suspect laughed and said, "I got you good, you Asian f------ b----," Obando told WABC. She said she walked away, but he allegedly continued to taunt her.
Raymond Bennett, 46, was charged with assault (plus a hate crime enhancement) and criminal possession of a weapon in the attack. He was caught after an Amtrak employee recognized him from a surveillance photo the NYPD had released. Bennett had 38 prior arrests, the Daily News reported, including one for felony assault on Nov 20 for allegedly beating a 37-year-old woman with a CitiBike at Broadway and West 96th Street.
On Nov 26, a 61-year-old Chinese woman was struck in the head with a large rock in Queens, leaving her in critical condition with swelling on the brain that required surgery, CNN reported. The NYPD arrested a 33-year-old man two days later in connection with the crime.
In a case that drew international attention earlier this year, a 65-year-old Asian woman was brutally kicked and stomped on a Manhattan sidewalk on March 29. A man who once was imprisoned for killing his mother was charged in the crime. Two doormen at the condo building facing the sidewalk where the attack occurred were fired after not intervening in the attack.
Not all of the incidents result in arrests, and social media contains numerous cellphone videos of Asian people being regularly accosted on public transit in the city.
"The data is really shocking. It reminds me just to be more careful and take care of myself because things could happen," student Shihao Ent told CBS New York.
Minlu Zhang in New York contributed to this story.