Intelligent appliances driving sales
By Fan Feifei | China Daily | Updated: 2021-12-15 10:54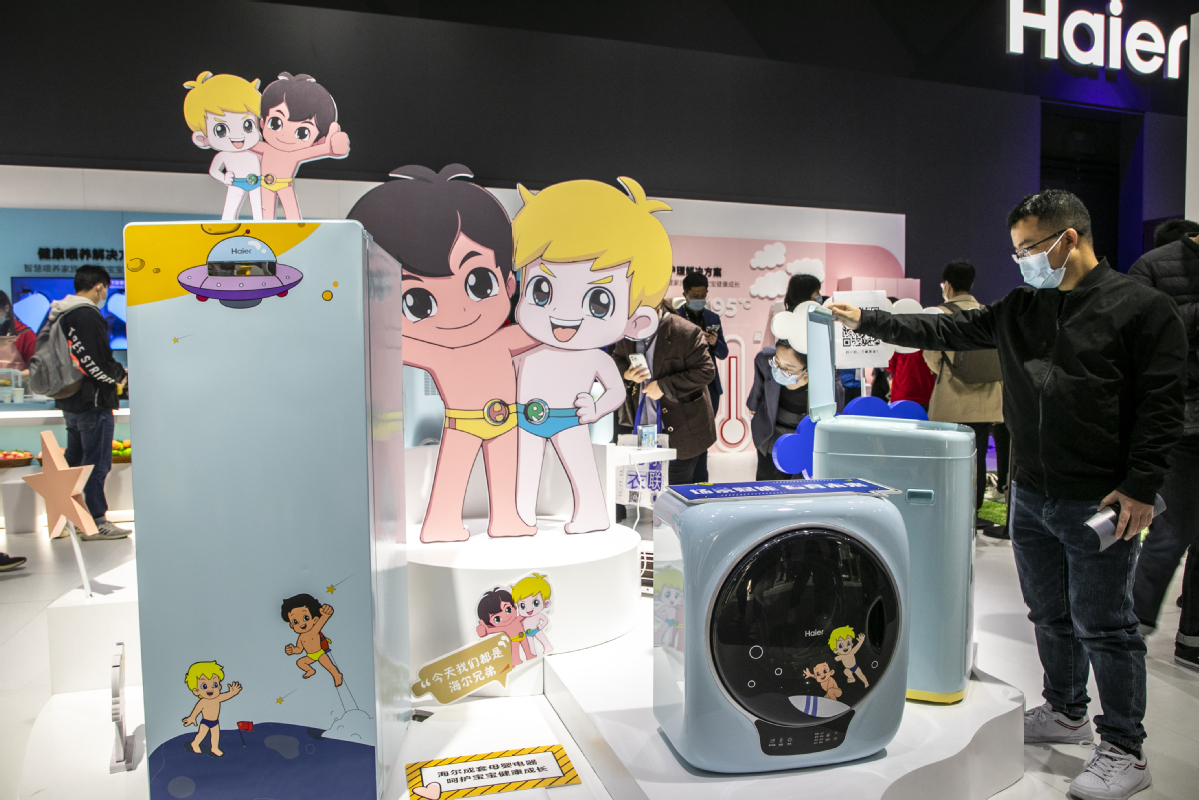 Development of smart home products jumping by 'leaps and bounds' in China
While smart refrigerators that can communicate with a host of other appliances are no longer rare, the fridge now has some new tricks.
The high-tech successor to the humble icebox can help you buy food directly from the farm, track its delivery and get recipe recommendations based on your dietary preferences.
As a result, China's smart home appliance market is poised to enter a period of rapid expansion as a growing number of consumers are pursuing a smarter, high-end lifestyle, company officials say.
Shipments of smart home equipment in China are expected to grow 14.6 percent year-on-year to reach around 230 million units in 2021, according to a report released by global market research firm International Data Corp.
Over the next five years, the compound annual growth rate of the sector is forecast to be 21.4 percent, and the country is expected to see shipments of smart home devices reach 540 million units in 2025, the report said.
In the first half, China shipped around 100 million units of smart home devices, up 13.7 percent on a yearly basis, IDC data showed.
All this has happened with China's smart home equipment market still at a nascent stage of development when the market penetration rate still remains pretty low, the report said. But with the continuing improvements in people's living standards, experts say the sector is expected to see broader prospects.
Traditional home appliance manufacturers are speeding up efforts to launch smart home products and establish an ecosystem based on the internet of things by applying technologies such as artificial intelligence, 5G and blockchain, which is a new type of networked ledgers. The internet of things, or IoT, refers to a network of objects with software or sensors that allows an exchange of data.
Haier Smart Home Co Ltd, a subsidiary of China's largest home appliance manufacturer, Haier Group, has been readying the acceleration of its smart home ecosystem strategy.
The company has built an IoT ecosystem covering clothing, food, housing, entertainment, healthcare and education by providing customized solutions that tie together multiple home appliance products.
The IoT ecosystem is powered by Haier's industrial internet platform COSMOPlat. Haier's "internet of clothing" includes not only machines that wash but that can also oversee everything to do with clothing, including styles, shopping, other types of maintenance and storage.
When consumers put clothes in a Haier smart washing machine, it reads the tag of each piece of clothing, identifies the brand, material, color and style and chooses the related laundry mode based on radio-frequency and AI identification technologies. The washing machine also uses the precise amount of detergent that's perfect for the load.
Li Huagang, president of Haier Smart Home, said the company does not aim for selling just single household appliances, but providing personalized smart home systems.
"In the era of 5G and IoT, what users need are not homogeneous products but customized solutions to meet personalized lives. We are able to present tailor-made services to families," Li added.
Haier's IoT service model offers flexible and customized options, from kitchen design and construction to the purchase, delivery and installation of whole suites of appliances. It also offers smart systems catering to many aspects of user needs for the living room, bedroom and outdoor spaces, the company said.
China's smart home industry is witnessing robust growth, with annual revenue reaching 400 billion yuan ($62.8 billion), said Zhao Meimei, assistant president of market consultancy All View Cloud. Zhao added that appliance makers are pressing ahead with smart home products and IoT ecosystems in a bid for greater growth.
Some challenges and difficulties have cropped up, however, in the development of smart home devices. Smart home products made by different manufacturers usually can't be connected, Zhao said, "and we still rely on foreign suppliers for high-end smart chips. It will still take several years to see the large-scale application of smart home devices."
Yet the industry is "developing by leaps and bounds, thanks to the advancement of the internet of things, big data and other technologies", said Zhang Yanbin, an independent researcher in the home appliances sector. "With people's increasing desire for a high-quality life, the AI-enabled smart home sector has a promising future."
Chinese home appliance manufacturer Midea Group has launched its first version of an internet of things operating system, backed by Huawei's HarmonyOS operating system.
The IoT operating system helps link smart home appliances made not only by Midea but also by other manufacturers, and provides more flexibility for smart home appliance ecosystems, said Xiang Jiangxu, vice-president and chief technology officer of Midea IoT.
The system helps reduce the costs of linking different brands and greatly enhances the ability to coordinate and innovate in the smart home appliances industrial chain, Xiang said. It also provides users with more convenient and intelligent services.
Xiang added that HarmonyOS soon will cover almost all categories of Midea products, including some 200 types.
HarmonyOS was first unveiled in August 2019, after the United States government restricted Huawei's access to Google's Android operating system. Midea reached an initial agreement of its intent to work with Huawei in March 2020.
As of May 2021, 74 Midea products equipped with Huawei's HarmonyOS across 17 categories had entered the market. Zhang Xiaoyi, vice-president of Midea, said shipments of Midea products equipped with HarmonyOS are expected to exceed 2 million units this year.
"Smart home appliances are driving the rapid growth of the traditional home appliance industry," said Zhang Cun, general manager of the home appliances department at GfK China, a market research company. Zhang said smart home appliances accounted for a 33-percent share of China's household appliance industry in the first half of 2021 and have huge growth potential.
IDC said worldwide shipments of smart home devices reached 801.5 million units in 2020, an increase of 4.5 percent from 2019. Shipments are forecast to surpass 1.4 billion units in 2025, with a five-year compound annual growth rate of 12.2 percent.
Video entertainment devices are expected to deliver the largest volume, accounting for 27.6 percent of all shipments in 2025, IDC reported. Home security devices like smart cameras and smart locks are forecast to account for 21.2 percent of those shipments, with a compound annual growth rate of 13 percent.
"Sales of smart home devices have remained fairly resilient during the global COVID-19 pandemic," said Adam Wright, a senior research analyst at IDC. Consumers have shifted their spending priorities from other areas like going out to eat or going to the movies to focus on adding more comfort, convenience and entertainment at home, he said.
"We have seen that smart home devices like streaming sticks, smart speakers, security devices, smart lights and others have performed well over the past year," Wright added.
Voice interaction has been widely applied in the smart home field, and Chinese home appliance makers are improving their technological level in that sector to make products more intelligent, said Liang Zhenpeng, an independent consumer electronics analyst.