High-school musical
By Chen Nan | China Daily | Updated: 2022-01-05 08:46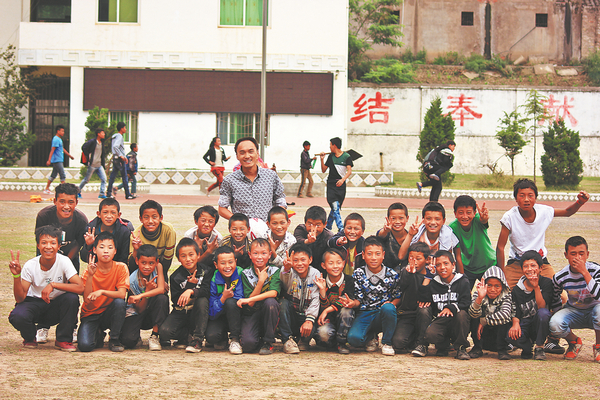 "I've known them since they were children. Now, they have grown up and become good singers. I am very proud of them," says Liu, adding that he is grateful for the help and support from the local government and charity organizations. "They are still very young and have great potential."
Born and raised in Linshui county in Guang'an, Sichuan province, as a child Liu loved singing. His grandfather, uncle and elder brother are good at playing a variety of musical and percussion instruments, including erhu, suona and bamboo flute.
He still remembers that when he first met the students-113 in total-he was nervous because none of them spoke Mandarin and they were very shy and felt reluctant to talk to strangers.
"Many of the students had lost their parents and I tried to use music to help them open up and to make them happier," recalls Liu. "We all studied and lived in the school, which soon brought us closer."
In 2013, Liu decided to launch a chorus. The six members of Shiguangzhe Jihua were members of the chorus from the very beginning.
While teaching them to speak Mandarin and learning to speak the Yi language himself, Liu taught the students to sing in Mandarin. The first song Liu taught the students to sing was a Mandarin song, titled Chong'er Fei, or Flying Bug.
"That day, our school's electricity was off. Liu turned on his phone's flashlight and taught us to sing the song. He waved his phone while singing. It was dark outside and it felt like a lightning bug flying," says one of the six band members, 19-year-old Shama Tuoqian, who lost her mother at a very young age. She is a main vocalist in the band and writes lyrics.
"He is more than a teacher. He also takes care of us and gives us a hand whenever we need help. He is family," she adds.
Liu, along with the students, also collected and adapted Yi folk songs into choral singing, keeping the traditional music alive.
All of the six band members have been friends since childhood and they all share passion for music.
For example, Qubi Wuli is one of the band's main songwriters. Jiduo Quyi is learning electric guitar, hoping to add more musical elements to the band's songs. Shuori Niubu is a singer, specializing in the lower harmonies, and writes the Yi-language lyrics for their songs.
"I once sang a song as a soloist in the school's Children's Day gala, and I got lots of candy from my teacher as a gift. I was very happy," recalls 19-year-old Qubi Wuli. "If I didn't meet my teacher, I would never have learned to sing and enjoy it. Perhaps, I would have dropped out of school already."
Now, the next goal of each of the band members is to study at a music conservatory and return to their hometown to teach more children to sing.
Contact the writer at chennan@chinadaily.com.cn