Johnson is criticized over party revelations
By JULIAN SHEA in London | China Daily Global | Updated: 2022-01-12 09:20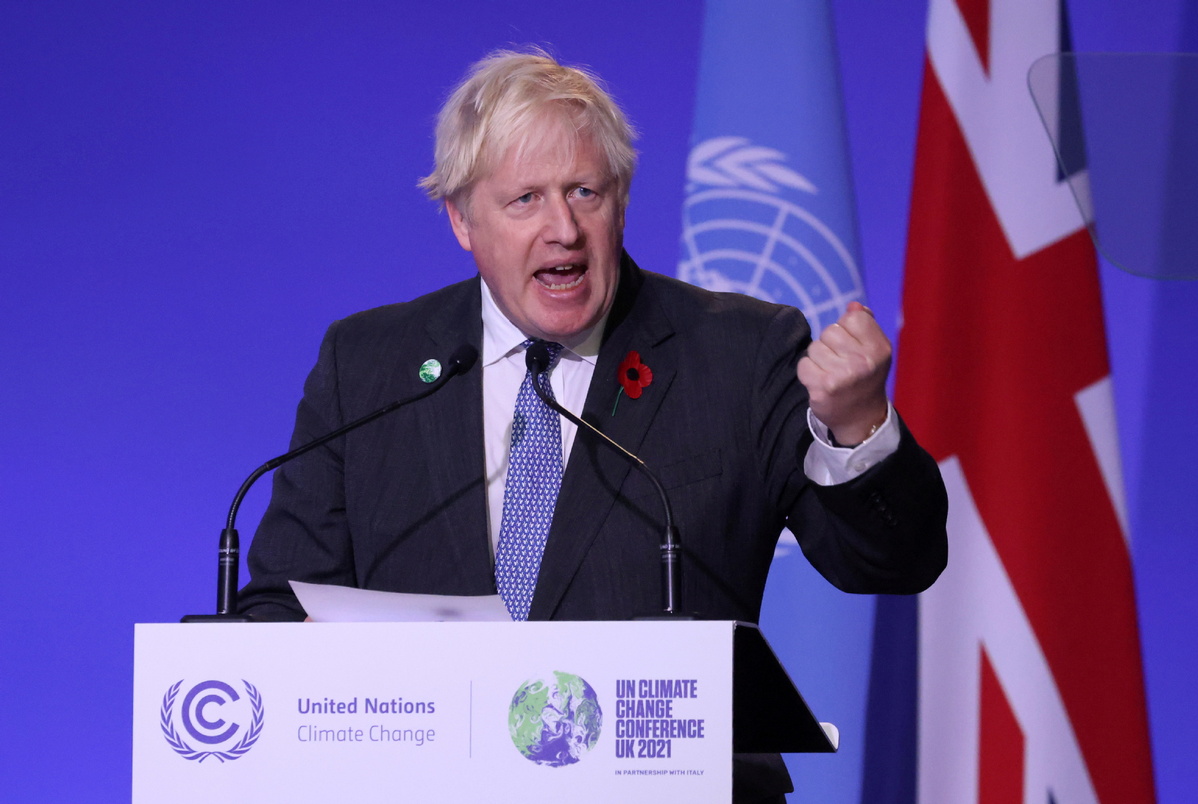 Opposition leader seeks explanation for alleged breach of lockdown rules
Pressure is building on British Prime Minister Boris Johnson after reports that he and his wife attended an outdoor social gathering organized for staff at Downing Street at the high point of lockdown in May 2020.
The latest revelation came about after ITV News published an email invitation sent by Johnson's principal private secretary, Martin Reynolds, marked as 'official-sensitive-No 10 only'.
"We thought it would be nice to make the most of the lovely weather and have some socially distanced drinks in the No 10 garden this evening. Please join us from 6 pm and bring your own booze!," the invitation read.
BBC political editor Laura Kuenssberg says eye-witnesses told her around 30 people attended, including Johnson and his wife.
At the time, rules said people could only meet one other person from another household outdoors, and larger gatherings including people from other households were banned.
On the day in question, there were 9,953 people in hospital with coronavirus, and 363 more deaths were confirmed, taking the death toll to 35,704.
Shortly before the garden gathering took place, at the daily media conference inside Downing Street, then-Culture Secretary Oliver Dowden reminded the public "you can meet one person outside your household in an outdoor, public place provided that you stay two meters apart".
The latest news means the new year starts in a similar vein to how the old one ended, after the revelation of several Christmas drinks parties at Downing Street at the end of 2020, which, combined with divisions inside the Conservative Party over pandemic policy, was enough to stir up talk of Johnson facing a possible leadership challenge.
Opposition Labour Party leader Keir Starmer tweeted: "Boris Johnson, your deflections and distractions are absurd. Not only did you know about the parties in Downing Street, you attended them. Stop lying to the British public. It's time to finally come clean." His deputy, Angela Rayner, was granted permission to ask an urgent question in the House of Commons on Tuesday about the issue, asking Johnson to make a statement, although he did not attend the session.
Johnson's stock is hardly any higher in his own party. Sky News political editor Beth Rigby quoted one unnamed senior Conservative as saying the situation was "as bad as it gets" and another as saying "mood terrible-even those who profess loyalty to him are in despair", and London's Metropolitan Police has said it is in contact with the Cabinet Office over the matter.
Former Conservative attorney general Dominic Grieve told the BBC that the public had "very little trust in … a prime minister who's effectively a serial liar" and that the Party should get rid of Johnson.
"My impression is that there are many MPs who are deeply unhappy about him, but the difficulty is that replacing a prime minister requires courage, it requires the upheaval that goes with it, and it requires the coordination necessary to get him removed," he told the BBC.
"I think it'd be very desirable if he were removed. I think the Conservative Party would find that it has a much better future without him than it has with him at present."