Sound of Tang music
By Zhang Kun | China Daily | Updated: 2022-01-14 08:23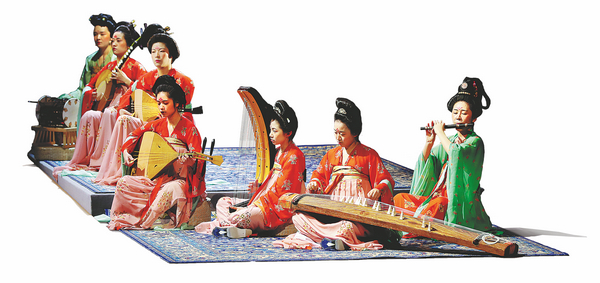 Amid this fervor, Zhao has witnessed many instances of misrepresentation in today's music scene, he says, adding that researchers have the responsibility to address the issue.
The Tang Dynasty marked an important period of cultural prosperity in Chinese history, says Nusileti Wajiding, chairman of the musicians' association of the Xinjiang Uygur autonomous region. He described the period as one of intensive cultural communication, which was vividly represented in the music of that time. The music, instruments and even dance scenes found in the fresco art, he adds, highlighted influences of countries that traded along the ancient Silk Road.
"It's important to note that all of this has integrated into Chinese culture," he says.
Dai Xiaorong of the Shanghai Conservatory of Music created the stage design for the concert using digital images of fresco art in Xinjiang and Gansu.
"Traditional music is largely about emotional expression of the literati," she says. "We want to bring to life scenes of the dance and music performance just like they are depicted in the ancient wall paintings."
Despite being an experimental concert for the purpose of academic exchange, the concert has already received high praise. Zhao says many people have requested for the concert to be held again, though the team is still mulling over whether to do so.
Contact the writer at zhangkun@chinadaily.com.cn