British PM's woes pose climate doubts
By JONATHAN POWELL in London | CHINA DAILY | Updated: 2022-01-14 09:48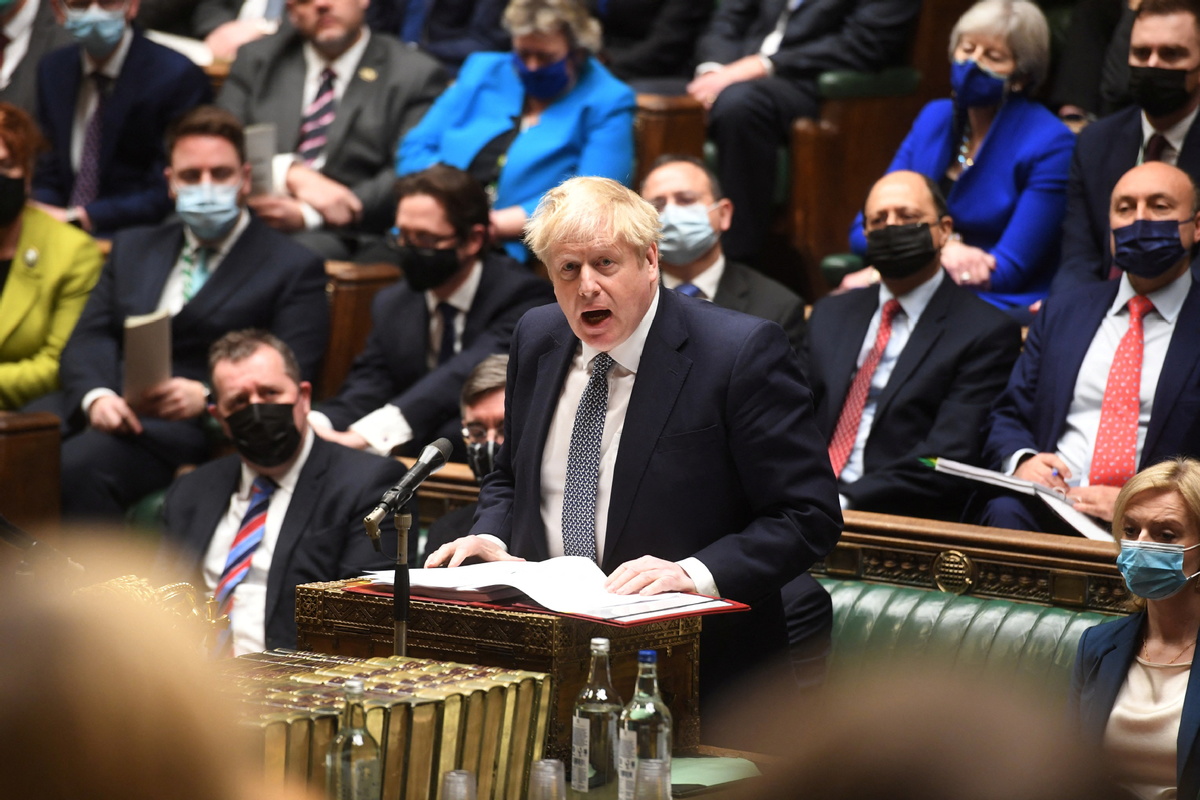 Green campaigners in the United Kingdom say the government's climate commitments are at risk as pressure on Prime Minister Boris Johnson rises following allegations that he broke COVID-19 lockdown rules in 2020.
Johnson apologized on Wednesday for attending a garden party during UK's first coronavirus lockdown.
The apology, which stopped short of admitting wrongdoing, was Johnson's attempt to assuage a tide of anger from the public and politicians over accusations that he and his staff had repeatedly flouted pandemic restrictions by socializing when it was banned.
The "partygate" scandal could become a tipping point for a leader who has weathered a series of other storms, with some members of Johnson's governing Conservative Party saying he must quit for breaking the rules.
Douglas Ross, leader of the party's Scottish wing, said Johnson's "position is no longer tenable". "I don't think he can continue as leader of the Conservatives," he said.
Johnson made a 10-point plan to "build back greener", which was published in early 2020, and retains the support of many members of Parliament on his commitment to achieving net-zero climate targets.
But analysts told The Guardian that the government's climate agenda is under pressure from many Conservative backbenchers that are concerned about rising inflation, soaring gas prices and waning voter support for Johnson.
Opposition politicians have claimed that the prime minister enjoyed social events in the Downing Street garden in 2020, which was a breach of rules in place at the time.
Growing crisis
The growing crisis around rising energy prices and the cost of living further threatens to delay implementation of the climate policies required to make the net-zero target credible, experts said.
Tom Burke, a co-founder of climate change think tank E3G, said Johnson has been the standard-bearer for net-zero, and lots of people were happy about that.
"There is now a sustained assault from the right on net-zero. They see the prime minister's political weakness, and they see net-zero as a flank on which to attack him," he said.
Chris Venables, head of politics at think tank Green Alliance, said there is definite jeopardy in Johnson's weakness, as he has been the champion.
"But the forces of good are now rallying behind the green agenda. It does help that the facts are on our side," Venables said.
Experts said the UK is overly dependent on fossil fuels, and that more investment in green energy for homes is required.
Industry body Energy Efficiency Infrastructure Group this week urged the prime minister to prioritize home energy efficiency improvements in a bid to slash the cost of heating.
The group, which represents many major businesses and trade bodies, said a revamped energy efficiency policy could save the nation nearly 7.8 billion pounds ($10.6 billion) each year, reported Energy Live News.
Bob Ward, policy director at the Grantham Research Institute for climate change at the London School of Economics, told The Guardian that public support for climate policy is under threat.
Agencies contributed to this story.