Kenya-China relations get fresh impetus from visit
Share - WeChat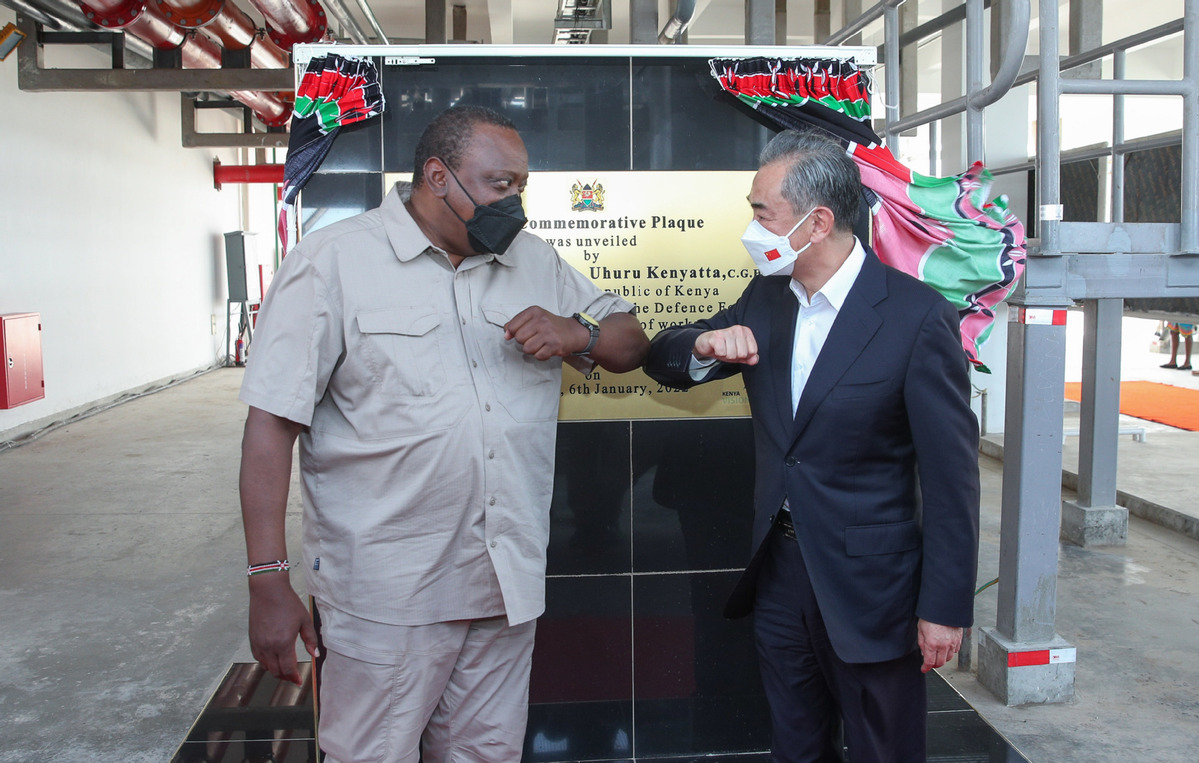 When Kenyan President Uhuru Kenyatta and visiting Chinese State Councilor and Foreign Minister Wang Yi jointly addressed the media on January 6, it was clear that the two countries had resolved to guard the outcomes of their deepening cooperation across a range of bilateral and multilateral issues.
Kenyatta characterized China as a true friend who came to the aid of Kenya to implement wide-ranging development projects without condition or lectures.
Wang dismissed the narrative by some that China was saddling African countries with unsustainable debt, arguing that the only trap facing African countries was that of underdevelopment marked by conflict and poverty. China has demonstrated unyielding willingness to assist Africa in overcoming its development challenges, a fact that will eventually manifest in the fullness of time, he said.
Kenyatta's sentiments about Kenya's development cooperation with China are increasingly echoed in other African countries, such as Nigeria, Rwanda and South Africa, where leaders have defended the veracity and utility of partnerships with Beijing.
The Kenyan leader mentioned a litany of development projects that have been actualized in partnership with China, including the newly built, $352 million offshore Kipevu Oil Terminal. The facility, which is the most advanced in Africa, will be critical in enhancing the supply and cost stability of petroleum products in Kenya and the region, he said.
The ability of Chinese companies-which are Kenya's biggest financiers and contractors for development projects-to implement large-scale infrastructure projects within short timelines, and on cost-competitive bids, has seen the companies become the most responsive to President Kenyatta's socioeconomic transformation agenda for Kenya.
Foreign Minister Wang was in Kenya as part of a tradition stretching back to 1991 in which Chinese foreign ministers make their first overseas trip of the year to Africa. Even amid the COVID-19 pandemic, China has fulfilled its pledge to pay visits to the continent, in a strong showing of the importance it attaches to its partnership with the African people.
During his visit to Kenya, Wang and Raychelle Omamo, Kenya's cabinet secretary for foreign affairs, witnessed the signing of six agreements aimed at fostering economic ties between the two countries in such areas as the digital economy, investment, agriculture and the export of Kenyan agricultural products to China.
While trade between Kenya and China has been growing in the past two decades, Kenya has been a net importer from China, with key imports being electrical and mechanical machinery, nuclear reactors and boilers. Promotion of industrial investments and expansion of export products to China will not only create much-needed jobs in Kenya, but also reduce the trade deficit between the two countries.
Regarding the global fight against COVID-19, Wang announced that China is donating 10 million doses of COVID-19 vaccines to Kenya. This is a major boost for Kenya's efforts to inoculate enough people to move toward herd immunity. As of January 12, only 4.58 million Kenyans had been fully vaccinated against coronavirus, according to the country's Ministry of Health. At the same time, Kenya, like many other African countries, is experiencing a surge in infections driven by more transmissible variants of the virus, such as Omicron.
China's vaccine donation is a continuation of the anti-pandemic support that Beijing has extended to Kenya and other African countries since the onset of the global health crisis.
In a show of solidarity with Kenya on fighting COVID-19 and its impacts and the ongoing drought in the country, China will also donate 12,000 metric tons of rice to benefit affected households.
The outcomes of Wang's visit to Kenya make Nairobi an early beneficiary of the nine-point cooperative framework announced by President Xi Jinping during the eighth Ministerial Conference of the Forum on China-Africa Cooperation in Senegal at the end of November.
During the conference, China pledged to supply Africa with 1 billion doses of COVID-19 vaccines, set up poverty reduction centers on the continent and promote the export of African agricultural products to China. Other key deliverables in the next three years will include industrialization and private sector partnerships, digital economy projects, climate action initiatives, cultural exchange programs and peace and security projects.
The writer is a scholar of international relations with a focus on China-Africa cooperation.