UK economy returns to its pre-COVID level during November
By JONATHAN POWELL in London | China Daily Global | Updated: 2022-01-17 09:12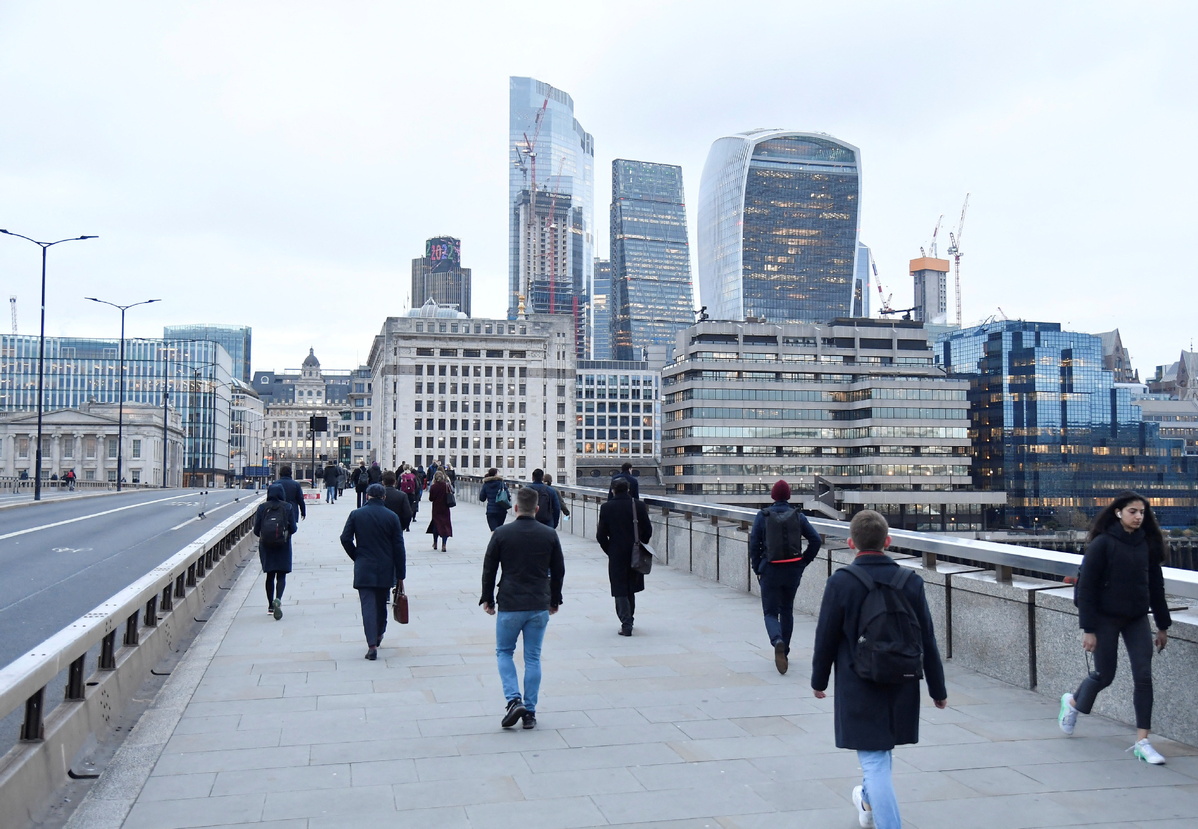 All sectors of the United Kingdom's economy expanded strongly in November, but experts say the Omicron strain of the novel coronavirus is likely to have taken a toll since then.
Latest data from the Office for National Statistics, or ONS, shows the UK economy bounced back above pre-COVID-19 levels for the first time as output rose 0.9 percent between October and November.
Reuters news agency noted that the figures were higher than the 0.4 percent forecast by economists it had polled.
In a news release, the ONS said that easing supply chain disruptions along with robust consumer demand boosted growth, with increasing momentum seen across all industries.
In comments released on Twitter, ONS chief economist Grant Fitzner said: "The economy grew strongly in the month before Omicron struck, with architects, retailers, couriers, and accountants having a bumper month.
"Construction also recovered from several weak months, as many raw materials became easier to get hold of.
"This meant that monthly GDP exceeded its pre-pandemic level for the first time in November."
But GDP is likely to have taken a hit in December as the Omicron variant spread worldwide, said the ONS.
Sky News reported that the loss of momentum will likely have extended into January as companies are reporting staff absences and consumers remain cautious about going out to the shops because of the highly infectious strain.
The variant's impact means the positive trend will likely be reversed in December, Samuel Tombs, chief UK economist at Pantheon Macroeconomics, told the Financial Times.
"GDP almost certainly dropped in December, as households hunkered down in response to the Omicron variant," said Tombs.
GDP rose to 0.7 percent above its level in February 2020, before the first COVID-19 restrictions came into place, said the ONS.
The government remains under pressure to support the economy, as consumers and businesses face rising inflation, energy price hikes and tax rises, said the British Chambers of Commerce in response to the latest ONS figures.
In a news release, Suren Thiru, head of economics at the Chambers, said: "While the UK economy should rebound once Plan B measures are lifted, surging inflation and persistent supply chain disruption may mean that the UK's economic growth prospects remain under pressure for much of 2022.
"The government must do all it can to support the economy through this challenging period."
In comments posted on Twitter, the chancellor of the exchequer, Rishi Sunak, said the government would continue to support the economy, including through grants, loans and tax reliefs for businesses.
He said: "It's amazing to see the size of the economy back to pre-pandemic levels in November-a testament to the grit and determination of the British people."