Salesmanship becomes new skill for ambassadors
By XU WEI | China Daily Global | Updated: 2022-01-17 09:12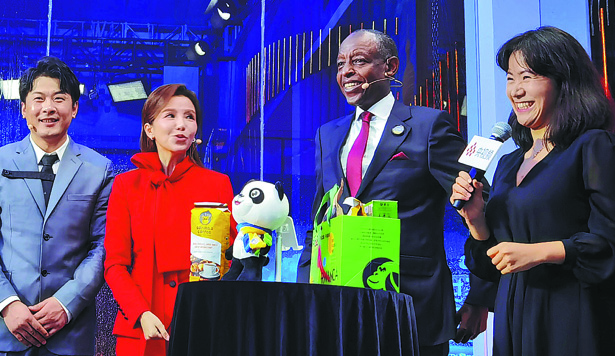 The business of foreign diplomats in China is increasingly about business, as many try their hand at livestreaming, appear in television programs and even deliver exports to customers in person to promote their products in the world's second-largest economy.
Palitha Kohona, Sri Lanka's ambassador to China, finds the attraction of the Chinese market irresistible, and he has tried various ways to bring his country's exports closer to Chinese consumers, despite the language barrier and his being a newcomer to salesmanship.
He made his livestreaming debut in November at the Chinese International Import Expo, when he joined a Chinese influencer to promote Sri Lankan tea, cookies, wine and other products at the nation's booth.
In front of the camera, he introduced viewers to the benefits of the tea he drinks each day and the coconut oil products he uses. His efforts paid off massively-the goods were snapped up within minutes.
"I was surprised to hear that after I joined, the number of viewers jumped to 1.53 million, and she (the influencer) got rid of her stock within 30 minutes," Kohona said.
The ambassador, who was inspired by livestreaming's immediate influence on consumers, attended several online events to promote Sri Lankan products in recent months.
Kohona is just one of many foreign envoys to China who have sought to bolster the popularity of their nation's exports in China's e-commerce sector.
Their enthusiasm has been fueled in part by the nation's pledge to further increase its imports, especially from developing nations.
President Xi Jinping announced at the Eighth Ministerial Conference of the Forum on China-Africa Cooperation, at which he appeared via video link in November, that China's imports from African nations will total $300 billion over the next three years.
In a meeting with leaders from the Association of Southeast Asian Nations, he unveiled a plan to buy up to $150 billion worth of agricultural products from ASEAN members over the next five years.
Kohana said, "The Chinese market is one of the most lucrative consumer markets in the world. It's important to almost every exporting country."
Last year, Sri Lanka exported tea products worth $57 million to China, and Kohana expected this figure to rise to $100 million in the near future.
The Sri Lankan envoy's enthusiasm for livestreaming and market development is shared by James Kimonyo, the Rwandan ambassador to China, who first joined a livestreaming session selling coffee-the east African nation's top consumer export-a year ago.
Kimonyo recently took part in an e-commerce event in which he personally delivered a package of coffee from Rwanda to a Chinese consumer.
"The Chinese market is a huge market that has seen tremendous growth in terms of the middle-income group, which has huge purchasing power," he said, adding that the Chinese government's supportive policies to bolster imports have enabled foreign exporters to better take advantage of the market.
Kimonyo said he became interested in livestreaming after realizing that "it is becoming a very powerful tool, not only in marketing products but also in directly interacting with consumers."
"So livestreaming platforms have really become an effective tool for us to increase our sales in China and to create awareness among the consumers to know Rwandan coffee and tea," he said.
The livestreaming events have resulted in phenomenal sales, and demand has even overwhelmed supply, he said.
In addition to China's efforts to expand its imports and boost the growth of cross-border e-commerce, the nation is also sharing opportunities from its growth and helping other developing nations tackle their own problems, especially poverty, said Cui Fan, a professor of international trade and economics at the University of International Business and Economics in Beijing.
Foreign envoys' efforts to pitch their nation's produce via livestreaming will spur China to expand its imports of quality products from other nations and strengthen China's trade links, he said.
Mo Jingxi contributed to this story.