Calls grow for UK's Johnson to stand down
By EARLE GALE in London | China Daily Global | Updated: 2022-01-18 09:02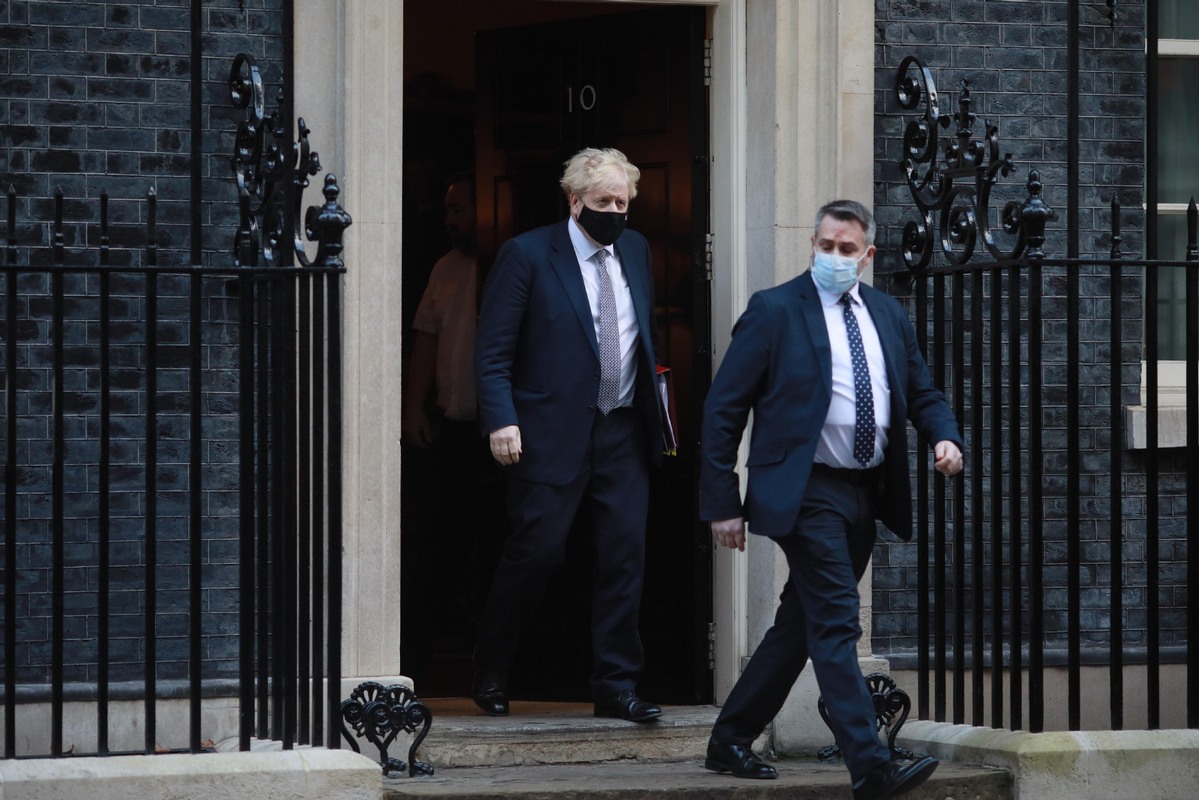 Several lawmakers from his party have accused him of lockdown indiscretions
Calls for the resignation of the United Kingdom's prime minister grew louder on Monday when claims emerged that more damaging revelations could be on the way.
Boris Johnson has been the subject of several days of criticism, ever since photographs emerged of him attending gatherings that were apparently prohibited by rules aimed at slowing the spread of the novel coronavirus.
Johnson initially denied attending "lockdown parties" and then, in apologizing to Parliament, said they were work-related and therefore allowed.
He has ordered a senior bureaucrat to carry out a probe, the results of which could be published this week.
The Daily Telegraph newspaper said on Monday Sue Gray, the bureaucrat leading the investigation, had interviewed Johnson, although Downing Street has not confirmed that.
The National, a Scottish daily newspaper, said on Monday more allegations could emerge as Johnson battles to save his political career. The Mirror newspaper said it too had heard reports of Johnson attending an event just before Christmas 2020. If it is confirmed, the gathering would join a long list of apparently rule-breaking events that include a "bring your own booze" garden party at 10 Downing Street during the nation's first novel coronavirus lockdown.
Several lawmakers from the ruling Conservative Party have openly criticized Johnson and at least six have publicly urged him to resign.
Former justice secretary Robert Buckland told Times Radio it would be "a bridge too far" for the prime minister to hang on to his job if Gray's report confirms rule-breaking by "people at the top of government".
Conservative Party member of Parliament Andrew Bowie told Radio 4 there is "a lot of ill-feeling out there and discomfort "among lawmakers.
Keir Starmer, leader of the opposition Labour Party, said on the LBC radio station Johnson: "Has lost all authority-and that matters, whatever party you are in."
Sky News, however, said Johnson still has the support of most people around his Cabinet table, with Education Secretary Nadhim Zahawi insisting he did not know one of the events he attended was a party.
"It's not true that the prime minister knew about this," he said. "He implicitly thought this was a work event."
Zahawi also confirmed Johnson had "submitted himself to (Gray's) investigation" and "feels the pain "of voters who are angry that people in power appear not to follow the rules they set for others.
"All I would say is we have to allow the investigation to take place," he added. "Why? Because that's the fair thing to do. You don't condemn a man without a thorough investigation."
The Guardian newspaper noted that some senior ministers have not defended the prime minister, with Chancellor of the Exchequer Rishi Sunak conspicuous by his absence from the nation's media in recent days.
The paper said around 20 Conservative Party lawmakers are thought to have submitted letters demanding a leadership election. Fifty-four letters would ensure a vote is held.
The Daily Express newspaper said it believes Johnson is worried his former senior advisor, Dominic Cummings, is planning to release more incendiary information. The paper said rumors have been circulating that Cummings is behind the drip-feed of damaging information that has become known as Partygate, in a nod to the Watergate scandal of the 1970s in the United States that brought down the government of then-president Richard Nixon.