Johnson grilled in Parliament
By EARLE GALE in London | China Daily Global | Updated: 2022-01-20 09:15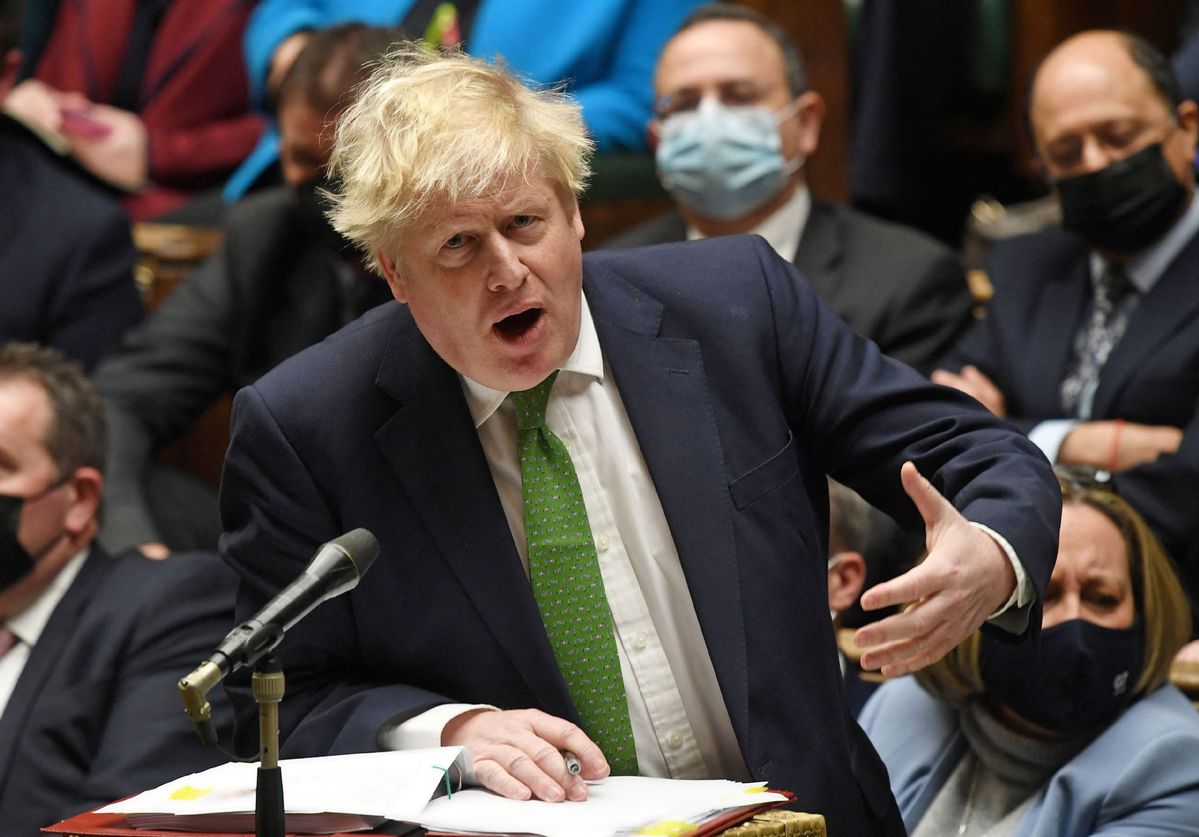 A growing number of UK lawmakers say PM should no longer lead country
Boris Johnson faced the wrath of furious lawmakers in the United Kingdom's Parliament on Wednesday as he fought to hang onto his job as prime minister in spite of claims he attended illegal parties during the nation's novel coronavirus lockdowns.
During Prime Minister's Questions-the weekly opportunity for lawmakers from all political parties to quiz him on more or less any subject-Johnson was asked repeatedly whether he attended parties, broke lockdown rules, misled Parliament, and should resign.
Again and again, amid raucous cheering and jeering, he refused to withdraw his insistence that he believed he was attending work-related events that were, therefore, allowed.
"I have said what I've said about the events in No 10," he said at one point.
Kier Starmer, leader of the opposition Labour Party, said Johnson's claim that he thought he was at work events was too far-fetched to believe.
"Does he realize how ridiculous that sounds?" he asked.
Johnson insisted: "Throughout the pandemic, people across government have been working fl at out to protect the British public."
Starmer said he was "out of touch, out of control, out of ideas, and soon to be out of office".
Veteran Conservative Party lawmaker David Davis, who was recently a member of the Cabinet as Brexit secretary, dropped a huge bombshell when he said Johnson should take responsibility for his actions and "in the name of God, go".
The fiery session followed several days of intense pressure on Johnson that began when photographs emerged of him at events, including one in the garden of 10 Downing Street.
The criticism culminated on Wednesday with him suffering the ignominy of seeing one of his lawmakers defect to the opposition Labour Party.
Christian Wakeford, who took the seat of Bury South in the last general election, had already publicly called on Johnson to resign.
At least five other lawmakers from Johnson's party have also urged him to step down.
Johnson, meanwhile, has called on his MPs to wait for the conclusion of a probe into the party claims that is being led by senior civil servant Sue Gray.
The document could be published any day now.
The BBC said many Conservative Party members of Parliament have privately submitted letters of noconfidence in Johnson's leadership, with around 10 reportedly handed in on Wednesday morning alone.
If 54 letters are received, a leadership election would be triggered.
Sky News said one unnamed Conservative Party lawmaker said the threshold could be reached in a matter of days.
The BBC said around half of the 20 Conservative Party members of Parliament who were first elected in the general election of 2019 are thought to have submitted letters in an apparently coordinated attempt to unseat Johnson known as the "pork pie plot".
Chris Loder, a Conservative Party MP from that intake, told the BBC: "I want to make sure that decency, honor, and integrity are returned to the heart of government and I think that would be a good shared objective."
Several senior members of the Conservative Party have, however, defended Johnson, with many insisting his leadership is not under threat.
Conor Burns, the Northern Ireland minister, told Channel 4 Johnson led the party to a huge win in the last general election and should be cherished.
"Boris won seats for us in that 2019 election I never imagined would fall into the Conservative column," he said, in reference to the 43.6 percent of the vote the party won that day, and its haul of seats that was the largest since 1987.