Charity program eases parental worries
Share - WeChat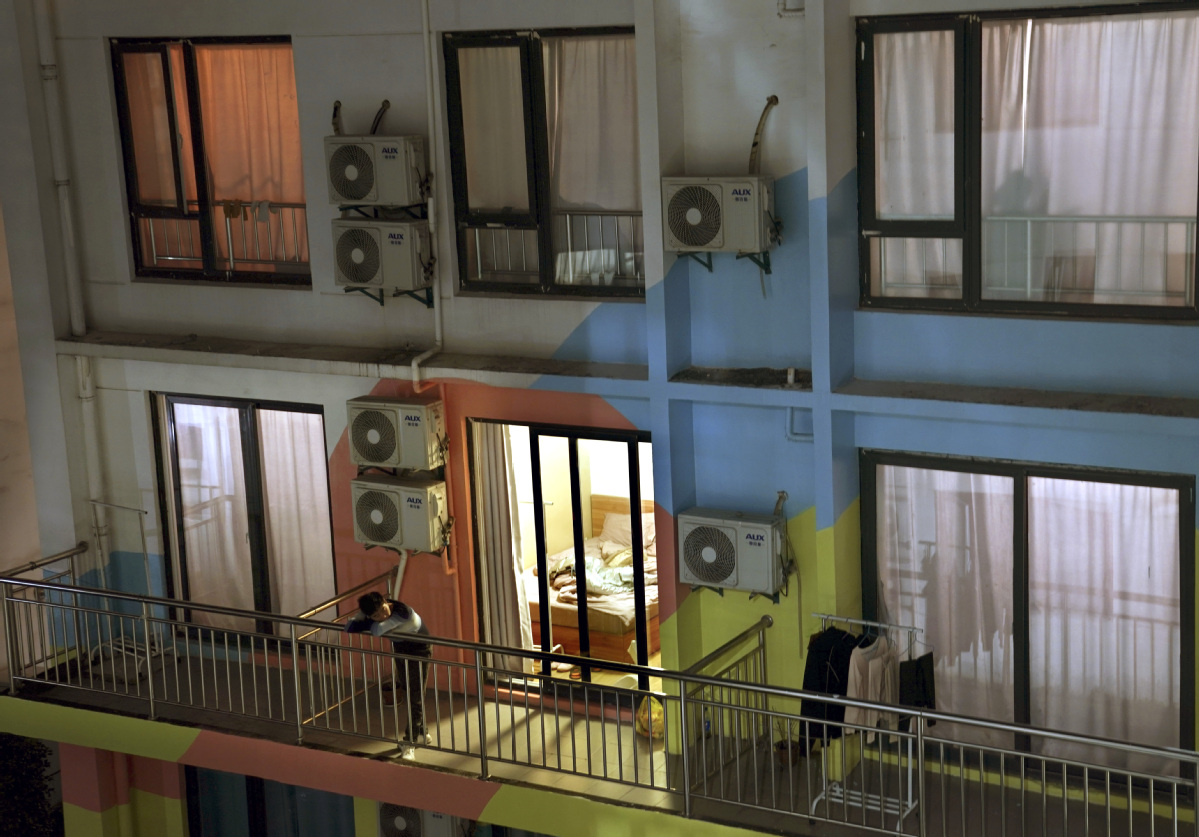 Free accommodations provided for children in urgent need of medical treatment
He Yicheng, a 4-month-old girl, needs to take eight kinds of medicine every day-most of them two or three times.
Early last month, she was taken by her mother, Zhou Yan, to Shanghai from their home in a remote area of Qujing, Yunnan province, for medical advice and treatment after a local hospital diagnosed the girl with neonatal hepatitis syndrome and pneumonia.
Traveling a long distance to seek medical treatment for the infant was an onerous and worrisome task for Zhou, but she was lucky in finding temporary accommodations.
She and her baby are staying at a small apartment in a four-story building 6 kilometers from the Children's Hospital of Fudan University, which they visit regularly for He's treatment.
The building houses 18 apartments provided free by the hospital and the Beijing One Heart Sphere Charity Foundation, which helps young patients and their parents who travel to the Shanghai facility for treatment.
Wang Ying, from the charity foundation in Shanghai, said, "The number of apartment rooms is very limited when such families' needs are considered, so they are provided to those urgently requiring help both in terms of the child's illness and the family's financial situation."
The foundation said that in addition to Shanghai, it has provided free accommodations to families taking their children for treatment in Beijing and Wuhan, capital of Hubei province.
Xu Hong, Party secretary of the Shanghai hospital, said, "There are usually heartbreaking stories behind many families taking their sick children to big cities for treatment. Shanghai is huge and strange to them, but we want to give them a ray of hope."
The hospital serves as a national children's medical center, handling many severe and difficult cases that require medical consultancy and treatment.
Xu said the hospital hopes the foundation can provide additional rooms to benefit more families and that a volunteer team will provide additional help.
Since being established in November 2020, the Xiaobu Home in Shanghai has provided free accommodations for more than 400 families. Wang said the name xiaobu translates as cuckoo chick, symbolizing new life and hope in spring.
Holding her baby to board a train to Shanghai, Zhou, the mother from Yunnan, said she was optimistic, as she thought the child's condition was not severe, so they could return home within days.
However, doctors at the Shanghai hospital diagnosed the girl with cholestasis, liver fibrosis, congenital cytomegalovirus infection, and hearing and stomach impairments.
Cholestasis impairs the flow of bile from the liver to the small intestine, liver fibrosis occurs when repetitive or long-lasting injury or inflammation causes excessive amounts of scar tissue to build up in the organ, while congenital cytomegalovirus infection occurs when this virus crosses the placenta during pregnancy and infects the fetus.
The girl was hospitalized for checkups until the end of last month. Her condition gave cause for concern, and mother and daughter needed to make follow-up outpatient visits regularly and wait for a gene examination report.
Before the girl was discharged on Dec 31, the head of the liver disease department told Zhou that the hospital could provide accommodations for her and her daughter. Zhou completed the application forms, but no rooms were immediately available, so she rented elsewhere for several days before moving into the apartment on Jan 5.
"I couldn't believe it when I was told there was a place where we could stay free of charge," said Zhou, 30, who was a hotel manager before stopping work to take care of her daughter.
After checking in, each family in the apartment building is provided with food, other daily necessities and, if needed, clothing for the children.
Zhou asked for several items of oversized clothing for her baby, who has severe abdominal dropsy-an abnormal accumulation of fluid in the abdomen-so that clothes the right size do not fit her at the waist.
Zhou said her husband is the only breadwinner in the family, with an annual income of 60,000 yuan ($9,400). The couple also needs to provide care and financial support for their parents. Zhou said her husband could not accompany her and their daughter to Shanghai, as he had to stay home to take care of their 4-year-old son and elderly mother-in-law who was diagnosed with cervical cancer several months ago.
Wang, from the Shanghai rescue center, said that when doctors encounter families in extreme difficulty, they provide the option of free accommodations.
Parents need to fill out application forms, the physicians in charge and department heads state the reasons for the recommendation, and the office at the residential community where a family lives provides evidence that the family faces financial difficulties.
Wang said the children are often undergoing postoperative recovery after an organ transplant or tumor surgery, and need to make regular hospital follow-up visits.
"Each family can stay here for a maximum of one month, ensuring that others can be included in the charity program," she said.