Where to find Mr or Ms Right? Try dating website
Share - WeChat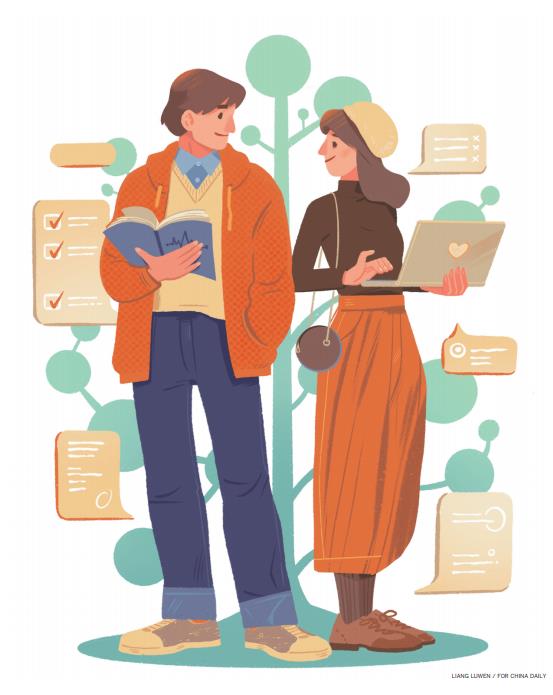 Editor's Note: Four decades of reform and opening-up have not only turned China into the world's second-biggest economy but also changed people's lifestyle, adding new, earlier unknown, elements to their demands. A veteran journalist with China Daily tries to analyze the changing nature of dating behaviors and attitudes.
Youths in China, especially teenagers, nowadays have little spare time because of the pressure of work or studies. As a result, an increasing number of youths are turning to the internet for dating or finding a life partner. Although detailed data on how many youngsters go online for this purpose are not available, a survey of young men working in the information technology sector shows that about 80 percent of them are active on dating websites.
Not all youths may be logging on to specialized dating websites to search for partners, but online matchmaking has become a big business in China. Baihe Jiayuan Network Group, the country's most popular online matchmaking website, for instance, claims that it has nearly 7 million active users in any given month, and has served more than 200 million users since its launch in 2004.
Some websites are free, because their operators' business strategy is to make money through high matchmaking rates. But the information provided on such sites are incomplete and far from reliable. Other dating sites ask for registration fees ranging from a few hundred yuan to 100,000 yuan ($15,808), depending on the amount of resources and quality of service provided.
But despite the many complaints against some websites for fabricating information and cheating clients-some sites have even been fined by supervisors for malpractice-online matchmaking site operators have never had a shortage of clients. There are about 240 million single adults below the age of 40 in China, many of whom have left their hometowns and settled in other cities and regions. That they have no relatives or close friends in the new environment means they have no choice but to go online for dating.
In the past, marriage decisions were made by the parents. When their children reached marriageable age, the parents paid traditional matchmakers to find the right life partner for their children. Such marriages were solemnized with the consent of the parents of both the boy and the girl, but only after the groom's side "gifted" a handsome dowry to the bride's family.
During my grandparents' time, the bride and the groom might have not even met each other before being married. That tradition was challenged after the downfall of the Qing Dynasty (1644-1911). But not until the founding of the People's Republic in 1949 were youths encouraged to find their life partners themselves.
For decades, many youths dated and later married their classmates, fellow college students or colleagues. Some met their life partners through friends-my wife and I were introduced by my high school classmate, who happened to be a classmate of my future wife in university. Of course, such introductions were free, and all we did to express our gratitude is to send the friends some candies or sweets after the wedding.
After the launch of reform and opening-up, youths in huge numbers began trooping into cities for work, with some even settling there. An obvious outcome of that was the rising demand for matchmakers. It in turn signaled the return of professional matchmaking as a business-the only difference being that in the past matchmakers were people whom both the bride's and groom's sides knew in person and today's matchmakers are in effect virtual.
With an investment of a few hundred yuan to get a business license, one could open a matchmaking "company" and paste ads on lampposts to attract clients. The huge market demand and low starting cost have lured many people into the business.
Most of these match-making companies have disappeared with only a few, which were smart enough to go online, surviving. The successful ones have made matchmaking a multi-billion yuan business with some, such as Baihe Jiayuan, becoming listed companies in the stock market.
With the ever-increasing market demand, it seems the matchmaking business is here to stay and prosper. But to ensure its healthy development, both the market and internet administrators should strictly supervise the matchmaking companies' operation so that both online and offline information are real, accurate and reliable, and people looking for a life partner have their wishes fulfilled, instead of being deceived.
kangbing@chinadaily.com.cn

The author is former deputy editor-in-chief of China Daily.
Most Viewed in 24 Hours
China Views