Troubles mount for Johnson
By JONATHAN POWELL in London | China Daily Global | Updated: 2022-01-25 09:21
Britain's PM facing 'biggest threat' as report about parties is set to be released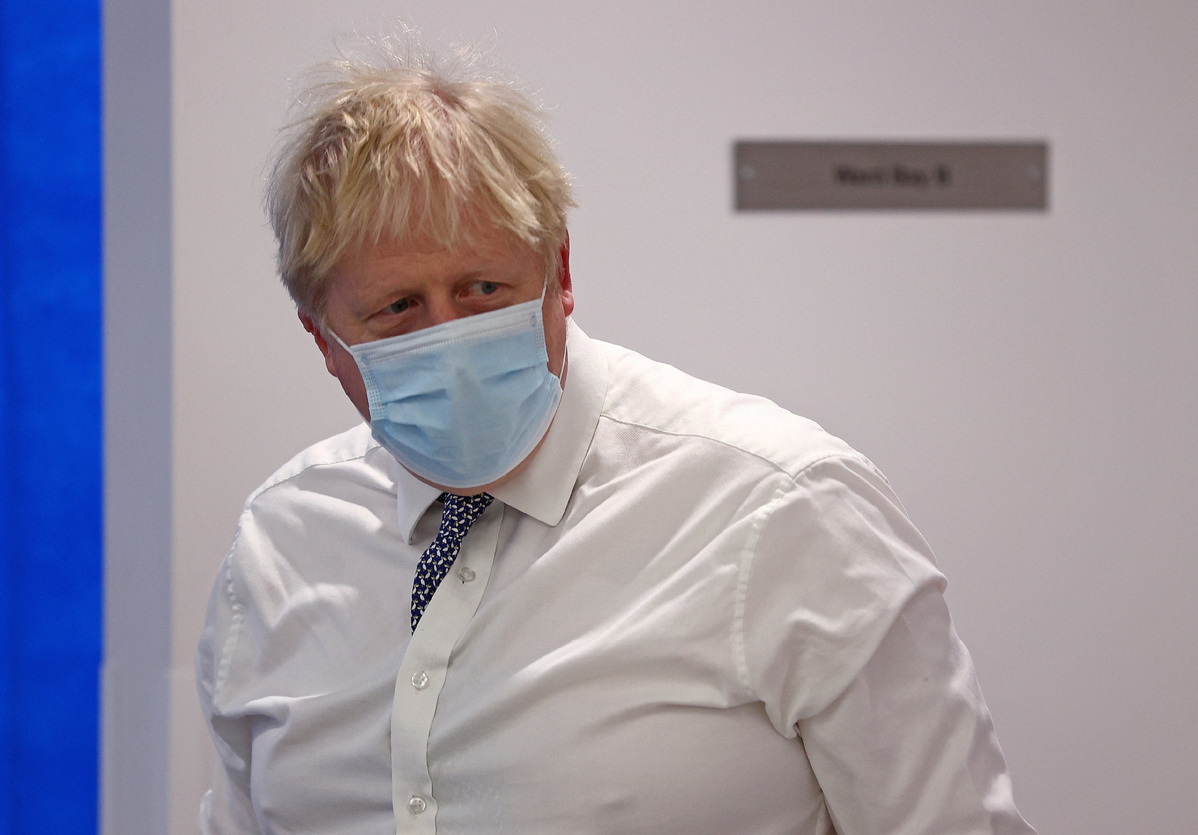 Troubles continue to mount for British Prime Minister Boris Johnson ahead of the release of a report into alleged lockdown rule-breaking parties at Downing Street.
Johnson was forced on Monday to announce a separate inquiry into a row over Islamophobia, after an allegation from the former transport minister Nusrat Ghani, who says she was told her "Muslimness" made colleagues uncomfortable.
Conservative member of Parliament Ghani claimed at the weekend that she was sacked from her ministerial role in February 2020 because of concerns about her Muslim faith.
A Downing Street spokesperson said Johnson had encouraged Ghani to make a formal complaint at the time, but she says the party procedure was not appropriate, and that the prime minister told her he could not get involved, reported The Guardian.
Chief Whip Mark Spencer has admitted speaking to her, but denied her claims, saying they were "completely false" and "defamatory". Downing Street has now reversed its decision and ordered a formal inquiry.
The investigation is separate from the inquiry led by senior civil servant Sue Gray into allegations of lockdown rule-breaking parties at Downing Street. The findings of her investigation could be released as soon as Tuesday.
The Daily Telegraph has reported that police officers who guard 10 Downing Street have been questioned by Gray, and have provided detailed testimonies on the matter, with one source saying the accounts are "extremely damning".
The paper said the prime minister's former chief advisor Dominic Cummings would be interviewed by Gray on Monday. The Sunday Times said his evidence could be enough to end Johnson's premiership.
The Independent said it has been told by three sources that officials working at 10 Downing Street have held back information including photos and messages from the investigation. The sources described a climate of fear, and one claims they have previously been asked to leak material from their phones.
A spokesperson for Downing Street denied the allegations, saying staff were given clear guidance to retain any relevant information.
In an interview with The Daily Express, Transport Secretary Grant Shapps declared that Johnson accepts the "need for change" at Number 10. The paper said the prime minister is braced for the findings of the report, with Shapps among those backing Johnson to lead the country to the "brighter future he wants for everyone".
Shapps also told the paper that Johnson has the ability "to bring people together in a way that no other politician can".
The BBC's political editor Laura Kuenssberg said Gray's report is "the biggest threat" to Johnson's premiership in a critical week for his government.
She said the findings in Gray's report will help many MPs decide whether it is time to publicly declare no confidence in Johnson's leadership.
The BBC has reported that Conservative MP William Wragg, who claimed MPs seeking to oust the prime minister were "blackmailed", is to meet police. Wragg claimed party whips had threatened to remove funding from the constituencies of MPs considering a no confidence vote in Johnson.