New York mayor announces plan to halt gun violence after fatal shootings
By AI HEPING in New York | chinadaily.com.cn | Updated: 2022-01-25 12:21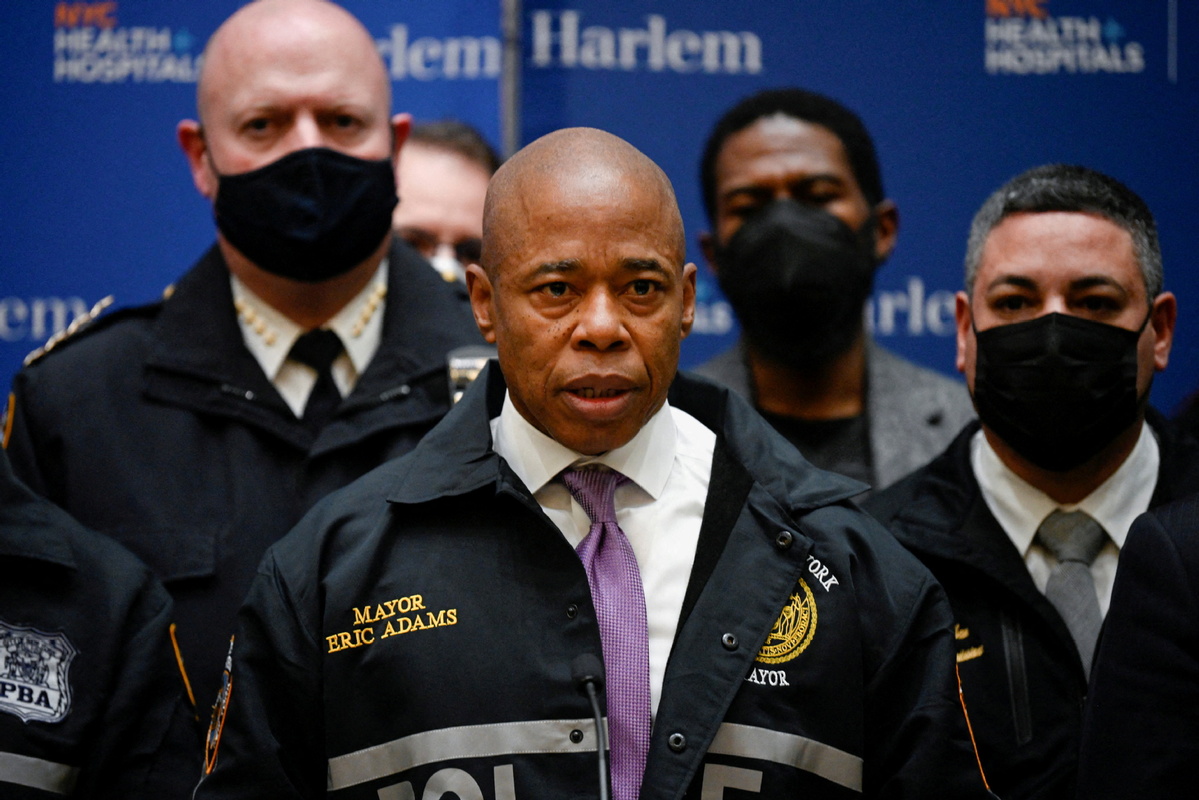 New York City Mayor Eric Adams on Monday announced a multipronged plan to address increasing gun violence in the city.
His plan includes reintroducing over the next three weeks an anti-crime plainclothes police unit. The unit was dissolved in 2020 amid concerns that it was responsible for a disproportionate number of shootings and complaints against officers.
Called Neighborhood Safety Teams, the unit will work in 30 precincts where, according to the mayor, 80 percent of violence occurs.
Adams said the officers will receive extra training and wear some clothing that identifies them as police, such as windbreakers, and be equipped with body cameras.
The former New York City police captain discussed his plan at City Hall three days after two New York City police officers were shot in the city's Harlem neighborhood during a domestic incident. One officer was killed and the other one gravely injured in what Adams has called "an attack on the city of New York".
Their assailant, Lashawn McNeil, 47, died on Monday at a hospital, police officials said. He was shot in the arm and the head by a rookie cop, who was along on the call to observe.
Adams called for immediate changes to add police officers to city streets to remove guns and for help from the courts and state lawmakers.
"New Yorkers feel as if a sea of violence is engulfing our city. But as your mayor, I promise you I will not let this happen. We will not surrender our city to the violent few," Adams said.
In the three weeks since Adams was sworn in, a spate of crimes has shaken the city.
Michelle Go, a 40-year-old Asian American woman, was pushed to her death in front of a train at a Times Square subway station on Jan 15 by a homeless man with a history of mental illness, police said; a baby was shot in the Bronx last month,and Kristal Bayron-Nieves, a 19-year-old fast-food worker, was killed during a robbery in Manhattan on Jan 9.
Adams admitted after the deadly Times Square assault that even he doesn't feel safe taking the subway.
On Monday, there was more bad news for commuters. The police said that last year the city's subway system recorded its highest number of murders and assaults in years.
There were 461 felonious assaults, eight murders and eight rapes in the subway system, with all increasing from 2020 levels, according to police statistics. The rise in violence comes as subway ridership remains well below pre-pandemic levels.
The number of assaults recorded last year through November in the subway system was the highest since at least 1997, according to the statistics. The number of robberies and thefts in 2021 fell from the prior year.
The number of homicides also increased last year. After a record low 292 in 2017, the city had 468 killings in 2020 and 488 last year.
Adams announced the city's police department would increase cooperation with state and federal law enforcement to stem the flow of illegal guns into the city and would work to have officers conduct spot checks for weapons at entry points into the city such at bus and train stations.