'Unusual' job offers graduate flexible work
By CHENG SI | CHINA DAILY | Updated: 2022-01-26 07:22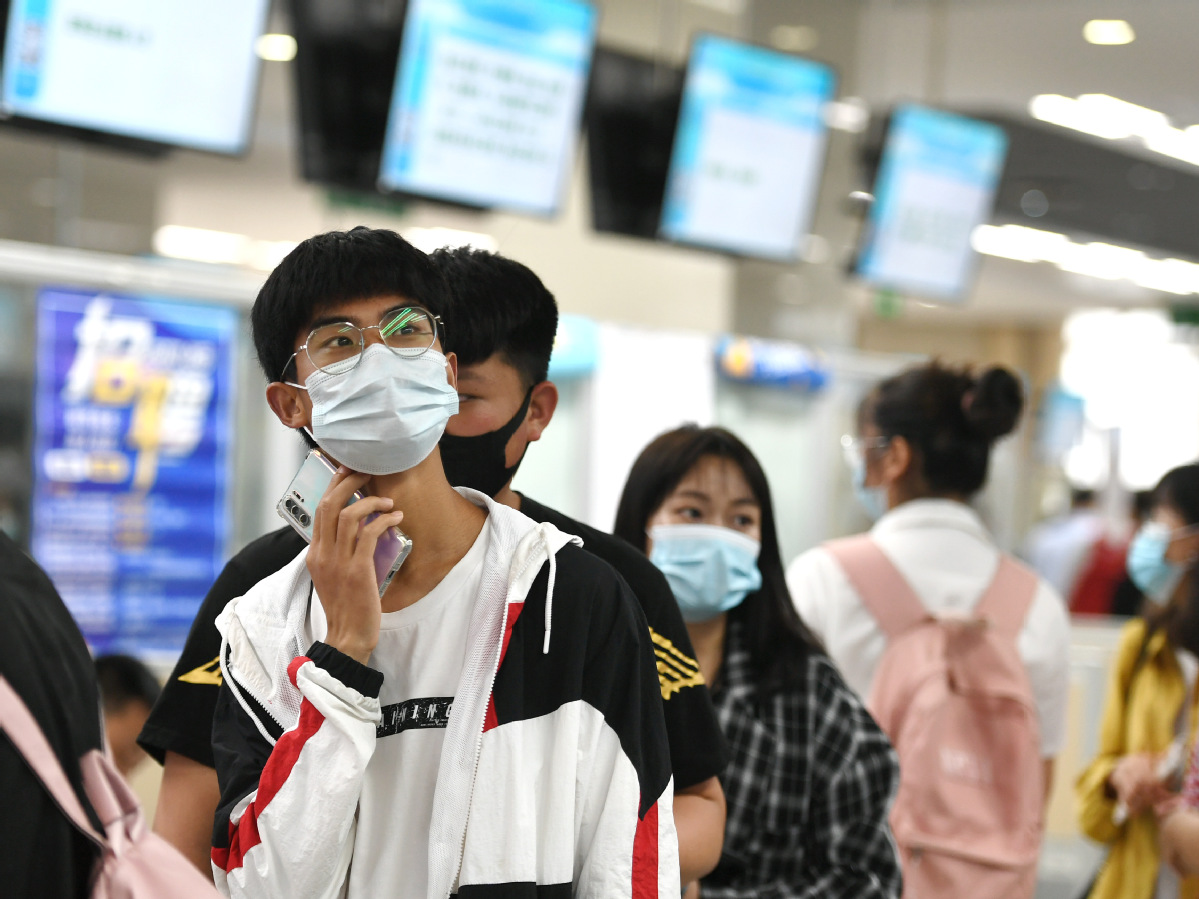 Interest-oriented employment plays role in stabilizing competitive market
Vocational school graduate Zhang Linyi is not like others who have a predictable career path laid out in front of them, having chosen the "unusual" job of being a livestreaming anchor in 2020.
"I was hired by a small advertising company in Hefei, Anhui's capital city, after I graduated from the Anhui Vocational and Technical College in 2019," Zhang, 23, said. "I did a livestreaming show in my free time, in the beginning for my own interest, and then it became my part-time job.
"Livestreaming was not that popular at the time, but I felt happier doing that than staying in an office and following a rigid work schedule."
Zhang said she became a full-time livestreaming anchor after the COVID-19 epidemic shuttered the company she used to work for.
"That was fine with me anyway," she said. "Being a livestreaming anchor can bring me a higher income, around 12,000 yuan ($1,900) per month, and I enjoy the flexible work time."
With the central government making high-quality employment for young people a priority and promoting flexible employment and social benefits to create healthy economic growth, both employers and young people are opening their minds to flexible jobs.
Last month, "flexible employment" was mentioned at the Central Economic Work Conference for the first time, signaling that the new pattern will receive more attention in the coming year.
Figures released by the National Bureau of Statistics this month show that China has 200 million flexibly employed workers, most of them young people.
In addition to job seekers, domestic companies also hold an open attitude toward flexible employment. According to a report released by Renmin University of China last month, over 61 percent of the nation's companies employed flexible workers last year, up by 5.5 percentage points from 2020.
"Flexible employment has met people's desire to pursue freedom and personal values in employment," said Pang Shi, director of the department of employment and entrepreneurship at the Chinese Academy of Personnel Science. "Its flexibility in hiring people offers companies lower labor costs but more suitable workers for vacancies, which will help expand the nation's employment."
Li Chang'an, a professor at the University of International Business and Economics in Beijing, said that with the traditional job market changing, flexible employment is an avenue for young job seekers facing rather fierce competition landing jobs.
Li Qiang, vice-president of Zhaopin, an online recruitment platform, said that flexible employment has recently become a popular and important way for young people, especially college graduates, to make a living.
"According to our previous surveys, around 12 percent of college graduates will take a gap year to find what they really want to do for their careers, while the others are more open to flexible employment," he said.
"The nation faces a shortage of blue-collar workers while overflowing in so-called decent jobs like secretaries," he said. "We have to deliver the right employment picture to young people-that there are plenty of jobs in the market and it's necessary to adjust expectations."
With the employment-first policy continuously being emphasized by the central government in stabilizing the domestic job market, flexible employment-recognized as one of the key measures to help people land jobs-has attracted attention from governments at all levels in recent years.
In July 2020, the State Council, China's Cabinet, released a guideline supporting flexible employment by streamlining administrative procedures and offering lower-priced training courses.
Thirteen central departments released a guideline later that month to explore new ways and policies to protect the labor rights of the flexibly employed.