Cultural trip
By Cheng Yuezhu | China Daily | Updated: 2022-01-26 08:24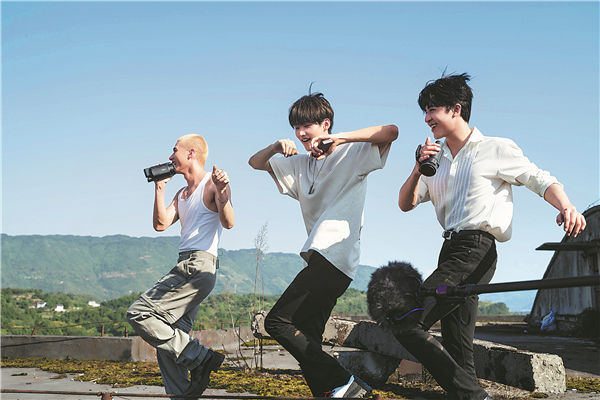 Members of a boy band join a documentary to explore arts and crafts in three cities, Cheng Yuezhu reports.
From the hustle and bustle of cities, to the vast desert of Northwest China, and the exuberance of performing at festivals to the serenity of dancing in the wilderness-the recent documentary Into Miles portrays Chinese culture from the eyes of young people at home and overseas.
In the four-episode program aired on Tencent Video, members of the boy group INTO1 explore cultural projects, both traditional and contemporary, and create music and art pieces that incorporate elements from them.
According to Wei Mengjiao, the producer, the documentary focuses on folk artists, with stories about their experiences in art and life. The band members are divided into three teams, each accompanied by a music producer, going respectively to the cities of Foshan in Guangdong province, Zhongwei in the Ningxia Hui autonomous region and Chongqing, during which they gather inspiration from local culture, before finally returning to Beijing for a collective brainstorming and music creation.
"From the start of INTO1, people have had expectations of this group, with its members coming from diverse cultural backgrounds, hoping they can help promote Chinese traditional culture," Wei says.
"With this documentary, we want to showcase the diverse culture of China, and the perseverance and cordiality of Chinese people. We will feel happy if more people see this through the eyes of our members."
The first episode sees band members Uno Santa, Bo Yuan and Liu Zhang going to Foshan, where they get to know about the southern-style lion dance, a national intangible cultural heritage.
Their trip started with a spot of Guangdong-style breakfast, before going to a lion dance and martial arts performance given by a local troupe, amid drum beats, the crackle of firecrackers and cheering of the crowd.
"The rhythm of the lion's blinking eyes, the lovely swaying of its tail and the ease with which it switches between the four states of happiness, anger, sadness and joy, brought me face-to-face with the unique charm of the lion dance culture that has been passed down from ancient times," a band member says.