Shanghai conservatory to knock down wall
By ZHANG KUN in Shanghai | China Daily | Updated: 2022-01-26 08:38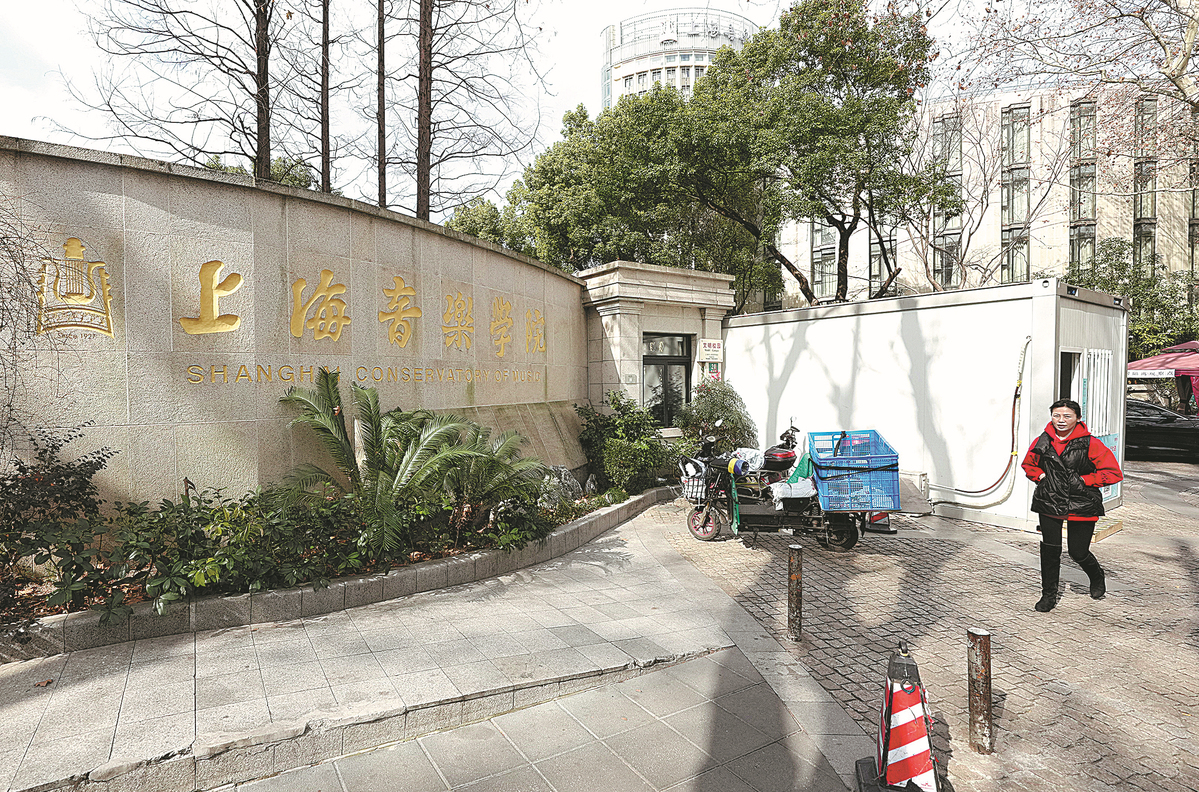 Shanghai Conservatory of Music will knock down a wall along Fenyang Road at its downtown campus during a reconstruction project to allow members of the public to get a better view of its historical buildings.
"We decided to open up the campus to better blend in with the local community," Xu Xu, the conservatory's Party secretary and a member of Chinese People's Political Consultative Conference Shanghai Committee, said last week at the annual session of the committee, the city's top political advisory body.
The music school, which was founded in 1927, was the first of its kind in China. Many renowned musicians worked or studied there, including Huang Zi, He Luting and Zhou Xiaoyan, and many important pieces of music were created there, including the violin concerto Butterfly Lovers.
"The campus will open up to the public," Xu said. "People will be able to have pictures taken in front of the historical buildings, follow the footprints of past musicians and register to attend public classes at the school.
"I hope passersby can be inspired simply by listening to the disciplined practice of music students at the school."
Xu said the music school will optimize its administration to better serve the general public and nurture young music talent.
"We will also give public classes and present new music projects in parks and cultural centers all over the city," he said.
The reconstruction project, which will start soon, will also include the restoration of six historical buildings that will be used for education and research purposes.
It is the latest move in Shanghai's ongoing efforts to open up more spaces and enrich the cultural life of the city's residents. In September, East China University of Political Science and Law in the city's Changning district removed part of its campus walls along Suzhou Creek and allowed visits by members of the public. Since then, about 200,000 people have visited the campus, which features historical villas.
Li Qiang, Shanghai's Party secretary, told a meeting a few weeks ago about improving the management of the municipality that it will step up efforts to build a better urban space full of energy and charm for the people-a task that will require lots of fine-tuning and continuous striving for excellence.
In the past few years Shanghai has built green belts and waterfront passageways along the Huangpu River and Suzhou Creek, restored historical communities and refurbished former industrial sites.
A charming city that keeps drawing people back for more visits has to be a city with a unique cultural flavor and details that reveal its essence and quality, Li said.
Shanghai will continue with its efforts to create more high-quality cultural spaces for the public, Gong Zheng, the city's mayor, said when delivering the municipal government's work report at the sixth session of the 15th Shanghai Municipal People's Congress, the city's legislature, on Thursday.