Mother gets justice for murdered child
By CAO YIN | China Daily | Updated: 2022-01-26 08:47
After five years, court ruling vindicates woman's determination to punish those who defamed daughter after her killing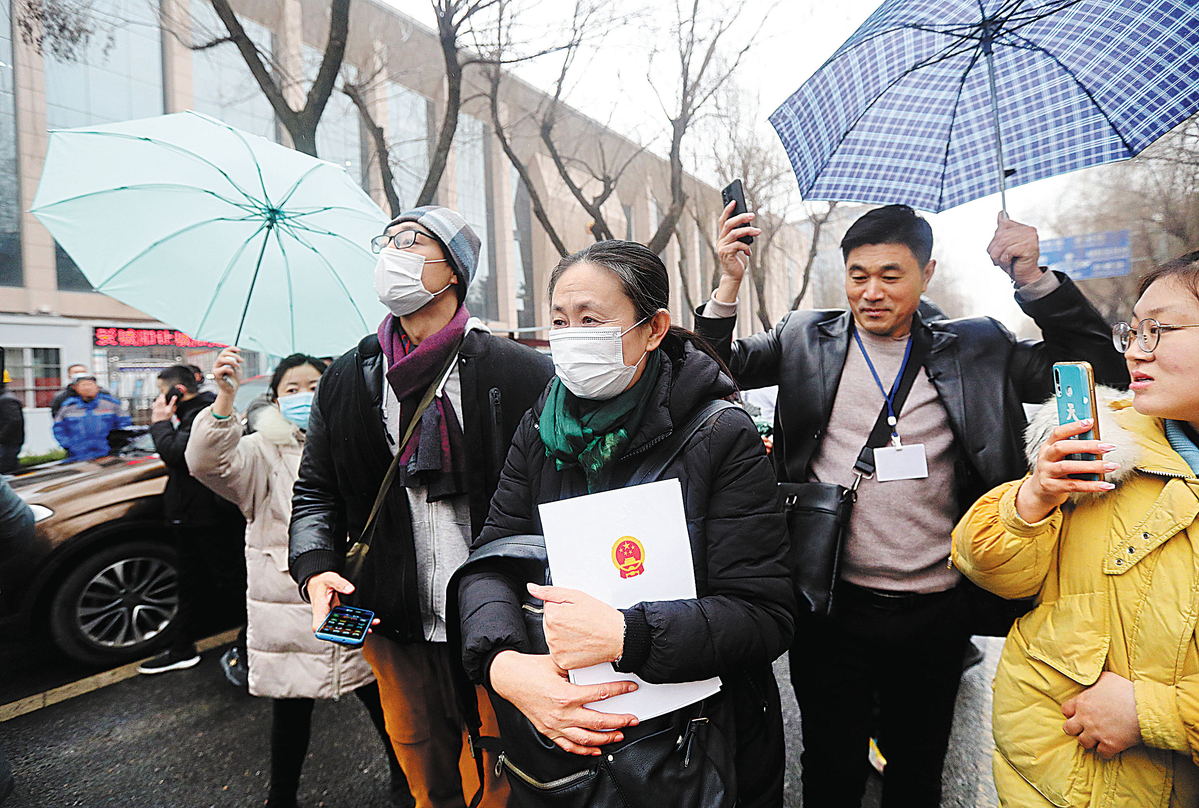 When her only daughter - Jiang Ge - was killed in Japan, Jiang Qiulian's world collapsed. She has dedicated the past five years to seeking justice for the crime.
On Jan 10, the villager from Qingdao in East China's Shandong province finally succeeded after a local court ruled that Jiang Ge's former roommate, Liu Nuanxi, played a role in the young woman's death and ordered her to pay 696,000 yuan ($109,000) in compensation.
Jiang Qiulian, who is in her 50s, said that she cares more about the court's recognition of her daughter's kindness and its identification of Liu's responsibility in her death than she does about the money.
"I always believed in my daughter, and I knew justice would finally stand by her side," Jiang Qiulian told media after the verdict was delivered. She went straight from the court to her daughter's grave, where she read the ruling out loud, saying "My beloved girl, your mother did it!"
On Nov 3, 2016, the then 24-year-old Jiang Ge was stabbed to death outside her apartment in Tokyo by Chen Shifeng, Liu's ex-boyfriend. Liu had moved in with Jiang after breaking up with Chen.
Earlier that day, Liu had quarreled with Chen, who later hid in the apartment building with a knife and waited for the women to return from an evening out.
When he confronted them, the three argued, and Chen chased them to Jiang's apartment.
Liu got in but locked the door behind her, trapping Jiang outside. Chen then stabbed Jiang in the neck a dozen times before fleeing the scene. The young woman died at a nearby hospital.
Recalling the moment she was told her daughter had been killed, Jiang Qiulian said that at first, she didn't believe it as she had been on the phone with her just eight minutes before the incident.
A single mother, she spoke every day to her daughter, who was studying in Japan. "I wasn't able to fall asleep until she told me that she had arrived at the apartment and had locked the door," she said. "I also asked her to tell me when she got home, even if she didn't want to talk."
Burdened by the pain of losing a child, Jiang attended the case hearing in Tokyo. At the end of 2017, the court found Chen, who is a Chinese national, guilty of the murder and sentenced him to 20 years in prison.
Jiang was dissatisfied, saying that Chen should have received the death penalty. She also said Liu shared some of the blame for her daughter's death because she had locked her out of the apartment, making her vulnerable to Chen.
"I didn't want to punish Liu, I just wanted more details after the tragedy, but she blocked my attempts at contact and refused to reply," Jiang said. "Worse, she began posting improper comments about my daughter online, which made me angry and upset.
"I had lost my darling child, and I couldn't bear the thought of anyone tarnishing her reputation or the dignity of her memory with ugly words or defamation."
In late 2019, Jiang Qiulian filed a lawsuit against Liu, seeking more than 2 million yuan in compensation for financial losses and mental anguish caused by her daughter's death.
According to the ruling by the Qingdao court, Liu was clearly at fault and should bear responsibility for not informing Jiang Ge of the potential danger posed by Chen, who had already tried to intimidate her before the murder. Nor had she taken Jiang Ge's safety into account when she locked her outside her own apartment.
The ruling added that those who introduce danger to their situation have an obligation to take all the necessary measures to prevent others from being harmed.
"Jiang Ge should be commended and deserves compensation, as she offered Liu shelter," the court said. "As Jiang Ge's friend and the recipient of her aid, Liu did not express gratitude, nor did she comfort the family of the deceased, but instead aggravated the mother's pain by making improper posts online, actions that deserve to be condemned."
The ruling brought Jiang long-awaited relief after working tirelessly to find justice for her daughter's murder.
"Whenever I thought about giving up, I would remember her terrible suffering outside the apartment," she said.
"Everyone has his or her role in the universe. To be a mother is a responsibility. I would teach my child to be kind if she was still alive, but I would also teach her to stay away from danger."
According to Chinese law, both parties had 15 days to appeal to a higher court. On Monday, an attorney for Liu told media that she has appealed the ruling.
Jiang said on her Weibo account last week that she would not appeal and plans to donate the compensation money to help other young girls.
"I've received so much support and help from the public since my daughter died, so it's time for me to give back to society," she said.
To earn a living, she has been learning to be an online retailer and has asked netizens not to send her donations.
While the dispute with Liu has ended, Jiang said that her battle against others who also insulted or defamed her daughter online is still ongoing, and she has initiated several other lawsuits.
"My fight to defend my daughter will not end," she added.