Youth employment program attracts HK's young to Guangdong province
Share - WeChat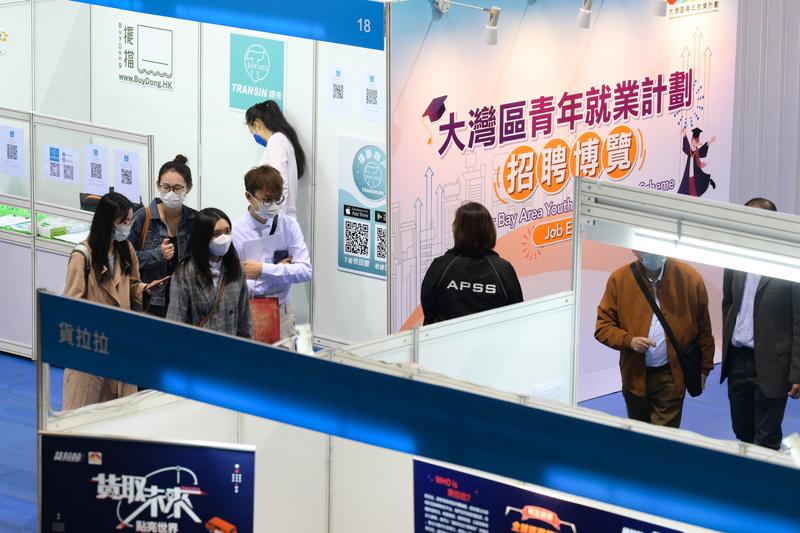 Tommy Wu, 25, is among a growing number of young people from Hong Kong who, by taking advantage of a government-subsidized job program on the Chinese mainland, are not only earning good pay, but also gaining invaluable work experience.
Wu, a project manager at a video game company in Shenzhen, Guangdong province, is a beneficiary of the Greater Bay Area Youth Employment Scheme launched by the Hong Kong Special Administrative Region government in January 2021 to help young people develop careers in Chinese mainland cities of the Greater Bay Area.
The subsidies allow eligible enterprises with business operations in nine Guangdong cities to employ Hong Kong graduates on a monthly stipend of HK$10,000($1,284) for up to 18 months. So far, about 1,090 applications have been accepted.
Wu said he was attracted by the high salary outlined in the program, which stipulates that the monthly wage for each Hong Kong graduate be at least HK$18,000.
"Moreover, successful candidates like me receive a monthly allowance of 1,000 yuan ($158) from the Guangdong provincial government," added Wu.
Although the good salary played a big role, the decisive factors for Wu in making the move were the vast opportunities and brighter career prospects in the mainland cities.
Wu said the job market in the internet industry in Guangdong is better developed as many tech giants like Tencent and a number of startups are based in the area. "I sharpened my communication skills and learned the importance of teamwork during my first job at the Huizhou branch of a Hong Kong-based touch-screen manufacturing company, which made me competent for my current one," said Wu.
With a comfortable work environment and an employer that values his talent, Wu said he is "very satisfied" with life right now and will continue living in Guangdong for the foreseeable future.
Wu said he hopes more leading companies in a number of fields will participate in similar programs in the future.
Jasper Tai, 25, another participant in the program who works as a bank clerk in Guangzhou, capital of Guangdong province, received training in Hong Kong and on the Chinese mainland.
Tai said the program enabled him to experience office cultures in both places, in terms of working pace, collaboration and company culture. He said he found the work challenging and exciting.
Tai has also decided to stay in Guangdong. "The banking industry on the mainland may not be as developed as in Hong Kong, but it is noticeably progressing. I believe there will be more possibilities and opportunities for me," he said.
Tai believes the Hong Kong government should review the rollout of the program, including problems that arose during implementation.
He pointed to job-hopping among the program's applicants as an example and suggested that if there is another round, the deadline should be extended for companies that have not met recruitment quotas.
Hong Kong lawmaker Rock Chen Chung-nin acknowledged the Hong Kong government's efforts in encouraging the city's young people to develop their careers in Greater Bay Area cities on the mainland. Chen suggested the government conduct the program annually to create more career choices for Hong Kong's young people.
The SAR government should carry out more proactive measures, including setting up offices on the mainland and promoting the program in universities and communities, Chen said.
Jack Cheung Ki-tang, chairman of the Hong Kong Youths Unified Association, a charity that focuses on supporting young people, said the work experience gained on the mainland will be a huge advantage for the future career development of young people from Hong Kong.
Cheung said cities in Guangdong have developed an edge in the innovation and technology sectors. To have more Hong Kong young people gaining exposure to work there will also be a plus for Hong Kong.
It means Hong Kong will have a more vibrant talent pool as the city moves toward its goal of becoming an international information technology hub, he said.