China a stabilizer for volatile 2022
By Rong Ying | CHINA DAILY | Updated: 2022-01-27 07:19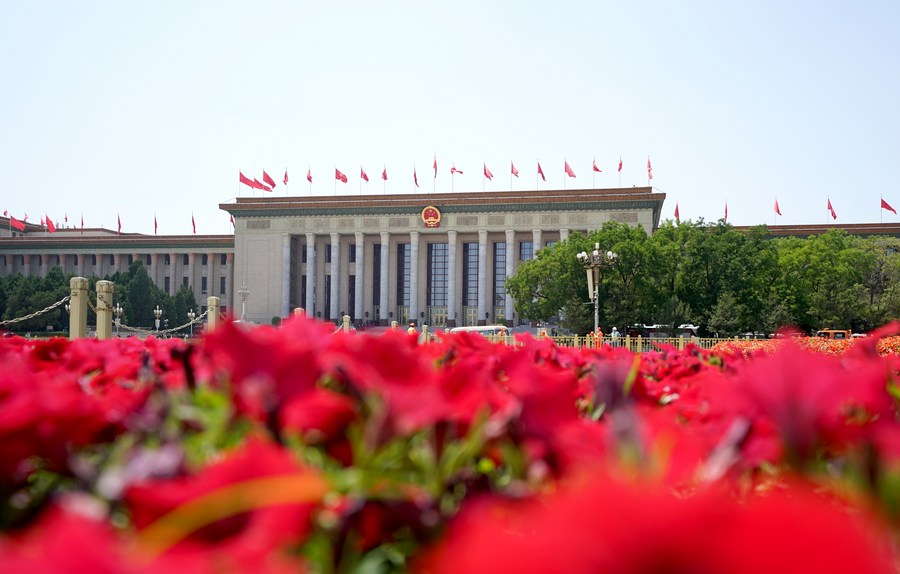 The COVID-19 pandemic has convulsed the world, impacting the global economy and global governance and bringing about unprecedented changes in the global situation over the past two years. The pandemic, which seems to have intensified with each infection wave, has been directly or indirectly responsible for the global economic recession and development gap, the intensifying great power game, the failed or inconclusive international dialogues, and the lack of cooperation.
What more to expect from the pandemic?
The novel coronavirus has not only claimed more than 5.59 million lives and infected over 350 million people, but has also dealt a serious blow to economies, especially developing economies, with middle- and low-income and other vulnerable groups being the worst off in every country.
Variants make pandemic more unpredictable
The frequent outbreaks, especially of the Delta and Omicron variants, mean the pandemic could last much longer than expected and, therefore, we should prepare to respond to even more serious situations.
But worse than the novel coronavirus is the "political virus", which is being manifested through "vaccine nationalism" and politicization of the virus. The pandemic will be contained one day, but the rifts, gaps and inequality caused by the "political virus" will continue to impact international relations for years to come.
The world hoped the development of vaccines and global cooperation will ensure everyone gets access to COVID-19 vaccine. China not only largely contained the pandemic at home but also strengthened the global fight against the pandemic by providing over 2 billion doses of vaccines to more than 120 countries and international organizations, and cooperating with over 30 countries in vaccine production.
The pandemic struck at a time when the global economy was yet to fully recover from the 2008 global financial crisis, and once again crippled global economic development and accelerated the polarization between developed and emerging countries.
Amid such grim situations, the International Monetary Fund recently said 2022 will be a hard year, with IMF Managing Director Kristalina Georgieva stating that the year will be like "navigating an obstacle course". And the United Nations Conference on Trade and Development said in September that developing countries will lose $12 trillion through 2025.
Indeed, the pandemic has exacerbated the fragility of the global supply chains, caused energy and food shortages, and fueled inflation in many countries. Worse, the effects of monetary policy adjustment in the United States and other major economies may have spillover effects, causing hyperinflation in, and capital outflow from, emerging and developing economies.
Global Development Initiative for public good in hard times
In other words, developing countries face more economic uncertainties and challenges in 2022. So, apart from taking steps to contain the pandemic, they also need to implement macroeconomic policy conducive to equitable, green and sustainable development.
It is in this context that China has proposed the Global Development Initiative, which calls for international cooperation in economic development to boost global economic recovery and which has been welcomed by the UN and many member states.
With Joe Biden becoming the US president, a new round of complicated major-country relations began. His assertion early last year that "America is coming back" in a way signaled the continuation of his predecessor's "America first" policy.
On the global front, the US has strengthened cooperation with its allies and partners and has been weighing even economic competition in terms of the balance of ideology.
In the Asia-Pacific region, Washington has been pushing forward its Indo-Pacific strategy and hyping up security issues. It has also strengthened its military presence and created a so-called new economic framework in the region.
In Europe and Eurasia, while trying to strengthen its military alliance with fellow NATO members, the US has been trying to drive a wedge between Russia and the European Union.
But when it comes to addressing urgent international issues, the US has been passing the buck, resorting to double standard or looking to fulfill its own geopolitical goals in the name of helping others.
To win what it considers competitions against China and Russia, the US has taken measures to check their economic development, while taking the back seat in the global fight against such burning global issues as climate change and terrorism.
China continues to contribute to global governance
In contrast, China has made serious efforts to stabilize Sino-US relations, by promoting a new type of international relations, taking steps to maintain the overall stability of relations among big powers, and proposing that a strategy framework be built based on mutual respect, peaceful coexistence and win-win cooperation.
Global governance is facing new challenges because the pandemic, and rapid scientific and technological development have intensified the competition over setting of new rules and standards in fields such as the digital economy, artificial intelligence, green energy, biomedicine, cybersecurity and space technology.
And since the existing global governance system cannot deal with many emerging international issues, there is a need to reform it based on multilateralism and with a focus on developing countries.
The Regional Comprehensive Economic Partnership agreement, the world's largest free trade agreement which came into effect on Jan 1, is expected to yield considerable free trade dividends. The year will also see Indonesia hosting the G20 Summit, Thailand the APEC meeting, Egypt the UN Climate Change Conference, and China the BRICS Summit.
The year 2022 is important also because China will hold the 20th National Congress of the Communist Party of China, and take crucial steps toward achieving its second centenary goal of developing China into a great modern socialist country that is prosperous, strong, democratic, culturally advanced, harmonious and beautiful.
As for China, it will continue promoting global governance system reform, giving proposals for World Trade Organization reforms, fighting climate change, leading green development, improving public health, creating jobs, and boosting international cooperation in emerging areas such as digital governance and green governance.
The author is vice president and a senior research fellow at the China Institute of International Studies.
The views don't necessarily represent those of China Daily.
If you have a specific expertise, or would like to share your thought about our stories, then send us your writings at opinion@chinadaily.com.cn, and comment@chinadaily.com.cn.