Shortages of lithium plaguing electric cars, batteries seen easing
By FAN FEIFEI | China Daily | Updated: 2022-01-28 10:16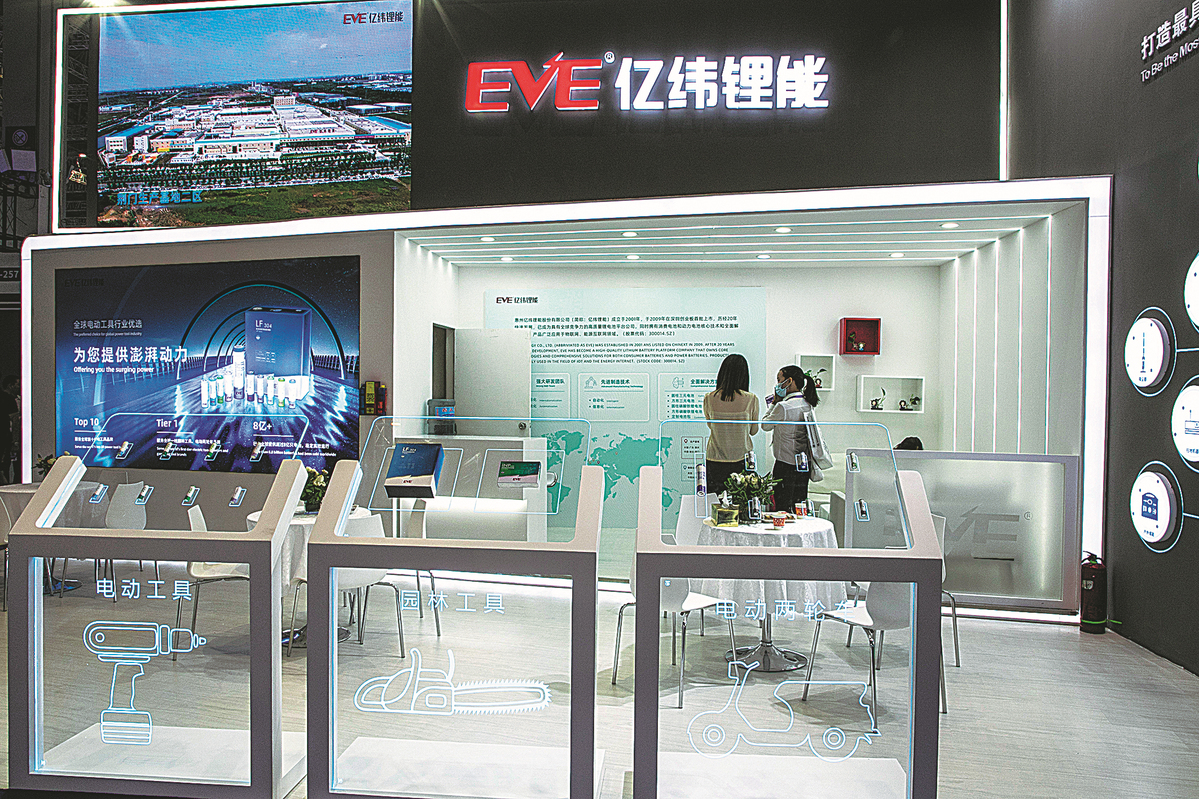 As demand for lithium has risen sharply, Chinese battery makers have accelerated steps to acquire lithium mining operations at home and abroad. All this is a result of the explosive development of new energy vehicles.
Eve Energy Co Ltd, a Chinese lithium battery company, recently announced it has signed a strategic partnership agreement with Sunresin New Materials Co Ltd, a large special resin manufacturer based in Xi'an, Shaanxi province. Sunresin, a high-tech company, has mastered technologies to extract lithium from salt lakes.
The partners will work together closely to improve the lithium resource industrial chain, and actively participate in the development and utilization of lithium resources at Jese Tsakha Salt Lake in the Tibet autonomous region.
The company has also acquired a 49 percent stake in Qinghai Qaidam Xinghua Lithium Salt Co Ltd, founded in 2016, which is licensed to manufacture and sell lithium salts and boron compounds.
The battery maker said the move will help it further focus on the main business of lithium batteries, expand the upstream industrial chain and optimize its industrial deployment.
The global lithium market has seen prices moving to new record highs almost daily, boosted by limited supply and significant demand, according to S&P Global Platts, a provider of energy and commodity information. The trend is expected to continue into 2022, as supply tightness persists and demand for electric vehicles continues to grow.
Seaborne lithium carbonate prices have surged 413 percent from the start of 2021 to Dec 14, while lithium hydroxide prices have climbed 254 percent over the same period, it added. These two forms of lithium can be used in electric vehicles and lithiumion batteries.
Dong Yang, vice-president of leading automotive think tank China EV 100, said the price spike in the raw material is a result of tight supplies and surging demand for lithium batteries spurred by fast-growing demand for NEVs.
Dong added that the soaring price of lithium will become a key factor restricting the development of the NEV industry, and affect the manufacturing and delivery of new NEVs.
China has a large supply of lithium, but its deposits mainly exist in salt lakes which require complicated processes to extract, as well as in the Qinghai-Tibet Plateau, which can also complicate extraction due to weather conditions. All these factors can drive up costs. As a result, lithium carbonate and other lithium salts are highly dependent on imports.
Most of the world's high-quality lithium salts are in South America's Lithium Triangle, which encompasses Argentina, Bolivia and Chile.
Chinese lithium companies have beefed up efforts to expand their global footprint in a bid to secure key material supplies and lower the high cost of NEV batteries.
Last month, Chinese battery material producer Zhejiang Huayou Cobalt Co Ltd said it will acquire a lithium mining company in Zimbabwe for $422 million. It is the latest acquisition of overseas battery mineral resources by Chinese companies looking to shore up supply to meet demand from the burgeoning electric vehicle sector.
Chinese lithium manufacturer Ganfeng Lithium Co announced in June it planned to pay $130 million for a stake in a spodumene mine project in Mali, Africa. Spodumene is a lithium-rich mineral that can be converted into battery-grade lithium products.
The company also bought 8.58 percent of shares in Litio Minera Argentina from Canada's International Lithium Corp through its wholly owned subsidiary Ganfeng Lithium Netherlands for $13.2 million in October.
The company, headquartered in Xinyu, Jiangxi province, covers a wide swath of the lithium battery supply chain, from lithium resource development, refining and processing to battery manufacturing and battery recycling.
Data from the China Automotive Battery Innovation Alliance showed that China's output of storage batteries to power NEVs jumped by 163.4 percent on a yearly basis to reach 219.7 gigawatt-hours in 2021 as the NEV industry continued to boom.
The output of lithium iron phosphate batteries reached 125.4 GWh last year, surging by 262.9 percent year-on-year. The country produced 93.9 GWh of ternary lithium batteries during the period, up 93.6 percent year-on-year. This type of battery uses metal oxides of nickel, cobalt and manganese and packs more punch for its weight than other batteries.
Cui Dongshu, secretary-general of the China Passenger Car Association, said the accelerated exploitation of lithium resources will gradually expand production and alleviate the lithium resource shortage.
Chinese companies, in obtaining permission to develop the resources, will expand production, helping moderate prices and alleviate supply shortages and high prices, experts said.
"In 2022, the price of lithium will witness a slight increase, and the price is expected to gradually drop to a reasonable range in 2023," Cui added.
Yang Weibin, an independent power battery industry expert, said the rise in lithium prices will increase the costs of power battery production and will force carmakers to develop new models of vehicles that use less lithium as a raw material. Plug-in hybrids and conventional hybrids will develop rapidly, he added.