Global Youth Readers Club launched in Malaysia
By Yang Yang | China Daily | Updated: 2022-01-28 10:39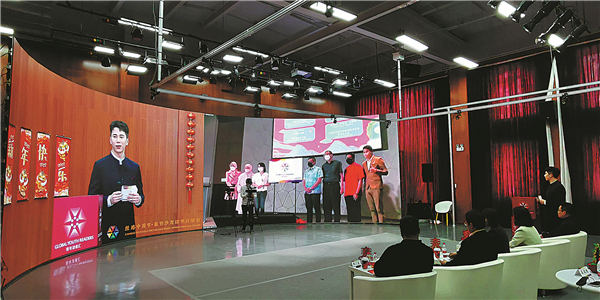 The first Global Youth Readers Club was launched in Malaysia at a Spring Festival salon via an online ceremony on Saturday, which was joined by guests from Beijing and Kuala Lumpur.
The Global Youth Readers, launched by China National Publications Import & Export (Group) Co and its overseas partners, is an international exchange platform for young readers with a mission to increase communication and exchange among young people from different countries and regions and to promote Chinese culture through various events, reading included.
More than 80 students from Italy, China's Hong Kong and Taiwan who are currently studying in Beijing, and local students and scholars from Malaysia, attended the reading event in Beijing and Kuala Lumpur, either online or in person.
Apart from reading and discussing books such as The 24 Solar Terms in Poems and Hi I'm China, the salon presented a 24 Festive Drums performance, an intangible cultural heritage in Malaysia, calligraphy writing and festive food tasting.
Lin Liying, president of China National Publications Import &Export (Group) Co, said that Global Youth Readers would improve the mutual understanding among young people from both sides, and enhance the friendship between the two countries.
Mohd Khair Ngadiron, director of the National Book Council of Malaysia, said, "Through the reading and sharing activities, young readers in Malaysia will be able to learn more about the beautiful literature from China."
Nicole Wong Siaw Ting, chief of the Malaysian Chinese Association Youth, said: "A good book is like a wise teacher and friend. Poems from the Tang (618-907) and Song (960-1279) dynasties and verses of the Yuan Dynasty (1271-1368) are precious spiritual food left by Chinese ancient people, and should be read."
The salon was the club's first event this year and more are to be held in other countries.