Healthier nianhuo a big hit
By ZHENG YIRAN in Shenzhen, Guangdong | CHINA DAILY | Updated: 2022-01-29 09:14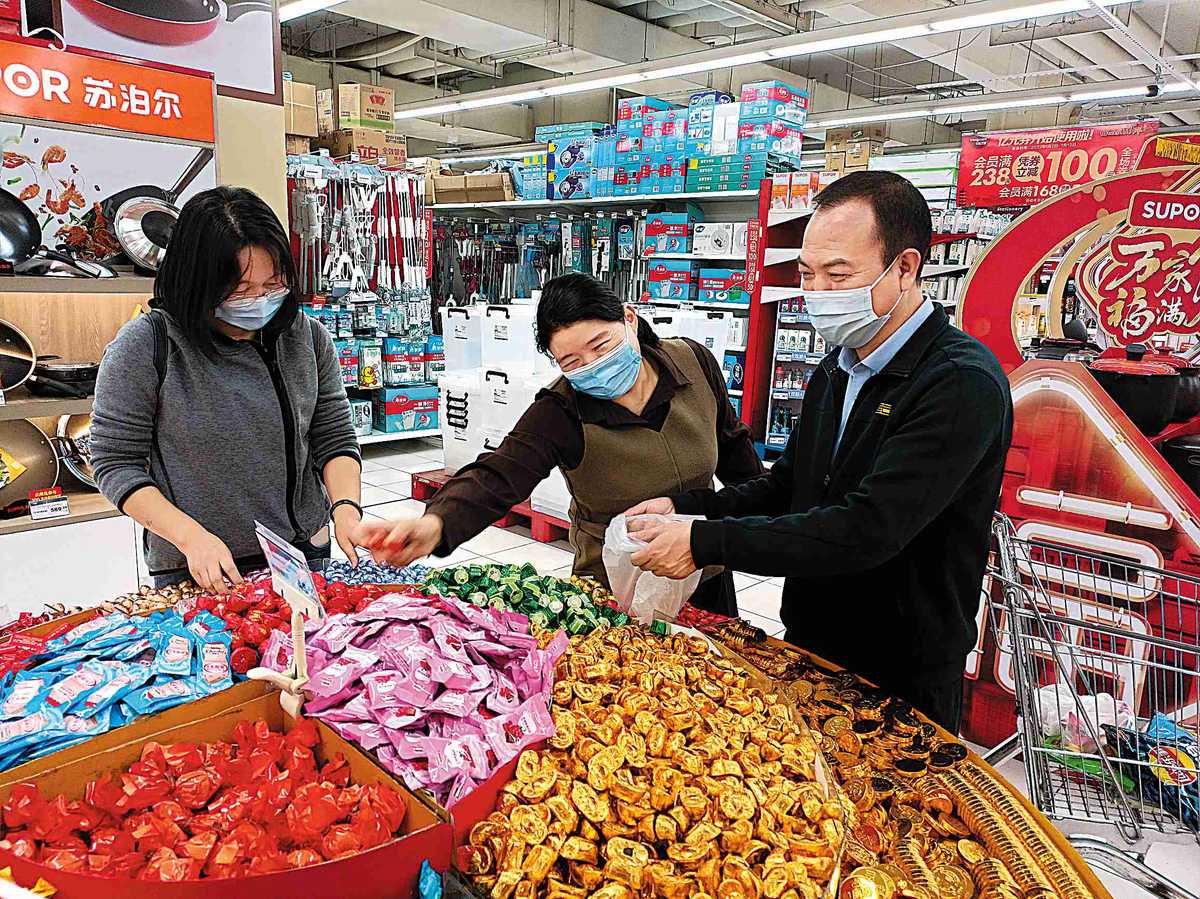 Consumption enthusiasm for the Lunar New Year remains robust despite COVID-19 curbs on travel
As the Feb 1 Lunar New Year draws near, one tradition for the Chinese people is to purchase nianhuo, the special goods consumers buy to celebrate the festive occasion.
Given the steady upgrades in consumption this year, consumers increasingly have healthier and higher-end choices.
A report released by the Ministry of Commerce said that during the 2022 nianhuo shopping festival, high-quality healthy goods have become an instant hit. For example, sales of chocolate gift boxes and black sesame pills increased by 67.4 percent and 105.9 percent, respectively, year-on-year.
Intelligent house cleaning appliances, another symbol of a high-quality life, saw rapid growth.
The sales revenue of mite-removal machines and wet-and-dry vacuum cleaners surged by 40.1 percent and 32.9 percent year-on-year, respectively, while those of smart projectors and smart massagers rose by 89.5 percent and 34.8 percent year-on-year, respectively, data from the MOC showed.
Healthy, organic food is another popular choice for nianhuo. Sales of organic vegetables, organic milk and bee products like honey and beehives were 187.8 percent, 38.8 percent and 45.3 percent higher than that of last year, the MOC's report said.
"Judging from MOC's consumption data, China's stay-local drive during Spring Festival didn't cool down people's consumption enthusiasm. Consumers are willing to spend, and their consumption capability is very strong. In particular, healthier, high-quality nianhuo are favored by Chinese consumers," said Fu Yifu, a senior researcher at the Suning Institute of Finance.
Industry experts said with the rise of Generation Z, what people buy as a preparation for Spring Festival is constantly getting upgraded, and pursuit of healthiness and high quality is now a main trend. This is as true of the "she" economy featuring women as well as the "silver" economy dominated by seniors.
Raming Zeng, person in charge of the marketing department of Dongguan, Guangdong-based confectionery maker Hsu Fu Chi, said that "instead of merely pursuing delicacy, consumers tend to favor food that is both healthy and delicious. For example, Hsu Fu Chi's chia seed candy and non-fried crisp candy with nuts have become a darling," he said.
"The new trend promoted us to stay alert for sensing consumers' higher-end, more diversified need, and to adjust our business strategies. For example, this year, we launched 38 types of confectioneries, among which 13 are new products, covering categories of candy, cakes, gift boxes and chocolates, to offer rich choices to consumers,"Zeng said.
Bo Wenxi, chief economist at marketing firm Interpublic Group China, said: "Under consumption upgrade, it is an inevitable trend that people are buying healthier, higher-end nianhuo. Therefore, merchants should pay more attention to the changes of consumer demand, realize the close coordination of marketing, promotion, stocking and supply, so as to make more sensitive and accurate business strategies, and thus improve efficiency.