Fun retail, staycations, cuisines spring from 'new normal'
By HE WEI in Shanghai | CHINA DAILY | Updated: 2022-01-29 09:21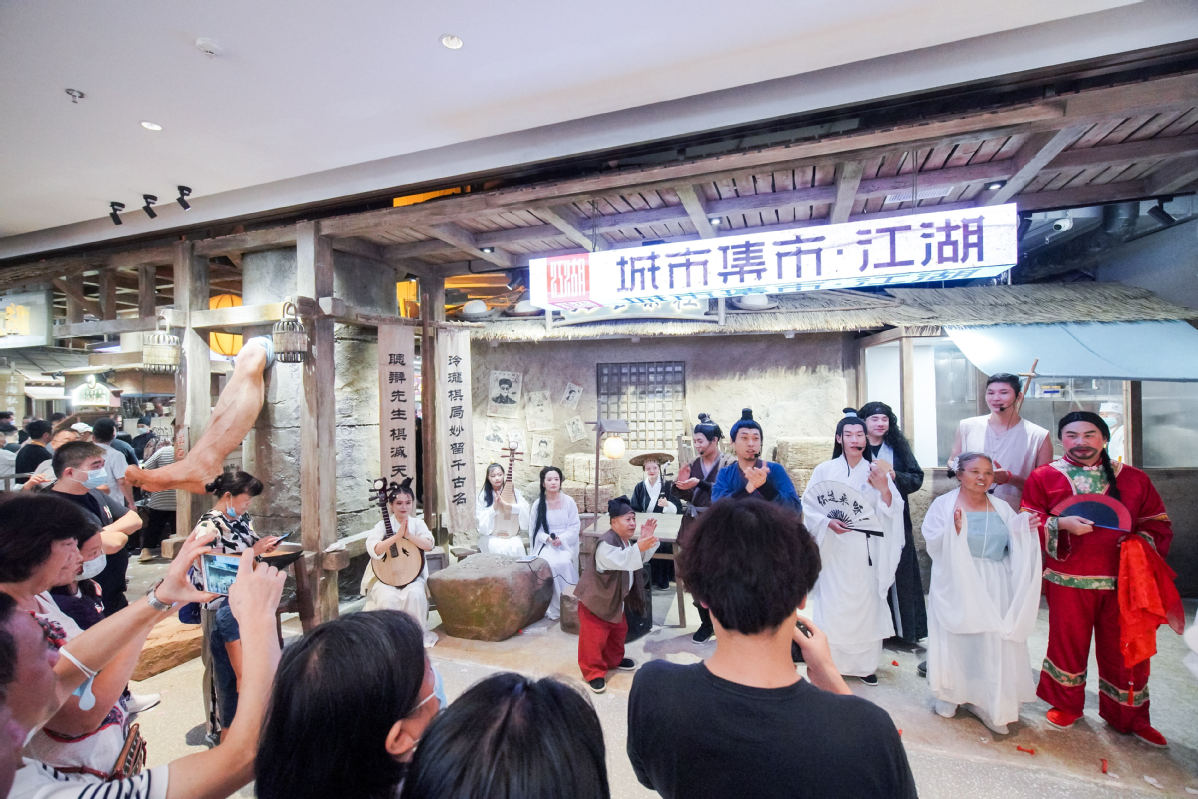 The COVID-19 pandemic has transformed how people celebrate the most important festival in China. Once described as "the earth's largest population migration", the Spring Festival vacation has a new normal-uncovering local excitement as people stay put rather than undertaking long journeys for traditional family reunions.
So, merchants this year have come up with seasonal and bespoke offerings and services tailored to the new normal.
Shanghai Xintiandi, a key commercial complex in downtown Shanghai, has adopted "experiential retail" to enrich its offerings and increase consumer footfalls.
To create an immersive shopping experience, Shanghai Xintiandi has teamed up with avant-garde artist Song Santu. They will offer several tiger-themed installations, where visitors can scan QR codes attached to them and stand to win digital collections of tiger-themed souvenirs.
"Tiger represents the zodiac sign of the upcoming new year and we want to create a 'digital twin' replica in the virtual world," said Song. "The aim is to champion the tradition by combining it with modern technologies like augmented reality, which we expect will attract young shoppers."
With more people unsure about traveling to other regions due to COVID-related disruptions, hotels are gearing up to entice locals to take staycations instead.
Hilton Group is promoting special packages encompassing everything from the Spring Festival feasts to staycation deals that provide a cozy getaway from everyday stress.
Each different facility at Hilton will source local ingredients to create themed delicacies, from inventive culinary delights, creative sweet treats to banquets with lavish dishes that a big family can savor, the company said in a press release.
Hilton also promoted its staycation plans, with its variety of premises, leveraging the hustle and bustle of downtown Shenzhen and those immersed in the tranquility of suburban Hangzhou.
Like Hilton, hospitality giant Marriott has also rolled out a suite of staycation offerings by featuring different intellectual properties or IPs.
For instance, Ritz Carlton Beijing, a brand under Marriott, has rolled out Spring Festival-only afternoon tea sets and themed suites by teaming up with British toy marque Hamleys. Its award-winning restaurants are looking to pamper visitors' taste buds with traditional Cantonese cuisine Poon Choi, among other festival offerings.
A Marriott hotel in Guangzhou has launched four reunion meals for people to celebrate the new year at ease. It also rolled out a one-stop combo for staycation guests, including one-night stay, buffet breakfasts for two, and the option to choose one from three scenic spots, ranging from the city's ocean world to botanical garden and the natural science museum.
Zhang Chi, a 27-year-old human resources professional in Shanghai, is considering staying at a downtown hotel for some value-added services, such as yoga club and cooking classes, during Spring Festival.
"Luxurious amenities, relaxing space, fine dining where star chefs show off seasonal produce dishes ...these are the things on top of my mind when planning a premium hotel staycation. It would be a novel way of celebrating Chinese Lunar New Year but is definitely abreast of the times," she said.
Physical distance could not bar people from expressing their affection and care for their loved ones afar, and e-commerce and delivery services have come to their rescue.
Dada Group, a local on-demand delivery and retail platform, found a 1.4 times jump in the number of orders when the sender and the receiver live in different cities.
During the festival, online-to-offline service providers like JDDJ promised to deliver goods within one hour after people place an order online, thanks to a growing partnership network with local supermarkets nationwide.
JDDJ data released on Monday showed sales of air fryers, stand mixers and instant cameras jumped tenfold in the lead-up to the festival. Other sought-after items included snacks and workout gadgets.