50 years on, US zoos proud of panda care
By LIU YINMENG in Los Angeles and YIFAN XU in Washington | China Daily Global | Updated: 2022-04-15 11:24





Share - WeChat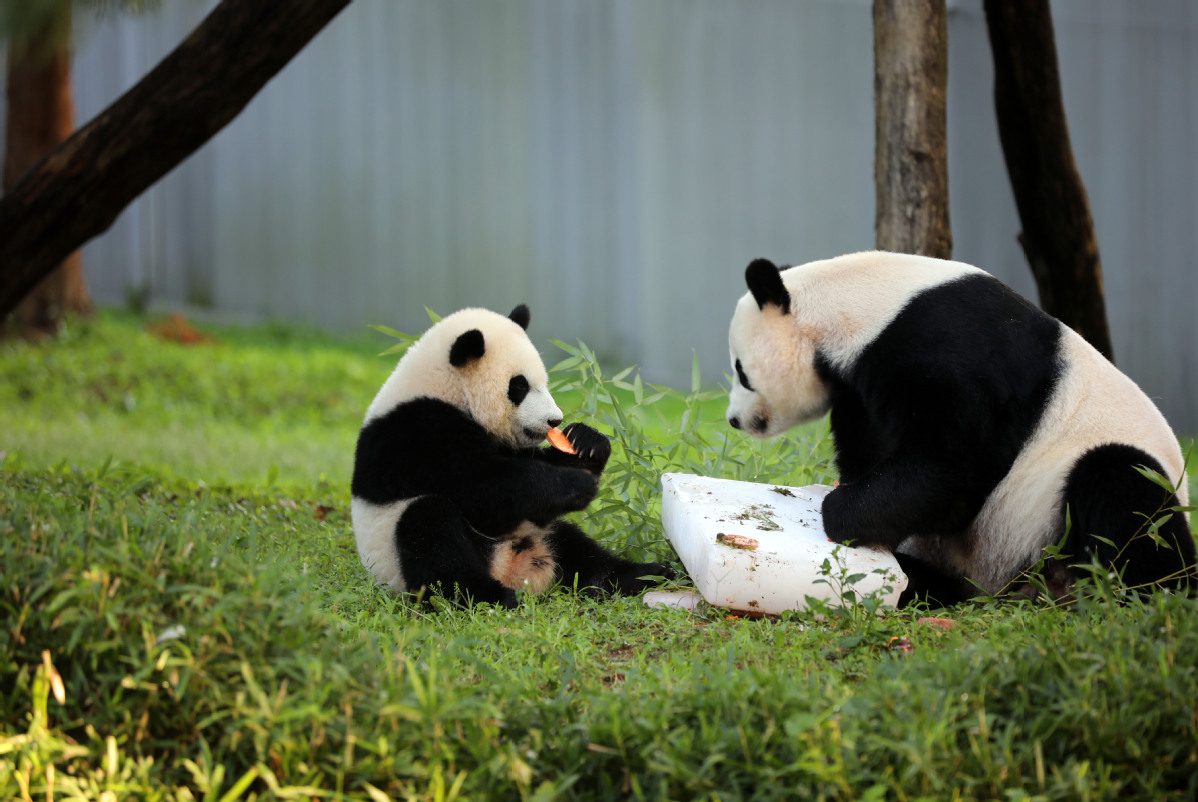 In keeping with the loan agreement, the staff at the San Diego Zoo said their goodbyes to Bai Yun and Xiao Liwu, the two last remaining pandas, who were safely repatriated to China in May 2019.
"We at the San Diego Zoo Wildlife Alliance would be honored to be home for future generations of giant pandas. Our millions of annual guests and tens of millions of social media followers very much look forward to meeting these messengers of friendship and trust from China again in person," Owen said.
Before the arrival of Lun Lun and Yang Yang in 1999, Zoo Atlanta already had a research partnership with the Chengdu Research Center of Giant Panda Breeding, which goes back decades.
"So with that relationship in place, and then the arrival of the pandas to Atlanta, it just really helps to broaden that partnership and helps us do more research to learn about the behavior and biology of this species," Jenny Elgart, the zoo's lead keeper in the panda area, told China Daily.
Over the years, Zoo Atlanta has contributed more than $16 million for conservation of wild giant pandas in China, which encompasses eight different nature reserves, she said. That money also supported projects such as research on genetic diversity, construction of a protection station, reserve management and reforestation projects.
Lun and Lun and Yang Yang have had seven offspring since their arrival, including two sets of twins, Mei Lun and Mei Huan in 2013, who were considered the first surviving pair of giant panda twins ever born in the US. The second set, Ya Lun and Xi Lun, were reared in 2016.
Giant pandas have a high mortality rate in the first few months after birth, and the risk is greater when twins are born. That's because the mother panda only has the energy to nurse one cub, explained Elgart, who has cared for all nine pandas at the zoo.
Elgart credited the success of the twins to the zoo's husbandry care team, but also to their collaborative works with colleagues from the research center in China.
She noted that in 2016, the International Union for the Conservation of Nature (IUCN) upgraded the giant panda's status from "endangered" to "vulnerable".
Back in the 1980s, there were more than 1,100 pandas in China, but the latest census conducted in 2014 put the number of animals alive in the wild at more than 1,800, according to the WWF.
"Zoo Atlanta is really proud to have been a part of all these conservation programs in China," she said, adding that the status upgrade is "a great example of how different conservation programs can work and how they need to be sustained long term", she said.
Memphis Zoo's panda exhibit was the result of the zoo's research plans aligning with local business interests. But a key part of its success in receiving the pandas was former US senator James Sasser of Tennessee, who served as the US ambassador to China from 1996-99.
Sasser "took it as just a personal goal", to advocate for his hometown and facilitated the zoo's exchange with Chinese officials, Matt Thompson, the zoo's deputy director, told China Daily.
Before knowing they will get the animals for sure, zoo officials began construction on a $16 million panda exhibit and planted an 8-acre bamboo field, Thompson said.
The CHINA exhibit created an environment that "make it feels like you are going on a little trip to China", featuring a mix of pagoda, pavilion, courtyard, theater and other architecture, he said. It would house other species native to China should the panda deal had not panned out.
"We feel like it was worth the risk, and either way we would end up with a beautiful exhibit that was a tribute to the wildlife of China. We are still very proud of the exhibit," he said.
Most of the construction money came from private and corporate donors, who were excited about the prospects of pandas and fell in love with the exhibit's cultural components, Thompson said.
In April 2003, Le Le and Ya Ya jetted in on a 13-hour flight from Beijing, their arrival causing a tremendous stir. The zoo saw their visitors number jumped from around 600,000 to 800,000 within the first year of the pandas' arrival, said Thompson.
"It was a very uniting thing for the city of Memphis, which I've never seen happen. We are a very well-supported zoo, I will say, and I'm very proud of the support that we receive, but I've never seen the city come around animals like they did when the pandas arrived. That was unpredictable, and very exciting, and it continues to be," he said.
"They are just such good ambassadors, for not only the country of China, but just conservation, and just their species, they are just incredible animals, so we are going to try," he said.