Cooperation key to Asian growth, stability
By Gao Haihong and Li Yingting | China Daily | Updated: 2022-04-20 08:00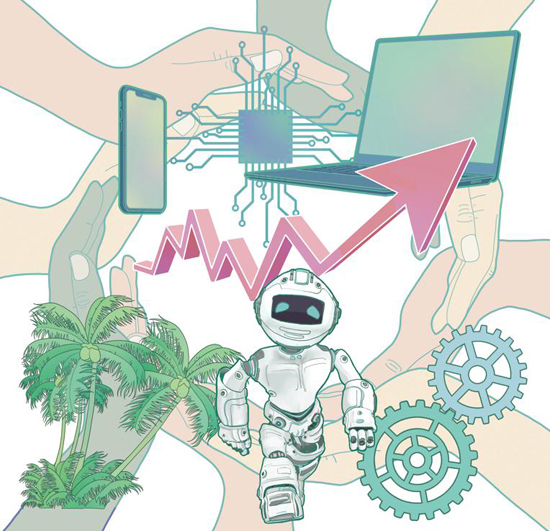 The annual conference of the Boao Forum for Asia, to be held from Wednesday to Friday, at Boao, Hainan province, will focus on how the world should work together to recover from the COVID-19 pandemic and build a shared future. As usual, Asia will be in the spotlight, especially because the region regained economic strength in 2021, thanks to the rollout of COVID-19 vaccines, gradual opening-up, and continuous supportive macroeconomic policies.
However, as some of the key central banks began normalizing their monetary policy, by taking tightening measures in the face of surging inflation, the Russia-Ukraine conflict fueled the rise of energy prices, creating more uncertainties for global economic recovery. Asia, too, faces uncertain economic growth prospects and the risks of potential spillovers from monetary tightening in advanced economies.
To address these challenges, Asian economies should strengthen economic cooperation. More specifically, Asian economies can sustain growth by enhancing intra-regional trade, strengthening intra-regional financial coordination, and taking advantage of regional cooperation mechanisms.
Close intra-regional trade ties can mitigate global supply chain disruptions. Asia's trade has exhibited strong resilience and recovered rapidly from the first wave of the pandemic. The Asian value chains, with China as the main production hub, became the world's major supplier of consumer goods and medical products, bolstering global trade. This accelerated Asia's trade growth to 19.1 percent in June 2021, with the share of Asia's intra-regional trade rising 1 percentage point to 58.5 percent in 2020.
The development of the digital and green economies has created new opportunities for Asian economies and will help them maintain their production advantages. And since digital transformation in the traditional labor-intensive industries speeds up manufacturing reshoring, and green growth requires structural changes in the manufacturing process, there is a need for structural adjustment of the Asian value chains.
So Asian economies should boost research and development in areas such as clean energy, artificial intelligence and blockchain technology, upgrade the labor-intensive industries to smart manufacturing, and reduce carbon emissions during the production process. This process of transformation and upgrading will not only help Asian economies to consolidate their position in the global value chains, but also build tighter linkages within the Asian value chains.
Strengthened intra-regional financial linkages and cooperation could ensure financial stability. According to the Asian Development Bank, Asia's intra-regional share of portfolio debt increased from 15.7 percent in 2016 to 18.9 percent in 2020, and the share of portfolio equity increased from 20.2 percent to 21.4 percent.
Moreover, Asian economies could reduce risk exposure by promoting the use of local currencies. In fact, several Asian central banks have taken actions to encourage the use of local currencies in regional trade and investment. For example, Indonesia's central bank aims to increase the use of Asian local currencies in trade and investment transactions by 10 percent in 2022.
The 10 member states of the Association of Southeast Asian Nations, China, Japan and the Republic of Korea have established the Chiang Mai Initiative Multilateral Mechanism with $240 billion funding capacity to provide liquidity support for member countries. As a regional financial arrangement, the CMIM works together with the International Monetary Fund and the central banks worldwide to formulate the Global Financial Safety Net aimed at safeguarding financial stability.
The Regional Comprehensive Economic Partnership came into force in January 2022. Established by ASEAN members, China, Japan, the ROK, Australia and New Zealand, it is the world's largest free trade agreement covering about 30 percent of global GDP and a third of the world's population. The implementation of the RCEP is expected to strengthen regional trade ties and boost economic growth through preferential tariff treatment such as rules of origin to encourage regional trade.
Forging better regional cooperation requires the efforts of all Asian economies. And China should more actively work with the other Asian economies so that the region as a whole is better prepared to deal with more challenges, and can achieve solid economic recovery, secure regional financial stability and sustain long-term development.
Gao Haihong is a senior fellow at the Institute of World Economics and Politics, Chinese Academy of Social Sciences; and Li Yingting is a researcher at the Bank of China Research Institute.
The views don't necessarily reflect those of China Daily.