Green transition to spur Greek recovery
By ANGUS McNEICE in London | China Daily Global | Updated: 2022-04-20 09:30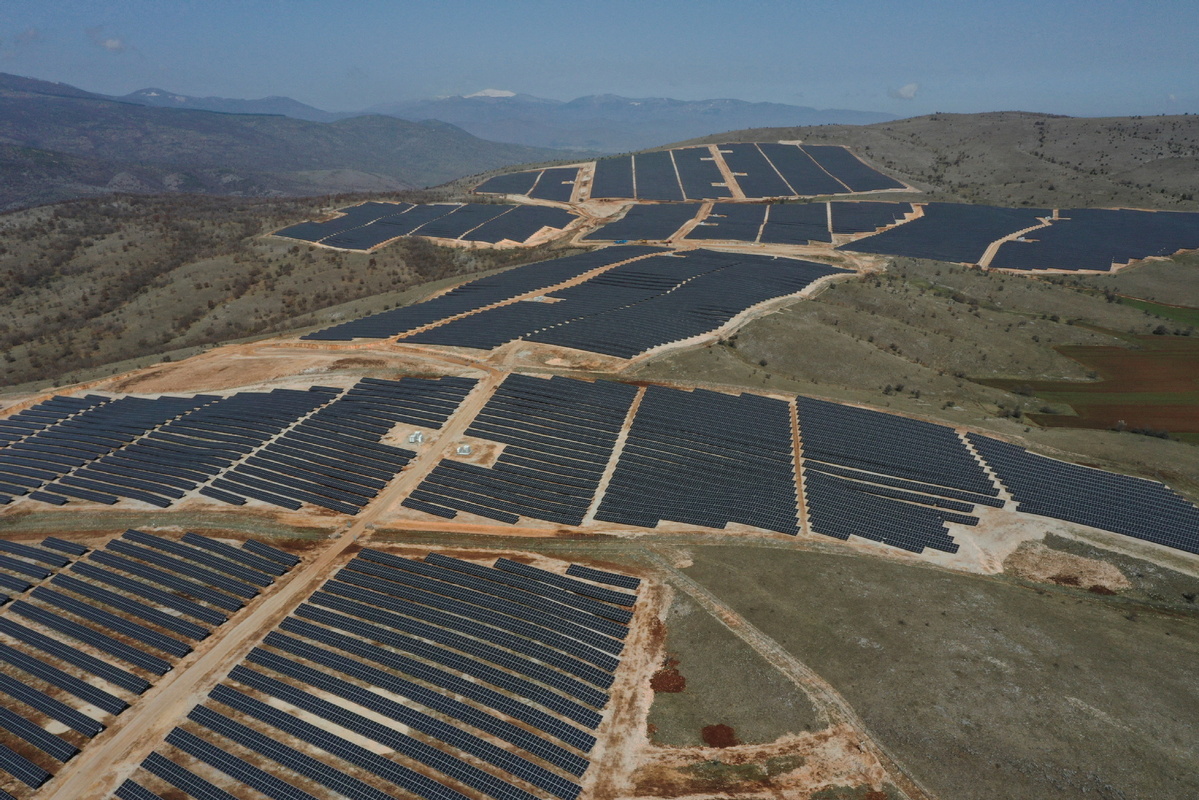 Greece's Prime Minister Kyriakos Mitsotakis has inaugurated the largest installation of double-sided - or bifacial-solar panels in Europe, as part of the nation's transition to green energy.
He said the government also plans to streamline the licensing process for renewable energy projects, which could signal further cooperation with Chinese companies that already own stakes in several Greek wind farms and in the operator of the national grid.
"This project reflects our national goals for cheap and clean energy from the sun, from the wind, from the water," Mitsotakis said at the opening ceremony in Kozani, a city in northern Greece.
Built by Hellenic Petroleum, one of the largest oil companies in the region, the 204-megawatt solar park represents a pivot to renewable power that Greece hopes will spur recovery from the COVID-19 pandemic and the 2007-2008 debt crisis that upended its economy.
Exploiting Greek renewable resources is central to the country's strategy of decreasing reliance on foreign fossil fuels.
Last year, the European Commission endorsed a 30.5 billion euro ($32.9 billion) recovery and resilience plan, 38 percent of which has been allocated to support climate objectives.
The country's Independent Power Transmission Operator, or IPTO, is overseeing a major grid transformation, which includes using underwater cables to link Greece's numerous islands to the mainland thereby discontinuing the use of island-based generators that burn oil.
The so-called Cyclades Interconnection project has already linked the islands of Mykonos, Syros, and Paros to the mainland's grid, and Santorini, Folegandros, Milos, and the Naxos Islands will soon come online.
The project is supported, in part, by State Grid International Development, a subsidiary of State Grid Corporation of China, which invested 320 million euros for a 24 percent stake in IPTO in 2016.
China's State Grid Corporation is also lending its expertise to the construction of an underwater cable that will carry renewable energy from major wind and solar projects in Crete, to the mainland.
Greece has relied heavily on oil, lignite coal, and natural gas to meet its energy needs. In November, the government announced a new climate law that promised to phase out lignite, which is a particularly polluting type of coal, by 2028. It also aims to reduce emissions by 55 percent by the end of the decade, and reach carbon neutrality by 2050.
However, the conflict in Ukraine has complicated matters. The Greek government has said it now plans to ramp up coal production during the next two years as a temporary measure to reduce reliance on Russian gas, which satisfies around 40 percent of country's energy needs.
Greece will also conduct its first test drilling for natural gas in more than a decade.
Mitsotakis said last week that any gas found would "boost our energy independence and our energy security", according to Reuters.
He said new extraction would not impact the country's climate targets, although some environmental groups questioned how this could be the case and insisted gas exploration is not a solution to either the energy crisis or the climate crisis.