Japanese policy adjustments seen amid Ukraine crisis
China Daily Global | Updated: 2022-04-25 09:26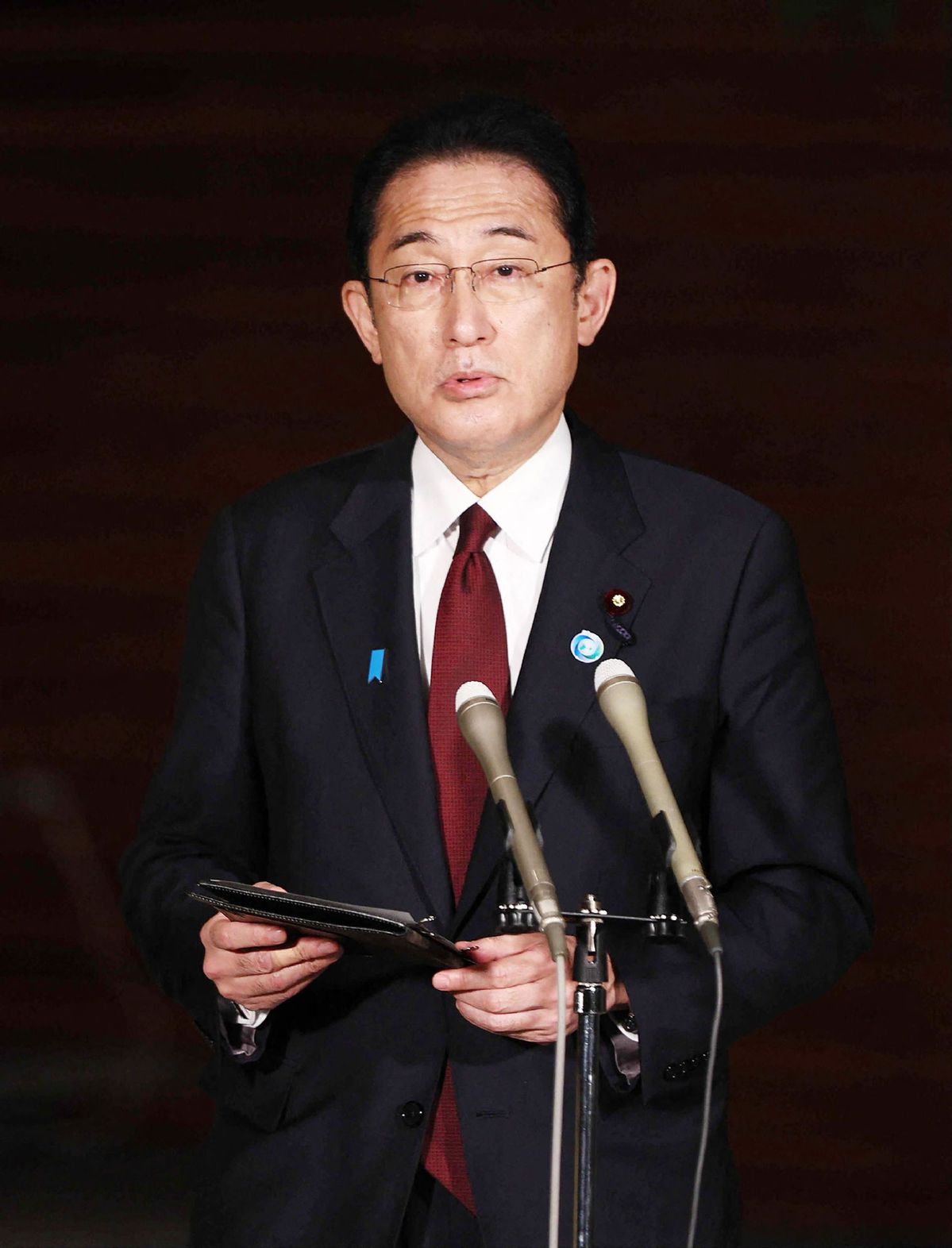 Japanese Prime Minister Fumio Kishida has clearly chosen to align his country more closely with the United States, the Group of Seven and its European partners.
In its annual foreign policy report, 2022 Diplomatic Bluebook, released on Friday, Japan switched from its previous conciliatory approach toward its decadeslong territorial dispute with Russia to a hard-line stance.
It said the four northern islands off Japan's northernmost main island of Hokkaido are "illegally occupied" by Russia. It was the first time that wording was used since 2003, said Kyodo News.
The bluebook also said the islands, called the Northern Territories in Japan and the Southern Kurils in Russia, are an "inherent" part of the territory of Japan, a description that had been absent since the 2011 report.
In line with other G7 nations, Japan has imposed tough sanctions on Russia, with the latest move on Wednesday to strip Russia of "most favored nation" trade status.
The Japanese government modified its rules governing military exports in early March, giving Ukraine bulletproof vests, helmets, masks, protective clothing against chemical weapons and even drones.
The New York Times referred to the military aid as "a decisive moment" in Japan's evolution away from the pacifist identity it has embraced since World War II.
Delivering military equipment in two different kinds of transport aircraft to Ukraine, this enabled Japan's Air Self Defense Force to check its long-range delivery capability. The two planes flew more than 8,000 kilometers in what was a drill for both the pilots and aircraft, Han Dong, a Chinese military expert, told the Shanghai-based media outlet The Paper.
One of the aircraft was a C-2 air-lifter developed and manufactured by Kawasaki Aerospace Co. The C-2 has a maximum payload of 37 tons and formally entered service with the JASDF in 2017. The JASDF has 15 C-2 aircraft, according to Han.
Japan's ruling Liberal Democratic Party has finalized a proposal requesting the government possess a "counteroffensive capability" in response to armed attacks, which Japan's newspaper Mainichi Shimbun said signals "a great shift" in Japan's exclusively defense-oriented policy in the post-war period defined by the nation's pacifist Constitution.
Prime Minister Kishida has maintained his administration will consider securing an enemy base strike capability. He also said "Japan needs to implement a fundamental upgrade of its defense capabilities" and that it was important to "thoroughly enhance defense with a sense of speed".
The Liberal Democratic Party intends to have its proposal reflected in the government's Japan's National Security Strategy slated for revision at the end of the year, Mainichi Shimbun reported.
The ruling party also proposed that Japan increase its defense budget that currently stands at around 1 percent of GDP to at least 2 percent in around five years to be on par with the 2 percent defense spending goal of the North Atlantic Treaty Organization, Kyodo News said.
"If Japan wields its counteroffensive capabilities as deterrence, it could fuel a military expansion race in the region," Mainichi Shimbun warned in its editorial on Saturday.
An enemy base strike capability requires extensive defense equipment for surveillance and to neutralize the enemy's air defense network and other capabilities, the editorial said.
Chinese Foreign Ministry Spokesperson Zhao Lijian said at a news conference on March 17 that some political forces in Japan have been using the Ukraine issue as a pretext to deliberately play up external threats and seek stronger military forces and capability.
He called on Japan to deeply reflect on history, draw lessons from the past, respect the security concerns of its Asian neighbors, stay committed to peaceful development, and do more things that benefit regional peace and stability instead of moving in the opposite direction.
Yang Bojiang, director of the Institute of Japanese Studies of the Chinese Academy of Social Sciences, said for Japan's neighbors, the change in the country's national strategy should be watched closely.
Xiang Haoyu, distinguished research fellow with the China Institute of International Studies, said the conflicts in some regions are taken by Japan's rightist, conservative elements as new "opportunities" to push forward the process of making Japan a normal country that can scale back the constitutional restrictions on its use of force.
If Japan got rid of the constraints of its pacifist Constitution, it would have a free hand in developing offensive military power based on its strong industrial, scientific and technological strength, Xiang added.
The move would pose serious challenges to the Asia-Pacific region's strategic stability and balance of military power, encouraging an arms race in Japan's neighboring countries.