A feminine perspective
By Yang Yang | China Daily | Updated: 2022-05-06 07:40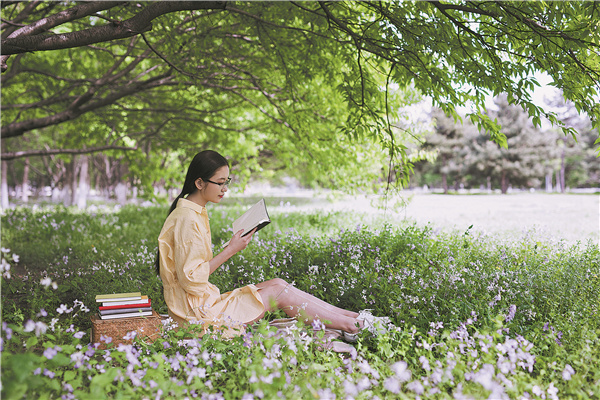 These days, a greater number of serious scholars are seeking to reach a greater readership to popularize complicated theories, so that their studies can really benefit people's daily lives.
Last year, a translation of Professor Ueno, Please Tell Me About Feminism From Scratch, a conversation with well-known Japanese scholar Ueno Chizuko about everyday gender equality, became a bestseller in the Chinese mainland. Li Yinhe, a former researcher with the Chinese Academy of Social Sciences, also published Xingxue Rumen (An Introduction to Sexology) last year, providing sex education knowledge to the common reader.
That is why Zhang Li, a Chinese literature professor with Beijing Normal University, has recently published the book Duijing (literally meaning "to look in the mirror or through the lens of a magnifier"), which comprises transcripts of 23 lectures on reading for women, especially those who know little about feminism or gender equality.
"Good works can be magnifiers, microscopes, or distorting mirrors, with which we can examine not only our present, but also history," she says, explaining the book's title.
For years, Zhang has been studying and teaching Chinese women's literature at university. Apart from academic works, Zhang has recently paid more attention to popularizing contemporary literary works by Chinese women and developing a feminist consciousness among readers.
Since 2019, she has worked with her students to compile annual anthologies of short stories by Chinese women, in an effort to "record the samples of contemporary women's writing and women's lives".
Last year, she launched a podcast to talk about modern and contemporary Chinese literary works from a feminist angle. She later developed the well-received program into her latest book.
For the book, she chose about 30 works from those created in the last 100 years, most of them by women, such as the earlier classics-Shafei Nyushi De Riji (Miss Shafei's Diaries) by Ding Ling, Hulanhe Zhuan (Tales of Hulan River) by Xiao Hong, and Jinsuo Ji (The Golden Cangue) by Eileen Chang, and the relatively recent ones-Wo'ai Bi'er (I Love Bill) by Wang Anyi, Yongyuan You Duoyuan (How Long Is Forever) by Tie Ning and Qinqin Tudou (Dear Potato) by Chi Zijian.
The lectures also cover classical works by male writers such Zhufu (New Year's Sacrifice) by Lu Xun, Gao Nyuren He Tade Ai Zhangfu (A Tall Woman and Her Short Husband) by Feng Jicai, Yumi (Corn) by Bi Feiyu and Qiqie Chengqun (Wives and Concubines) by Su Tong.