Challenging agenda awaits world leaders in Davos
By WANG MINGJIE in London and CHEN WEIHUA in Brussels | China Daily | Updated: 2022-05-20 07:17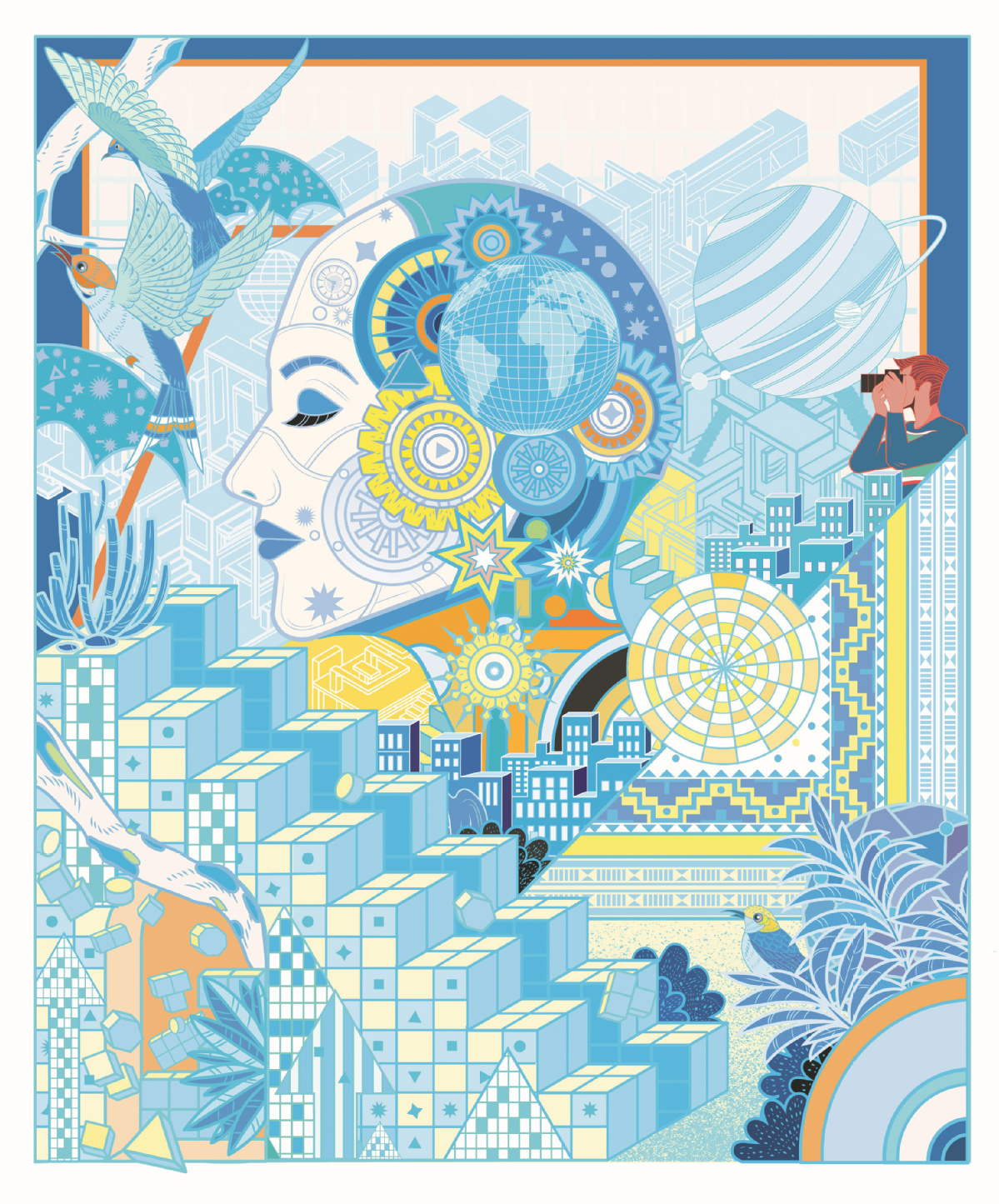 Inflation, energy and climate crises, Ukraine conflict key topics for discussion
World political and business leaders face huge challenges at the upcoming World Economic Forum in Davos, Switzerland, according to experts.
They face pressures from rampant inflation, energy and climate crises, and the conflict in Ukraine, the experts said, adding that an important distinction needs to be made between short- and longer-term concerns.
The forum will be the first in-person version of the Davos annual meeting to take place in two years, following a hiatus due to the COVID-19 pandemic. The five-day meeting is scheduled to start on Sunday.
Although many parts of the world are gradually emerging from the pandemic, economists said the path to sustainable economic recovery remains elusive, interrupted by the conflict in Ukraine, a cost-of-living squeeze and global supply chain disruption.
Ben Cavender, managing director of the China Market Research Group, said, "I think the global economy is in a precarious position right now."
The triple effect of COVID-19, the conflict in Ukraine and ongoing lockdowns in some Chinese cities "has created a black swan event for the global economy, and has made it much more difficult for various central banks to use policy to manage the economy", Cavender said.
Christopher Bovis, professor of international business law at the University of Hull in the United Kingdom, echoed this view, saying the pandemic and the Ukraine conflict have led to "the most serious global economic challenges in the 21st century".
"They impact directly on economies and adversely affect consumers globally," he said, adding that the pandemic and the conflict in Ukraine have created the perfect environment for inflation to emerge as the surprising inhibitor of economic growth and industrial performance.
In its latest World Economic Outlook report, the International Monetary Fund forecast global growth could slow from an estimated 6.1 percent last year to 3.6 percent this year and next. Beyond next year, global growth is estimated to decline to about 3.3 percent over the medium term.
Jim O'Neill, a leading UK economist and chair of the international think tank Chatham House, said, "I think we are on course for a global recession unless certain things change quickly.
"At the moment, it is highly likely, if not inescapable, that world GDP will be, sadly, much weaker in both 2022 and 2023."
He added, "People now expect to see an end to the conflict in Ukraine, China's self-imposed COVID lockdown, and some moderation in global inflationary pressures."
John Beirne, vice-chair of research at the Asian Development Bank Institute, said supply chain disruptions and commodity price rises resulting from the conflict in Ukraine have threatened the global post-pandemic economic recovery.
He associates the global growth outlook strongly with how developments materialize in Ukraine. "A resolution would ease pressure on commodity prices and supply chains, while a protracted conflict could potentially exacerbate prevailing pressures," Beirne said.
Inflation threat
The crisis is compounded by the fact that the United States was already facing substantial post-pandemic inflation before the conflict in Ukraine, and in the midst of the tightening interest rate cycle.
This month, the Federal Reserve in the US raised its benchmark interest rate by 0.5 percent to combat inflation, the sharpest hike in 22 years.
Before the conflict in Ukraine, the US economic performance outgrew expectations thanks to heavy policy intervention and subsidy frameworks, the scale of which were unprecedented in recent economic history.
Bovis said the Ukraine conflict and the severe disruption to commodity and energy trading "will act as an emergency brake to the economic recovery of the US in the post-COVID-19 era", adding that inflation will become the number one danger in the US economy.
Cavender said: "Up until mid-May, it seemed that markets (in the US) had been pricing in rate hikes and kind of shrugging them off. But with persistently high inflation numbers continuing, I think there is real fear in the business community that the Fed may push a more aggressive tightening policy through the rest of the year. Should that happen, we could be looking at a period of stagflation in the US, which would be good for no one."
China has fared relatively well with its economic recovery during the first wave of the pandemic, but some analysts said recent lockdowns in the nation's key manufacturing and trade hubs are likely to put a strain on its economic growth and compound supply disruptions elsewhere.
Beirne said, "Commodity price pressures in 2022 in conjunction with China's strong demand for commodities place substantial strains on the performance of its manufacturing sector and export markets more broadly."
He added that a resurgence of COVID-19 cases in China since March, and resulting lockdowns have weighed on the post-pandemic recovery. "Coupled with supply chain disruptions and reduced shipping volumes, hampering exports from China, the outlook for growth in 2022 has deteriorated," he said.
Tommy Wu, lead China economist at Oxford Economics, said that while disruption to economic activity could extend into next month, China's economy could see "a more meaningful recovery" in the second half, barring a Shanghai-style lockdown in another major city.
"While the government has prioritized COVID containment, it is also determined to support the economy through more forceful infrastructure spending and targeted monetary easing to support SMEs (small and medium-sized enterprises), the manufacturing and real estate sectors, and infrastructure financing," he added.
In Europe, rising commodity prices have increased the cost of living for households and also raised production costs for companies. Experts said downside risks to the recovery in Europe have risen due to the Ukraine conflict, with higher energy prices and supply chain disruptions weighing on consumption and investment.
Bovis said Europe would face a challenging time in getting over the shock of energy trading disruption caused by the conflict in Ukraine.
"Reliance on production factors-often over-reliance on Russia for energy-is a competitive disadvantage and it shows clearly how the German economy is suffering, and as a result the entire European Union economic performance is handicapped for the short to medium outlook," he said.
Critical period
Nicola Ranger, head of sustainable finance research for development in the Oxford Sustainable Finance Group at the University of Oxford, said, "The next few years will be critical in determining whether Europe is put on a path to a prosperous and secure future, or whether we continue to grow our economy in ways that expose us to ever greater risks from global shocks.
"We need to tackle the rising cost of living urgently and head on, and particularly support those most vulnerable. … Government investment right now in areas like new green technologies, green jobs and green energy infrastructure can power growth and a green economic recovery."
In view of the current global challenges, high hopes rest on this year's gathering in Davos coming up with solutions to mitigate the uncertainty surrounding the trajectory for a worldwide recovery.
Bovis said: "Global ideas and initiatives will emerge in order to deal with inflation. Inflation is a rupture to the economic bubble in many parts of the world and the effects are severely contagious.
"Emerging markets face the scenario of hyperinflation destroying their progress, and developed economies face the danger of stagnation. Global ideas and global action are imperative."
While the Davos forum will bring leaders together to highlight global economic policy challenges and how they will impact different economies and sectors, understanding such perspectives will become essential to putting in place a coordinated policy response.
Beirne said: "The short-term focus should be on addressing the fallout from the crisis in Ukraine, which has increased economic uncertainty and derailed the post-pandemic recovery. This includes energy and food security concerns, fiscal policy challenges and global interest rate developments."
It is also important to support longer-term economic growth with the key themes of accelerating energy transition and the decarbonization of the world economy, along with tackling inequalities, he added.
Beirne firmly believes that improved governance on a global level will be essential, helping to preserve stability and ensure cooperative policies to mitigate polarization and avoid fragmentation.
"Multilateral cooperation is crucial to address current challenges facing the global economy, particularly given higher prevailing trade and financial integration at the global level in recent decades," he said.
Bert Hofman, director of the East Asian Institute at the National University of Singapore, believes policy choices are extremely challenging in the current environment, where the world economy is yet again under great stress.
"Individual countries that have sufficient fiscal space should use this, whereas countries that are more constrained can pursue structural reforms that would help restore long-term growth," said Hofman, also former World Bank country director for China.
Given the emerging divergence in monetary policies among major economies, keeping exchange rate flexibility is an important tool for countries to absorb external shocks, he added.
Hofman said that at international level countries should continue to pursue openness and opportunities for further integration.
"Multilateral efforts can help by supporting countries that risk financial stability with debt rescheduling and debt relief. … The international community should also enhance mechanisms for food security to avoid a repeat of the 2009 food crisis in the aftermath of the global financial crisis," he said.