Challenges ahead as Sri Lanka navigates unprecedented crisis
By XU WEIWEI in Hong Kong | China Daily | Updated: 2022-05-20 09:34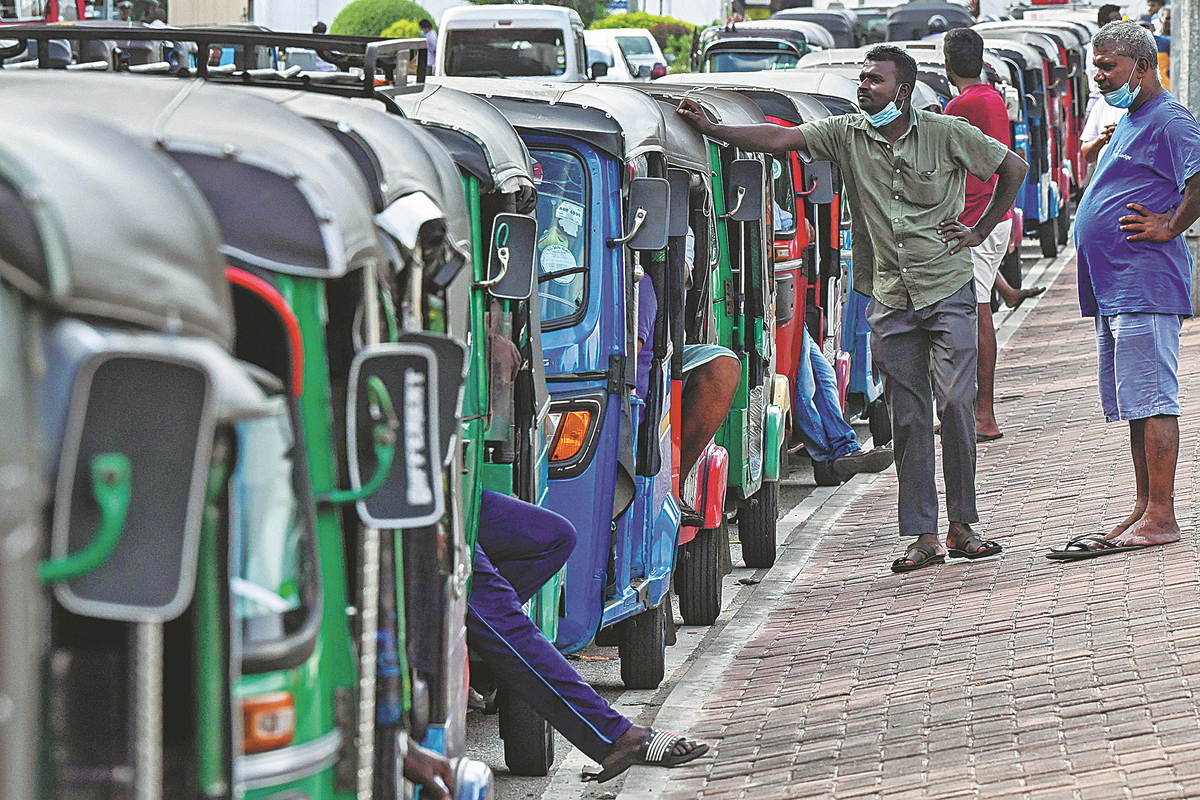 The new Sri Lankan government faces serious challenges in turning around the country's economy and achieving political stability due to shortages in necessities and foreign exchange reserves.
The island nation has been facing a fuel shortage since February, leading to daily power cuts often lasting hours. In an address to the nation on May 16, Ranil Wickremesinghe, Sri Lanka's newly appointed prime minister, urged citizens to prepare "to make sacrifices and face tough challenges during this period".
"At the moment, we have petrol supplies for only a single day. The next couple of months will be the most difficult of our lives," he said.
Sri Lanka needs 4,000 metric tons of diesel a day, but the state-owned Ceylon Petroleum Corp was releasing just 1,000 to 1,500 tons a day in early May, Minister of Power and Energy Kanchana Wijesekera said. He said there would be no petrol in the country for the next two days as there was no available supply.
Facing an unprecedented economic crisis, the country defaulted on its external debt servicing in April. In addition to low tax revenues and weakened economic growth, things have been also worsened by the impact of the conflict between Russia and Ukraine.
Wickremesinghe said the country has approached the Asian Development Bank and the World Bank to seek funding.
"World Bank funds can't be used to purchase fuel. However, we are requesting whether some of the money could be used to solve the immediate fuel crisis," he said.
The prime minister has asked all parliamentary members to work together to solve the crisis facing Sri Lanka, adding that by next week he will present to parliament a comprehensive report on the country's financial status.
Limited foreign reserves
The fuel shortage has been linked with a worsening foreign exchange crisis in Sri Lanka. The nation's current usable foreign reserves are below $50 million, down from $7 billion at the end of 2019, Finance Minister Ali Sabry said this month.
The COVID-19 pandemic has badly affected the country's tourism and export sectors, triggering a political crisis. Sri Lanka's parliamentary sessions were suspended until Tuesday, as protesters had gathered outside the building to call on lawmakers to find a solution to the economic crisis.
Prolonged street protests, sometimes violent, led to the resignation of former prime minister Mahinda Rajapaksa last week.
Wickremesinghe was appointed prime minister on May 12. Since then, four new cabinet ministers have been sworn in, and more are expected.
Despite these developments, the political instability is expected to continue, according to Chulanee Attanayake and Shavinyaa Vijaykumarr, both at the National University of Singapore's Institute of South Asian Studies.
Sri Lanka's tax reduction plan has been blamed for aggravating the crisis, Chayu Damsinghe, an economist with the Frontier Research group in Colombo, told Deutsche Welle, the German broadcaster. "The reduction of taxes and subsequent adding of more money through central bank financing made the inevitable crisis significantly worse," he said.
Sri Lanka had just 412,000 taxpayers last year, down by more than 1 million since tax cuts were introduced in late 2019, according to Sabry, the finance minister.
With tax revenues having fallen to 8.7 percent of GDP, Sabry said the budget for this year is no longer realistic, and the government hopes to present a new budget proposal to parliament soon.
The Russia-Ukraine conflict has also pushed up prices of food and oil in Sri Lanka and increased inflation, further reducing foreign reserves.