Smart transport drives high-quality growth
By Jia Yuanhua/Li Weiwei | China Daily | Updated: 2022-05-21 07:54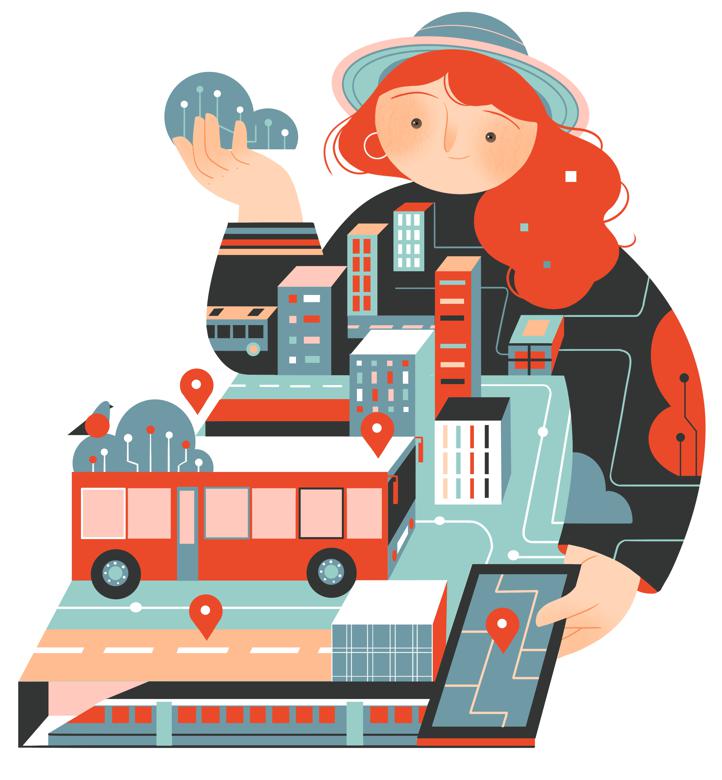 China has initiated a new infrastructure investment plan to achieve high-quality growth, which can also help boost economic recovery amid slow global growth due to the COVID-19 pandemic.
As part of the overall plan to boost the economy, developing intelligent public transportation will not only facilitate the high-quality development of the urban transportation system but also help build modern, smart cities.
Intelligent transport system is the application of sensing, analysis, and control and communications technologies to surface transport, in order to improve safety, mobility and efficiency.
From 2010 to 2020, the number of buses and trams in operation nationwide increased from 375,000 to about 589,900. During the same decade, high-tech developed at a rapid pace, which in turn helped improve dispatch management technology and facilitated the application of sensing, analysis, and control and communications technologies to travel services. This has not only helped better meet the demands of urban traffic but also promoted the development of smart cities in China.
The fundamental purpose of developing intelligent public transportation is to improve the quality of transportation services, help the urban public to wisely choose public transportation, and promote sustainable urban development.
It was during the 12th Five-Year Plan (2011-15) period that China began promoting intelligent urban transportation, and 36 pilot cities have already completed the construction of the Urban Public Transport Intelligent Application Demonstration Project.
During the 13th Five-Year Plan (2016-20) period, the planning and construction of Internet Plus urban public transportation helped in integrating mobile internet and intelligent public transportation.
With the support of government policies, Beijing, Shanghai, Hebei and Hunan provinces and other places have conducted pilot and demonstration projects in frontier areas such as autonomous driving and vehicle-road coordination. With the support of information and communications technology such as 5G and the internet of things, unmanned buses in Suzhou, Shenzhen, Changsha and Xiamen have begun operations.
New technologies and urban public transport are being integrated, and the coordinated development of smart public transport technology, which has led to many innovations, and its application to projects have been preliminarily achieved.
The 14th Five-Year Plan (2021-25) proposes to build urban intelligent transportation and green transportation systems, accelerate the digital transformation of traditional transportation infrastructure, accord priority to the development of urban public transportation, and promote the construction of new smart cities. Which suggests intelligent public transportation is set to enter a stage of high-quality development.
New technologies such as big data, cloud computing, autonomous driving, intelligent networking and electric vehicle technology have to be integrated and applied to public transport operations and management, so as to improve the efficiency of the sector and reduce carbon emissions from existing modes of public transportation. It is necessary to also create a more user-friendly public transportation system to strengthen operation management and provide better quality services.
At present, the key technologies and their application to facilitate innovations in, and promote the development of, the urban smart public transportation system in China include electronic stop signs, smart bus stops, bus data brains, and customized buses.
The construction of smart bus stations involves cameras, WiFi bases, mobile phone charging interfaces, environmental monitoring sensors, digital displays, light controllers, and emergency call and other facilities. Some bus stations also have unmanned vending machines, umbrella rental machines and smart trash cans.
For the "intelligentization" of buses, it is necessary to install a driving monitoring system and auxiliary safety driving equipment on vehicles that improve driving safety, and equip them with a Beidou positioning system-so the vehicles can be located in real time-and passenger flow estimation and other systems, to ensure real-time monitoring of the vehicles. These endeavors can also promote the development of a series of vehicle terminal-related industries.
To build an intelligent network-connected public transportation system, it is necessary to carry out intelligent upgrading to improve roads and help install equipment such as video surveillance, lidar, millimeter-wave radar, and cutting-edge computing servers. This will facilitate full 5G and LTE-V2X(long-term evolution vehicle-to-everything) network coverage, and help build a vehicle-road-cloud integrated system, apart from developing high-performance smart sensors, "Internet of Vehicles" module chips, terminal equipment, vehicle manufacturing, operation services, testing and verification, and other related industry chains.
As for management software, the intelligent transport system will boost the development of the software sector, especially in the fields of bus operation dispatching system, enterprise management system, and industry supervision system.
With regard to travel information service platforms and payment systems, various travel service software and payment apps use bus services as an entry point to the transportation sector. For instance, in April, Chongqing introduced a digital renminbi bus payment system to ensure the digital renminbi code swiping system functions well on conventional as well as customized buses. This marked the implementation of Chongqing's first digital renminbi bus service payment system.
At the end of 2020, a technology company in Chongqing built a smart IC card system, which included operation management and payment system, for six bus companies, 53 bus lines, and more than 2,000 buses in Myanmar, taking the lead in exporting and promoting China's smart public transport integrated products and services overseas.
And in 2021, a consortium formed by Qingdao Hisense Network Technology Co and Shandong Expressway Group won the bid for the intelligent transformation of the public transportation system in the Ethiopian capital of Addis Ababa.
These smart public transport projects are the beginning of Chinese-developed technologies going global, and will have far-reaching impacts on China's smart transportation industry.
Jia Yuanhua is a professor of transportation engineering at the School of Traffic and Transportation, Beijing Jiaotong University; and Li Weiwei is a professor of smart transportation at the College of Traffic and Transportation, Chongqing Jiaotong University. The views don't necessarily reflect those of China Daily.
If you have a specific expertise, or would like to share your thought about our stories, then send us your writings at opinion@chinadaily.com.cn, and comment@chinadaily.com.cn.