Forum plans on common prosperity
By MA ZHENHUAN and QI XIAO in Hangzhou | CHINA DAILY | Updated: 2022-05-21 08:06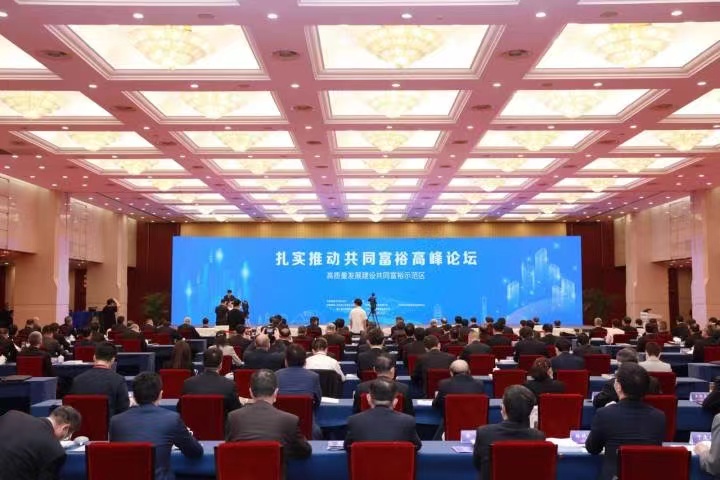 Ensuring common prosperity will be crucial for China to build a modern socialist country by the middle of this century, one of the country's two centenary goals, said Ji Bingxuan, vice-chairman of the Standing Committee of the National People's Congress, the country's top legislature.
"One of the keys lies in making the 'cake' bigger and better, and distributing it more fairly through proper institutional arrangements," he said.
Ji made the remarks via video link at the Common Prosperity Summit Forum held on Friday in Hangzhou, capital of Zhejiang province.
Involving about 200 online and offline participants, including government officials, experts and entrepreneurs, the forum seeks to examine best practices and approaches to realize common prosperity in China.
"Common prosperity" has gained much currency as the country sets its eyes on further narrowing its wealth gap and improving the quality of life for more people after eradicating absolute poverty.
In May 2021, Zhejiang was designated as a demonstration zone for common prosperity.
Yuan Jiajun, Party secretary of Zhejiang, said, "We should balance efficiency and fairness, and establish a wholesome institutional system of distribution."
Over the past year, authorities in Zhejiang have taken a series of measures to achieve the goal.
For example, customized policies have been introduced in each of the 26 counties and districts in its mountainous areas to promote high-quality development.
Reforms and action plans have been implemented to expand the middle-income group and raise incomes for the lower-income group. And more quality resources for public services, education, health and eldercare have been allocated in rural areas.
Statistics show that Zhejiang's GDP reached over 7.35 trillion yuan ($1.1 trillion) last year, up 8.5 percent year-on-year, and the ratio of disposable income between urban and rural residents in the province dropped from 1.96 in 2020 to 1.94.
It has set a target to generally achieve common prosperity by 2035, when the province's per capita GDP and the income of its urban and rural residents are expected to be on the same levels as those of developed economies.
Zhejiang's exploration of common prosperity will be of significance not only to China, but also guidance for the entire world, said Zheng Yongnian, director of the Advanced Institute of Global and Contemporary China Studies at the Chinese University of Hong Kong (Shenzhen).
"Poverty is still a scourge in many countries, and few have yet attained common prosperity today, including countries like the United States and the United Kingdom," Zheng said, pointing to severe crises in state governance in these nations resulting from unfair and unbalanced development.
His latest book, The Chinese Approach to Common Prosperity, outlines in detail the endeavors of Zhejiang and China on common prosperity and how they can be of value to the world.
"Like its poverty alleviation efforts, China's pursuing and ultimately achieving common prosperity will provide a 'China approach', as China's success in common prosperity will be the first time that one of the most populous nations accomplishes the feat," Zheng said.
Fang Xiaoying in Hangzhou contributed to this story.