Western sanctions blamed for global food crisis
By REN QI in Moscow | China Daily | Updated: 2022-05-24 09:47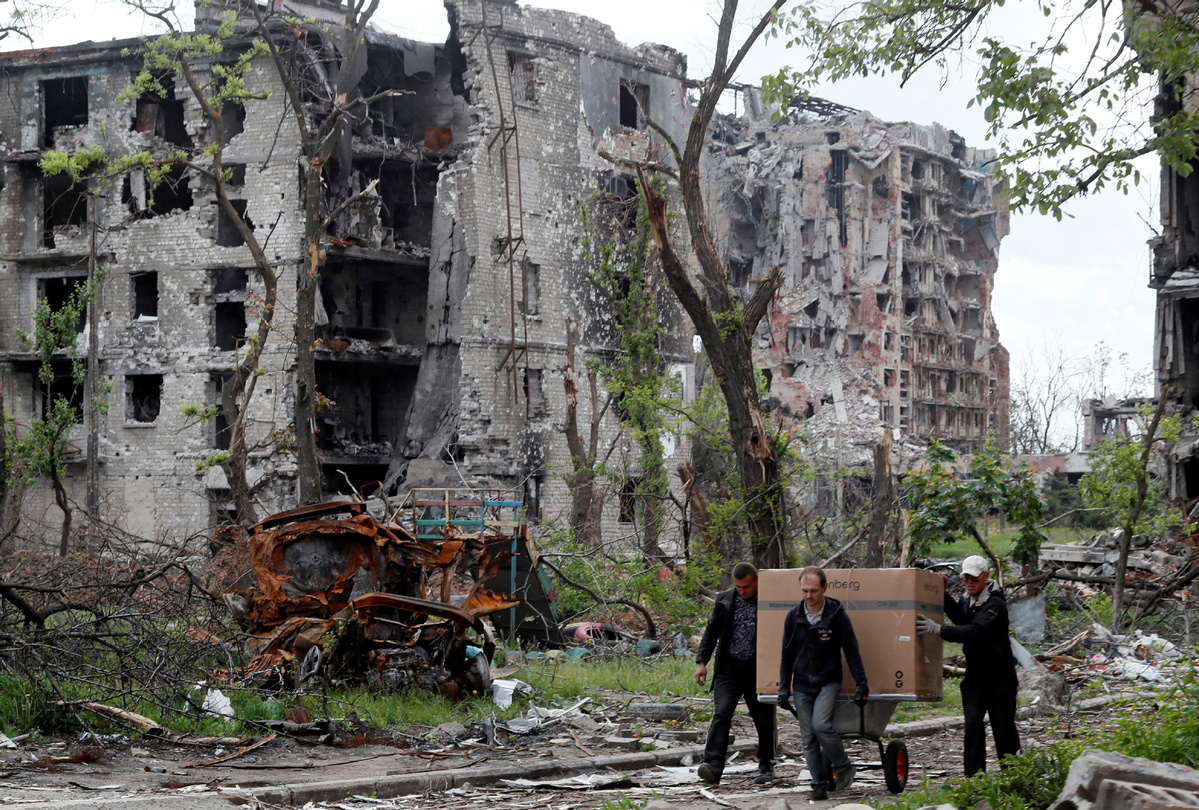 The Kremlin said on Monday that the West had triggered a global food crisis by imposing the severest sanctions in modern history on Russia over the conflict in Ukraine.
The conflict and the West's attempt to isolate Russia as punishment have sent the price of grain, cooking oil, fertilizer and energy soaring.
United Nations chief Antonio Guterres said last week that he was in intense contact with Russia, Ukraine, Turkey, the United States and the European Union in an effort to restore grain exports from Ukraine as a global food crisis worsens.
Russian President Vladimir Putin, the Kremlin said, agreed with the UN's assessment that the world faced a food crisis that could cause famine.
"Russia has always been a rather reliable grain exporter," Kremlin spokesman Dmitry Peskov said.
"We are not the source of the problem. The source of the problem that leads to world hunger are those who imposed sanctions against us, and the sanctions themselves."
Russia and Ukraine together account for nearly a third of global wheat supplies.
The UN has said 36 countries count on Russia and Ukraine for more than half their wheat imports, including some of the poorest, among them Lebanon, Syria, Yemen, Somalia and the Democratic Republic of the Congo.
It came as the number of people forced to flee battlefields, violence, human rights violations and persecution has crossed the staggering milestone of 100 million for the first time on record, the United Nations Refugee Agency said on Monday.
The "alarming" figure must shake the world into ending the conflicts, the UNHCR said in a statement.
The UNHCR said the numbers of forcibly displaced people rose toward 90 million by the end of 2021, spurred by violence in Ethiopia, Burkina Faso, Myanmar, Nigeria, Afghanistan and the Democratic Republic of the Congo.
Negotiations will come?
Moscow will be ready to return to negotiations with Kyiv "as soon as Kyiv shows a constructive position", RIA cited Russian Deputy Foreign Minister Andrey Rudenko as saying on Monday.
Still, Ukraine ruled out a ceasefire or any territorial concessions to Moscow on Sunday as Russia reportedly stepped up its military operation in the country's east and south after declaring victory in its monthslong campaign to take the strategic port of Mariupol.
Polish President Andrzej Duda offered Warsaw's backing, telling lawmakers in Kyiv on Sunday that any loss of Ukrainian territory would be a "huge blow" to the entire West.
Duda was the first foreign leader to address the Ukrainian parliament in person since Russia started its "special military operation "on Feb 24.
At the parliamentary session, Ukrainian President Volodymyr Zelensky renewed a plea for stronger economic sanctions from the West against Russia.
Shortly after both finished speaking, an air raid siren was heard in the capital, a reminder that the battles raged on even if its front lines are now hundreds of kilometers away.
Agencies contributed to this story.