Merck announces largest single electronics investment in China
By He Wei in Shanghai | chinadaily.com.cn | Updated: 2022-06-01 15:32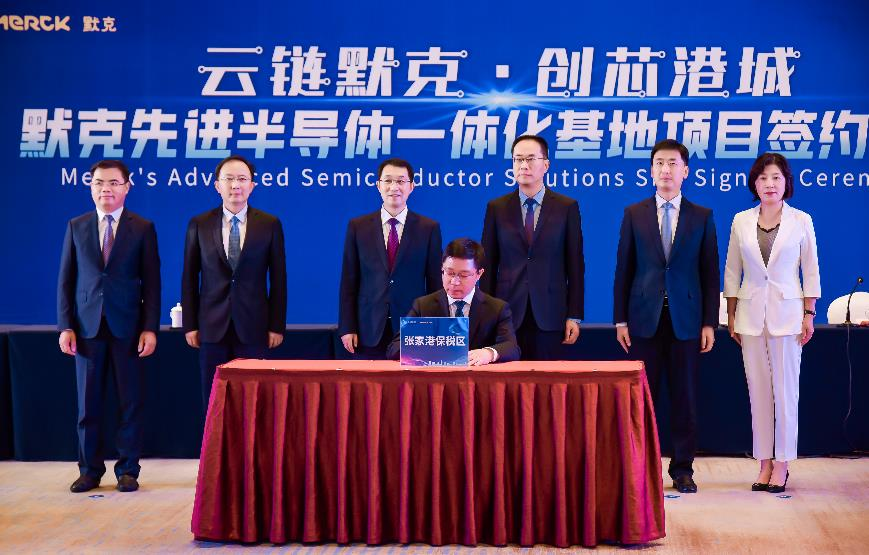 Leading science and technology company Merck announced on Tuesday its intention to build its Advanced Semiconductor Integration Site in Zhangjiagang, Jiangsu province, marking its largest single investment project of the electronics business in China.
With an investment of 550 million yuan ($82.1 million), the site incorporating several production sites of semiconductor materials, warehouses and operation centers is designed to expand Merck's local capabilities, supply chain footprint and support China's semiconductor industry, according to executives.
"For us, China is one of the most important markets. The country is undoubtedly a 'must win battle' for Merck and our Electronics business sector," said Kai Beckmann, Member of the Executive Board of Merck and CEO Electronics, during a virtual signing agreement joined by local authorities in Zhangjiagang.
According to Beckmann, China's 14th Five-Year Plan calling for the development of Digital China will lay a strong foundation for China's next generation of digital infrastructure, and the development of the digital economy has "implied a sustained and strong demand for China's semiconductor industry".
Earlier this year, Merck announced its Level Up growth program to double its investment for its Electronics business in China with at least another 1 billion yuan before 2025, with a focus on the chip manufacturing industry.
With this new investment, Merck said it is eyeing to provide comprehensive material solutions for local customers and partners with strengthened local capabilities and a faster response to market, to contribute to increasing the resilience of the supply chains and play an increasingly integral role in the fast growing global and local semiconductor industry.
"China is the largest end market for semiconductors with more than half of the world's total chip output going to China," said Allan Gabor, president of Merck China and managing director of Electronics China.
"Given the unprecedented capacity investment and expansion of domestic chip manufacturers, China is currently also the fastest growing semiconductor manufacturing market worldwide. We believe a golden era for China's semiconductor industry has just begun."
hewei@chinadaily.com.cn