Performing arts take road to recovery
Share - WeChat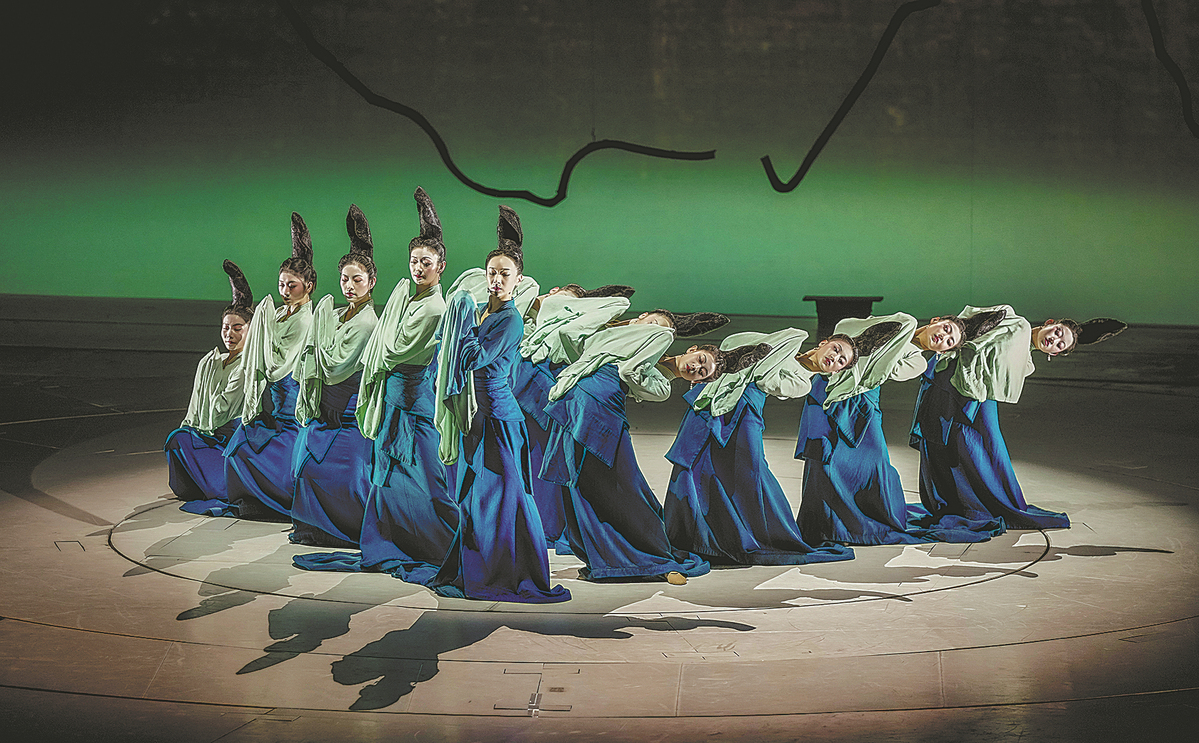 Tour postponed
In addition to Beijing, other cities are welcoming the return of the performing arts scene.
One of the best-selling shows, the Chinese dance drama Poetic Dance: The Journey of a Legendary Landscape Painting, was staged at the Jiangsu Centre for the Performing Arts in Nanjing from June 3 to Monday.
A nationwide tour of the production had to be postponed due to COVID-19.
Dancers and creative teams from the China Oriental Performing Arts Group arrived in Nanjing in the middle of last month, spending 14 days quarantined in hotels before the performances. To continue their rehearsals, the dancers spent many hours together online.
Zhou Liya, a choreographer for the production, said: "Finally, we could step on stage and be greeted by an audience in the theater. We could feel the excitement among the dancers and the audience."
The performances were staged during the Dragon Boat Festival holiday. Tickets sold out quickly, so the company decided to stage an additional show on Monday. The dancers and creative teams will now travel to Ningbo, Zhejiang province, and Wuxi, Jiangsu, for more shows.
Premiered at the NCPA in August, Poetic Dance: The Journey of a Legendary Landscape Painting, choreographed by Zhou and Han Zhen, was inspired by A Panorama of Rivers and Mountains, a classic artwork by Wang Ximeng during the Song Dynasty (960-1279). The 11-meter-long scroll painting is a record of people's lives and natural scenery at that time, blending realism with creative imagination.
The dance drama, which has received warm audience feedback, is making a nationwide tour, with more than 50 performances due to be held in 20 cities.
Zhou said: "Since the production premiered, we've had to change our schedule due to the pandemic. In each city we've visited, we have been prepared to change our rehearsal and performance times to accord with COVID-19 health guidelines."
Han and Zhou have choreographed dance dramas together since 2015. They have gained a large fan base with works such as The Eternal Wave, adapted from a classic 1950s film that centers on a communist telegrapher who works undercover to fight the enemy. The Eternal Wave has been staged more than 100 times nationwide and is one of China's top box office dramas.
Zhou planned to collect material for new works during the May Day holiday, but she had to cancel these plans due to the COVID-19 outbreak.
"It felt as though a whole month had been stolen from the end of April to early June, which was depressing," Zhou said. "People working in the performing arts scene have learned to cope with the changing situation and tried to strike a new balance."
Chamber music
The Suzhou Symphony Orchestra will mark its return with a concert on Saturday. Zhou Ying, the orchestra's vice-president, said the performance would include chamber music featuring a woodwind quintet, brass quintet and a horn quartet, with programs arranged under the theme "Dancing for Summer".
Works such as Libertango by Argentine composer Astor Piazzolla, and Sing, Sing, Sing by United States jazz drummer Gene Krupa will be performed, along with popular songs by The Beatles and The Beach Boys.
"We've selected some happy and joyful songs for audiences because it's time to celebrate returning to the concert hall," Zhou said, adding that due to COVID-19, the orchestra halted its concerts and public events after a performance on Feb 13.
To connect with audiences, the orchestra launched a series of short videos titled We Need Art, with musicians performing chamber music outdoors near Jinji Lake, a scenic spot in the city next to Suzhou Jinji Lake Concert Hall, the ensemble's home.
"We believe that music is as important as ever," Zhou said.
The orchestra, which was formed in 2016, comprises 80 musicians from a total of 17 countries and regions, including China, Japan, South Korea, the United Kingdom and the United States. The musicians' average age is 30.
Zhou said: "As we have many overseas musicians who do not speak Chinese, we did our best to help them through a difficult time when there were no rehearsals and performances. It was also important to ease their anxiety when they could not return to their home countries to reunite with their families during the pandemic."
Despite the disruption to daily life caused by COVID-19, the musicians practiced at home every day and met online several times a week to play pieces together. To interact with audiences, they also shared their daily practice sessions online.
During the pandemic, overseas musicians have worked as community volunteers to help medical workers.
"Some of the musicians have lived and worked in Suzhou since 2016. The city is their second home, and they even get married here. They've formed a deep bond with Suzhou, especially during the pandemic," Zhou said.